Aircuity AdvisorTM
Goes International
SI units of measure
are now supported
Aircuity is pleased to announce that we have recently completed an upgrade to the Knowledge Center database and Advisor analytics that allows the support of alternate units of measure.

This new capability allows Advisor information to be displayed in either imperial (US) or SI (metric). The conversion takes place at the "Installed System" (building) level and extends to all Advisor components – Dashblocks, Summary Reports, Smart Notifications, and Graphing and Exporting.

The available units are:
SI Units of Measure

Temperature

Degrees Celsius

Dewpoint Temperature

Degrees Celsius

Humidity Ratio

Kilogram water to kilogram dry air

Enthalpy

Kilojoules per kilogram

Particles

Particles per cubic meter

Flow

Cubic meters per hour

Liters per second
The selected units of measure will be reflected throughout all the Advisor elements:
In appropriate Dashboard components

In Smart Notification setup and messaging

In Summary Report configuration and report output

In Graphing and Exporting selection and graphs and exported data
These new capabilities are available immediately by emailing Aircuity Client Support
or calling 866.602.0700
.
---
Aircuity Service Day

Employees sort through
5,254lbs of food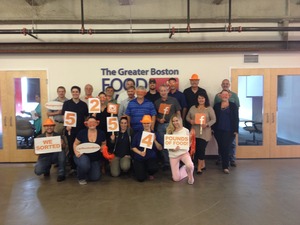 Last month Aircuity held a company-wide Day of Service and volunteered at The Greater Boston Food Bank (GBFB). In addition to volunteering, employees held a food drive at company headquarters collecting canned goods and non-perishables to donate to the food bank during the shift.The month of September was National Hunger Action month therefore GBFB was an ideal agency for Aircuity to perform their first Day of Service.

During their shift employees spent time in the GBFB's warehouse inspecting, sorting and packing food and grocery products. Upon completion, company volunteers had sorted 5,254 pounds of food, making 3,233 meals possible for families in need. Donations from Aircuity's food drive will make even more meals possible.
"Aircuity's Day of Service was a great way for us as a company to give back to our local community," said CEO Dan Diehl. "I am proud of our employees' eagerness to participate and the impact that we made during our shift at the food bank."
In the SPOTLIGHT
University of California, Irvine
leading the way with their Smart Lab design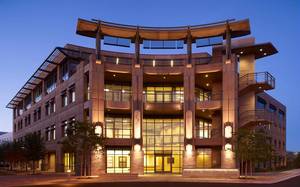 (Bill and Sue Gross Hall. Image courtesy of UC Irvine)
In the last several years the University of California, Irvine has become a leader in reducing campus energy use and has developed best practices to dramatically reduce energy consumption in science and laboratory facilities.These lab spaces are known to be the most the most energy intensive on any college campus. The university has won numerous awards for its work is not only meeting their energy goals, but exceeding them.

How are they achieving all of this? In two words: Smart Labs. With the support of UCI's senior leadership, UCI put together a team including energy management, facilities and EH&S personnel to create the award winning Smart Lab design to significantly and safely reduce energy use in their laboratory buildings. "Our goal was to find the sweet spot where we maximized energy savings without compromising safety," states Marc Gomez, Assistant Vice Chancellor Facilities Management/Environmental Health & Safety.
In order to meet this goal, UCI implemented a demand control ventilation strategy using Aircuity so that air change rates could be adjusted to the real conditions of the lab, providing more air when lab activity required it for safety, and lower air change rates when the lab indoor environment was clean. This demand control ventilation strategy, along with the analytics of Advisor services, became a foundation of the UCI Smart Lab initiative.
In May of 2014 UC Irvine was honored
by the White House for their dramatic energy reductions as part of the Better Buildings Challenge. The university had set a goal to reduce energy use 20% by 2020 within the 7 million square feet of building space they committed to the challenge. Not only did UC Irvine reduce energy use by 23%, but they achieved this reduction 6 years ahead of their plan!

Find out more about the Smart Labs program and the university's next goals by reading the recently updated case study.
---
Join us at one of the events below to learn more about the opportunities for deep energy savings through the growing category of airside efficiency.
TUFF Educational Facilities
Best Practices Summit
November 3 - 4
Atlanta, GA
Tradeline: College & University
Science Facilities
November 17 - 18
Scottsdale, AZ
Tradeline: Animal Research Facilities
November 20 - 21
Scottsdale, AZ