Employee Feature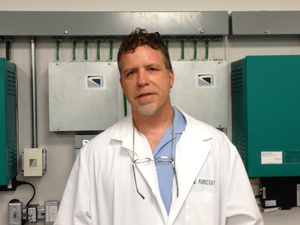 Andy Szabo
Calibration Lab Manager

Andy is responsible for overseeing the Calibration Laboratory at Aircuity. He and his team are charged with calibrating each sensor that comes through the door according to a stringent set of processes. Since sensors are the lifeblood or "secret sauce" of Aircuity's OptiNet system, precision and quality control are key components to everything he does on a daily basis.
Education: Bachelor of Science in Chemistry, University of Rhode Island
Years in the Field: 25
Years with Aircuity: 8
Members of Your Team: 4 Calibration Technicians
About the Calibration Process: It actually starts with what we call "preconditioning" of new sensors received from the manufacturer. We found that sensor elements typically need additional run time beyond what was performed by the manufacturer. Depending on the sensor type, the element may be conditioned for up to a week before the actual calibration process takes place. Sensors received back in from the field enter the first step of the process called "as received". Every sensor coming back to Aircuity is first tested to determine it's performance against stated accuracy and drift specifications. Data from this procedure is used for trend analysis to identify potential issues as they relate to the sensors' field performance. Next sensor parts are repaired or proactively replaced based on known life cycles. During the last step of "as received" all sensors go through a leak test to ensure they are air tight. Sensors can now enter the calibration process. During this process they are calibrated through their range of operation based on procedures designed specifically for the type of sensor being calibrated.Calibrated sensors are run for 1 to 5 days after calibration and undergo a final calibration verification check to eliminate programming failures. The final step is shipping- once a sensor passed all of its checks it is ready for shipping. All sensors are sent with a calibration certificate that shows the values obtained during testing. And there you have it!
Sensors Calibrated in the Past Year: 4,582
Favorite Thing about Aircuity and Your Job: "I love the vision of Aircuity, which was also what initially drew me to the company. In terms of my job, I enjoy how busy the Cal Lab is on a daily basis. The number of sensors that we calibrate are constantly increasing with each quarter as more systems come online. My team and I like the challenge and the feeling of accomplishment that comes along with our growing number of calibrations."
Pacific Coast Association of Physical
Plant Administrators Conference
Join Aircuity in San Diego for PCAPPA's annual meeting and learn how we have worked with many physical plant administrators to provide universities with significant energy savings and insight into building performance through Advisor Services.
When
: September 14-18, 2013
Where: San Diego Marriott Marquis & Marina
Register Today
Are Green Revolving Funds the Next Frontier in Corporate Energy Efficiency?
Advisor Basic
Training Sessions
The Customer Support Team at Aircuity wants to make sure that all Advisor Basic users are fully training on this service. Personalized training sessions are always available and stay tuned for details on group training webinar sessions that will be offered in August.
To schedule a one-on-one web-based training session, please email scallahan@aircuity.com.
Project Highlight
Richardsville Elementary

As the first net-zero public elementary school in the nation, Richardsville Elementary in Bowling Green, Kentucky is a result of great design, engineering and the latest in green technologies. Aircuity's OptiNet system helped to provide a healthy indoor environment for students and teachers, and was also key in helping the school to achieve its net-zero status through energy savings.
Richardsville Elementary Case Study

Aircuity Laboratory Applications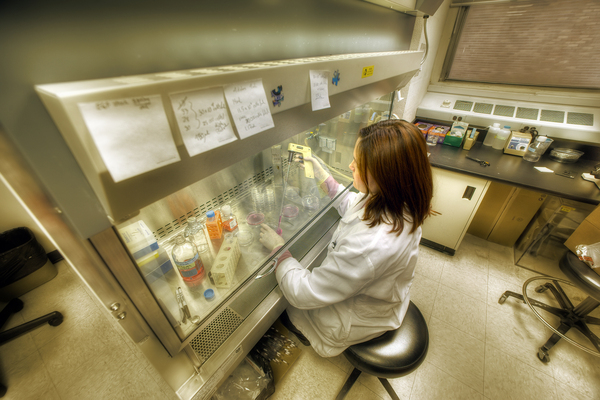 Aircuity can be applied to a wide variety of lab and critical environment spaces to achieve significant energy savings (40 - 60%) and monitor the indoor environmental quality. Below we will take a look at a few applications and the benefits that Aircuity can deliver for each.

General Research: A general research lab is a great application for Aircuity! Aircuity solutions can provide big energy savings and a serious carbon footprint reduction, while IEQ monitoring data can lead to enhanced safety and better source control. Aircuity Advisor provides a host of analytics to develop better awareness of what is taking place in the lab. For example, the sash management analytic looks at fume hood flow, fume hood occupancy and provides graphical representation of sash position both when it is occupied and unoccupied, delivering information on the percentage of time fume hoods are open.

Vivarium:
Vivaria are another great application for Aircuity solutions. Regulatory agencies for these facilities have moved from a "prescriptive" model of dictating minimum air change rates to a "performance" based model that does not dictate air change rates but rather describes the conditions that must be maintained in those spaces. Not only can Aircuity help to adjust air flows to aid in maintaining these conditions in the most cost effective manner, but the information captured can be used to enhance performance reports that are regularly submitted to the regulatory bodies (such as AALAC or ILAR).
Wet Chemistry:
Wet chemistry labs are a good fit for Aircuity, with some attention required to the equipment, fume hoods, and specific chemical usage. Monitoring will almost always be an option in these spaces, and reducing the air change rates can be safely achieved with special consideration paid to chemical use inventory and fume hood density. Both energy savings and occupant comfort are provided along with the ability to help identify fugitive fume hood emissions and other IEQ safety issues.
Have a lab space in mind and want to discuss Aircuity's fit? Contact your local Aircuity channel partner.
Aircuity Advisor™
Check Out What's New!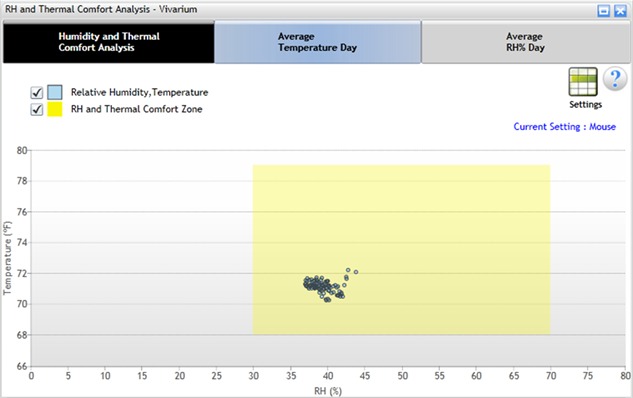 The software engineers at Aircuity are continually working around the clock to make Advisor even better for users. Here is one of the most recently released enhancements:
Comfort Analytic:
The Advisor Comfort analytic is a powerful tool that analyzes comfort issues by plotting temperature and humidity points as a scatter plot. This provides an at-a-glance view of how well the temperature and humidity of the space is being maintained.

Having the ability to evaluate spaces over daily, weekly and monthly intervals, with all the data displayed in an intuitive format can quickly point out issues. 


Alternate views of the Temperature and Humidity values provide an excellent profile over time.
Spaces that are performing well: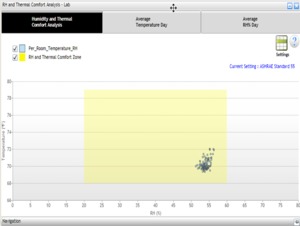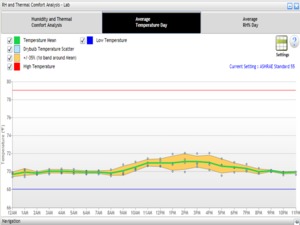 Spaces that may not be performing well: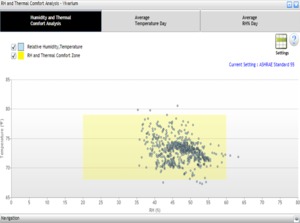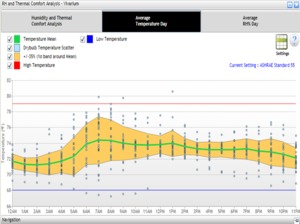 This analytic goes way beyond typical temperature and humidity monitoring by presenting data in a way that is clear and impactful. Understanding how the system is performing as a whole and over time can help to identify a number of potential issues including:
Control loop tuning issues

Over or undersized heating/cooling elements

Ventilation distribution issues

Occupied/Unoccupied transition issues
Only by knowing there are issues can they be addressed efficiently and effectively.
Learn more about Advisor