Advisor Highlights
Monitoring the Indoor Environmental Quality of Animal Facilities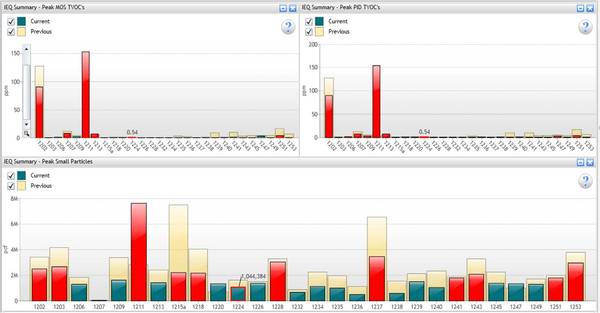 (Examples of isolated TVOC and elevated particle count levels to provide information about the location and severity of IEQ events in a building)
The primary focus of a vivarium is to create a simulated natural environment for raising animals for observation or research. These facilities are designed with sophisticated control systems to create a safe, healthy, and comfortable environment for the animals, personnel, and to preserve the integrity of the research conducted therein. Many things can happen to building control systems and without an independent monitoring system to verify the primary control system, these problems could go undetected and adversely affect the animals, the personnel, and the research being conducted.
Continue Reading
Aircuity Events
IFMA RDC Spring Conference
A Holistic Overview of Technologies & Strategies to Achieve Deep Energy Reductions in Laboratories
In the last few years there have been new design approaches that have been used to reduce lab airflows and reduce energy consumption including demand based control of air changes and hydronic cooling approaches such as chilled beams. Although these and other concepts have been discussed individually, what has been lacking is a unified or holistic discussion of how these and other technologies such as heat recovery can be combined to create a whole that is greater than the sum of the parts.

Gordon Sharp, Chairman of Aircuity will discuss the pros and cons of these technologies and approaches and how they can be combined to safely attain a low lab room airflow.
When: April 28-30, 2013
Where: Boston Marriott Cambridge, Cambridge MA
Register Today
Tradeline Research Facilities Conference
Visit Aircuity at booth # 6
&
Gordon Sharp, Chairman of Aircuity speaks at Forum M: Reduce Lab Operating Costs and Energy use with new HVAC Technology Combinations
When: May 9-10, 2013
Where: Westin Copley Boston, Boston MA
Register Today
In The SPOTLIGHT
Blending Energy Conservation Measures for Maximum Savings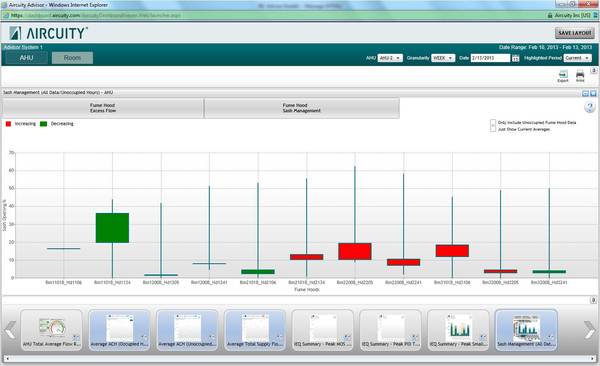 (This graph looks at fume hood flow, sash position and fume hood occupancy)
With an ever-increasing need to reduce energy to save operational funds and lower greenhouse gas emissions, labs are taking center stage in sustainability action plans. In order to achieve maximum energy savings, a holistic approach must be taken when designing a new laboratory or conducting an energy retrofit in an existing facility. There are a variety of measures that should be considered, and determining the right combination is based on the specific lab being evaluated.
Continue Reading
Market News
Universities, pharmaceutical and life science companies and federal research organizations are focusing on energy reduction strategies that will have the greatest impact on reducing energy and related costs. Partnering with Aircuity and developing a ventilation optimization program designed to enhance the indoor air quality of a facility while significantly decreasing energy costs, will aid in lowering GHG emissions and reaching an energy reduction goal.
What can Aircuity do for you.......
Reduce energy use by 40-60% in labs:
-Science and lab buildings are the most energy intensive based on extraordinary HVAC demands.
-Aircuity's solution safely reduces ventilation rates in labs, without compromising safety and comfort.

Reduce energy use by 20-30% in non-lab buildings such as:
-Libraries
-Student Centers
-Classroom buildings
-Athletic Center / Arena

Deliver an ROI of <2 years in lab buildings and 3-5 in non-lab spaces
Provide insight into your facility's indoor environmental quality (IEQ)

Deliver a Demand Control Ventilation (DCV) solution that provides consistent energy savings year after year.

The Benefits of Aircuity Solutions:

Significant Energy Savings:
Lower airside energy consumption by 20-60%
Continuous IEQ Monitoring:
24/7 information about your indoor environmental quality
Lower First Cost:
Airside mechanical systems can be right-sized based on lower total flow requirements.
Lower Life Cycle Costs:
Sensor maintenance program provided through Aircuity Assurance Services ensures accurate sensors for the life of your system.
Easy to Incorporate as a Retrofit:
Aircuity solutions can be easily incorporated as part of an energy retrofit or building renovation project.
Building Management Insight:
Aircuity Advisor™ Services delivers proactive notices and intelligent information about changing building conditions.