In the SPOTLIGHT

SUNY Plattsburgh

Aircuity helps to reduce energy, create a healthier environment and reduce deferred maintenance

Hudson Hall on the State University of New York (SUNY) Plattsburgh campus is one of two main science buildings. Earlier this year, with the help of local representative Green Building Partners, Aircuity was installed in the lab areas of the science building to help reduce energy use while maintaining a healthy environment. In addition to an energy reduction garnering the attention of the New York State Energy Manager (NYEM), Aircuity's solution also addressed an issue with moisture in the labs and helped identify several faulty controllers in the building.

With Aircuity's implementation air change rates were reduced from 6 (with a few spaces at 7) to a baseline of 3 and 4 ACH, increasing when additional fresh air is needed. The NYEM took note of the reduction in Hudson Hall at the meter level, and currently the building is being considered for an energy efficiency award. Originally the chillers in the building were not keeping up with the cooling requirements for the lab, which in turn was causing a moisture issue with the microscopes. The EH&S department at Plattsburgh has now confirmed that with ventilation rates being optimized and generally less air to cool, this problem was eliminated.

After the installation of Aircuity there were several rooms where CFMs were still not reporting as low as initially targeted.

By tracking the CFM levels in each of these rooms through Aircuity Advisor Services, three broken actuators were discovered and then repaired. Now these rooms are hitting their targets.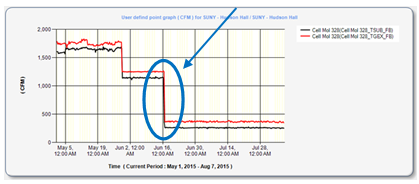 Two additional rooms are being tracked to further reduced CFM levels by carefully monitoring the fume hood sash positions.
"I met Gordon Sharp (Aircuity's founder) at a local ASHRAE meeting back late 2013 where he presented a talk on "Deep Energy Reductions in Labs", said Crystal Price, sustainability coordinator, SUNY Plattsburgh. "Seeing that he had been recently published in the ASHRAE handbook chapter for laboratories, I was excited at the possibility of utilizing this concept to both achieve energy savings and solve a humidity problem in our lab building. We are happy with the results."
For all schools in the SUNY system, compliance with Executive Order 88, which mandates a 20% energy reduction by 2020, is a big focus. The installation of Aircuity in the Hudson Lab is just one example of the significant role an airside solution can play in an organization achieving important goals. SUNY Plattsburgh was able to save energy in one of its most energy intensive and critical safety environments on campus, while receiving better indoor environmental quality and reducing deferred maintenance along the way.
Approaching Another Milestone

University, Life Science, Healthcare,
OH MY!

Aircuity is fast approaching another exciting milestone... The 400th system is about to come online! These installations are well represented in all 7 of our vertical markets and are spread over 12 countries. With nearly 600 systems sold to date, the number of installed systems will continue climbing steadily.

Thank you to our employees, channel partners and most of all our customers who believe so strongly in Aircuity's solutions.

---
Industry News
UC Irvine Tops Sierra Magazine's List of Green Schools- Second Straight Year
Improving Energy Efficiency in a Lab
Big Office Buildings Tops in Adopting Green Practices
Truly Transparent Benchmarking Data
Obama Unveils Major Climate Change Proposal
Report: 90% of Colleges Expect to Invest More in Energy Efficiency
---
Please join us at one of these
upcoming conferences:
Big Ten and Friends Annual
Mechanical Energy Conference
September 20 - 23
College Park, MD