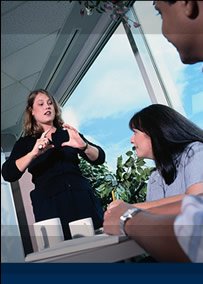 In every great association or company there comes a time when a conference, seminar, sales meeting or special event must be arranged.



Utilizing the services of Meeting Coordinators, Inc. will therefore not burden your employees with countless overwhelming logistical tasks.

Meeting Coordinators, Inc. has a staff of experts to create a professional event to meet and exceed your every expectation.
UPCOMING EVENTS

Tuesday, Sept. 24:
Women in Defense - MI Chapter (WID-MI):


"Attack & Defend:
A Soldier's Story"
5:00pm - Sterling Inn,
Sterling Heights
Thursday, Sept. 26:
Marketing & Sales Executives of Detroit (MSED)

:
Lunch Meeting: "The Business of Detroit Sports"
11:30am - Embassy Suites, Southfield
Wednesday, Oct. 2
Motor & Equipment Remanufacturers Association (MERA):
Annual Conference
8:00am - Management Education Center, Troy
Wednesday, Oct. 9
Assoc. of Training & Development - Greater Detroit Chapter (GDASTD):
Monthly Meeting -
"Consistent Performance: Using an Impact Mapto Train the Right Things"
5:30pm - Management Education Center, Troy
Monday, Oct. 14:
Project Managment Institute - Great Lakes Chapter (PMI-GLC):
Monthly Dinner Meeting
6:30pm - Marriott Hotel, Livonia
Wednesday, Oct. 16:
Marketing & Sales Executives of Detroit (MSED)
:
20th Annual Awards Gala Honoring Alan Batey, GM; Andra Rush, Rush Group; Peter Karmanos, Jr.
6:00pm - The Roostertail, Detroit
Mon-Wed., Oct. 21-23:
SAE International

:
Vehicle Energy Management and Advanced Powertrain Forum
8:00am - Doubletree Hotel, Dearborn
Friday, Nov. 8:
Women in Defense - MI Chapter (WID-MI):


5th Annual Black Tie Gala
6:00pm - Royal Park Hotel,
Rochester
September 2013 Newsletter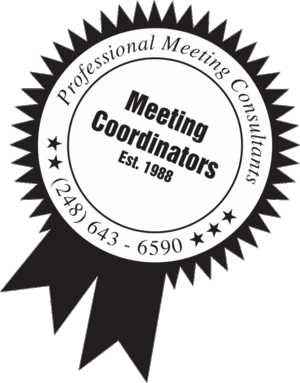 Meeting
Coordinators, Inc.
MSuccessful Meetings or
"Reinvention and Remaining Relevant:
The Delphi Prescription"

Recently, I had the privilege to attend a Troy Chamber of Commerce Luncheon. The keynote speaker was Rodney O'Neal, President & CEO of Delphi Automotive, with administrative offices in Troy, MI. The title of his presentation was "Reinvention and Remaining Relevant." I could not help but relate his remarks to my own business and the meetings industry. No, I am not currently a multi-million dollar company; however, what he had to say does not only apply to large companies, but also can be used in many business situations.

His presentation began with the idea that we all have to be in constant innovation mode. He is an avid reader of business publications and noted that authors often cite a problem and then suggest 'if you do this, your problem will be solved.' He does not totally agree with this view but feels that a business always has to morph to retain their relevance. So for all of our benefit, here is Rodney O'Neal's "Delphi Prescription for Relevance." Below I will show you how it relates to the meetings industry.
Have a strategic plan (written down)…. firmly rooted in reality.

Solve problems …. don't just manage them.

Strategy is nothing without execution.

Market relevant products & services.

Create economic value for ownership.
The Meeting & Conference View:
Do you have a 'fresh" strategic plan for the meeting or conference? Are you just repeating what has been done in the past? Are you in a constant innovation mode? Are your meeting goals realistic?

Have you analyzed your meeting/conference and do you know what problems are current or potential? Have you conducted any surveys and do you know the expectations of your audience along with their likes or dislikes? What are the potential problems and how will you solve those problems?

After you have drafted the plan, do you have all the appropriate tools and people in place to execute it? Will you be consistently referring to the plan to keep yourself on target?

Are you going to give your audience the information (product & services) they are expecting? How can you amaze them or provide the WOW factor?

Will your audience walk away feeling they received value for their time?
Attending the Troy Chamber meeting was certainly a valuable way for me to spend the afternoon and I am pleased to share these pointers with you.

Let me know how this works for you.
Ann Bruttell
President, Meeting Coordinators, Inc

Meeting Coordinators, Inc. – www.meeting-coordinators.com
We are here to help you! Call us or attend our next Meeting Planner Meetup to meet with other planners like yourself who are creating dynamic events & meetings every month.
---
MEETING PLANNER MEETUP
Wednesday, October 30th

8:00 am – 9:00 am – at Panera's on Big Beaver at Rochester Rd in Troy

Meeting Topic: "Make a List and Check it Twice: Holiday Event Planning"
Special Guest: Lila Abraham, President, Media Solutions, Inc.
Media Solutions is a certified Women-Owned Business in Detroit's Cultural Center. They are a full-service graphic design & promotional products company.
Are you planning a holiday event? Need ideas for client gifts? How can we help you make the process easier? Won't you join meeting planners from the local area for a cup of coffee and to exchange ideas and give/get advice on what we all do every day? Let's consult! The ideas are FREE and you have an opportunity to meet other industry professionals.
You may send us an email in advance to let us know that you are planning to attend so that we can look out for you….or just show up. We'd love to see you!
This Meetup is FREE!
You may send us an email to let us know that you are planning to attend so that we can look out for you….or just show up. We'd love to see you!
Success Stories

With Summer comes Golf Outings and we had the privilege to coordinate two incredible golf events this year. It's so nice to know that professionals can work hard and play hard and generously support our community.

The first event was held by Women in Defense - Michigan (WID-MI). The outing was a fundraiser for their Horizons Michigan Scholarship program, which supports women pursuing careers related to the national security and defense interests of the United States.

The second Golf Outing was for Marketing & Sales Executives of Detroit (MSED). This year was their 21st outing and they brought renewed energy to the event with a fun, new fundraising activity that got everyone involved and excited!

Congratulations to WID-MI and MSED for their leadership and the contributions they make to our thriving community.