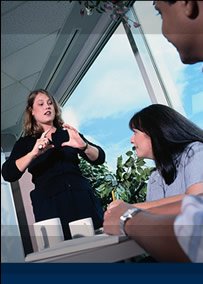 In every great association or company there comes a time when a conference, seminar, sales meeting or special event must be arranged.



Utilizing the services of Meeting Coordinators, Inc. will therefore not burden your employees with countless overwhelming logistical tasks.

Meeting Coordinators, Inc. has a staff of experts to create a professional event to meet and exceed your every expectation.
Upcoming Events
Monday, June 10
Project Management Institute Great Lakes Chapter
(PMI-GLC):
Monthly Dinner Meeting & Forum
5:30pm - Embassy Suites, Southfield
www.pmiglc.org
Wednesday, June 12
Greater Detroit Chapter - American Society for Training & Development (GDASTD):
Monthly Dinner Meeting
"1st Annual Top Trainer Throwdown"
5:30pm - Management Education Center, Troy
www.detroitastd.org
Wednesday, June 26
Marketing & Sales Executives of Detroit (MSED):
Monthly Meeting
"Annual Automotive Roundtable"
11:30am - Management Education Center, Troy
www.msedetroit.org
Friday, July 12
Women in Defense - MI Chapter (WID-MI):
Dinner Meeting
"5th Annual Golf Outing for HORIZONS Scholarships"
7:30am - Cherry Creek Golf Club, Shelby Twp.
www.wid-mi.org
Thursday, August 15
Marketing & Sales Executives of Detroit (MSED):
"21st Annual Marketing & Sales Professionals' Golf Outing for MSED Scholarships"
12:00pm - Twin Lakes Golf Club, Oakland Twp.
www.msedetroit.org
May 2013 Newsletter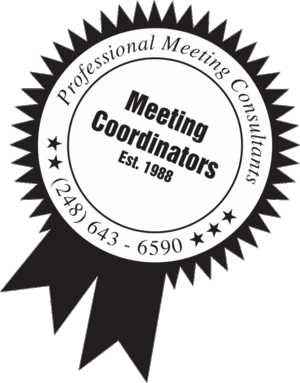 Meeting
Coordinators, Inc.
M The Name Badge Controversy
Never did I imagine that the March Newsletter would cause such controversy! Our newsletter is distributed to 600 emails and then of course we publish it on LinkedIn. I am not exaggerating to say that I received hundreds of passionate responses from all over the world. For those of you that perhaps did not get the chance to read my name badge editorial, you can read it here.

After reading all the responses, I have boiled them down to three categories. Here are the results:
No one likes the pin-on badges or self-adhesive.




The attendees that want to network and are serious about making contacts are in 100% agreement with me. A bulldog clip on the right hand side is the way to go with large font. The magnetic badge would otherwise be their second choice.




There are lanyard badge lovers out there! They beseech me not to eliminate their coveted lanyards. Most of these people wear it around their neck as an admission badge. They like the convenience of using it as an extra pocket to store the meeting agenda, daily tickets and business cards. Leave the type size large but truthfully, should they want to "network," they swap business cards. First and foremost, they are attending the event for the knowledge and they like the versatility and practicality of the lanyard. That said…fans of the lanyard do acknowledge that no one likes the fact that people are staring at their chest.
In conclusion I will say…know your attendees! Is networking a crucial component of your meeting? If so, go with the bulldog style badge holder or even the magnetic badge. Should you have learning as the major impact for your delegates, and they require tickets along with an extensive program agenda, then you will want to use the lanyard badge holder. However, should your attendance be primarily women…no lanyards… placement on the chest is too uncomfortable for them. Many people also believe that we are placing too many logos on the badge making it too cluttered and difficult to read. I agree, a clean simple badge is the best. It has been my pleasure to read all of your comments and I look forward to future discussions!

Thank you for sharing your opinions!
Ann Bruttell
President, Meeting Coordinators, Inc.
abruttell@meeting-coordinators.com


Meeting Coordinators, Inc. – www.meeting-coordinators.com
We are here to help you! Call us or attend our next Meeting Planner Meetup to meet with other planners like yourself who are creating dynamic events & meetings every month.
---
MEETING PLANNER MEETUP
Tuesday, June 18
8:00 am – 9:00am- Panera, on Big Beaver at Rochester Rd. in Troy
Won't you join meeting planners from the local area for a cup of coffee and to exchange ideas and give/get advice on what we all do every day? Do you know many planners in the Detroit Area? Do you need advice on purchasing event products? Do you need suggestions on where to hold your next event? How are you keeping meeting costs down? Let's consult! The ideas are FREE and you have an opportunity to meet other industry professionals.
This Meetup is FREE!
You may send us an email to let us know that you are planning to attend so that we can look out for you….or just show up. We'd love to see you!
Success Stories

April was another successful month for Project Management Institute - Great Lakes Chapter (PMI-GLC). The chapter held their 12th Annual Spring Symposium, "Advancing in a Resurgent Economy," at the Suburban Collection Showplace in Novi. It was a very successful event attended by over 450 project management professionals!

Neal Whitten, trainer, consultant and best-selling author, delivered the opening keynote address. It was followed by 12 sessions on various aspects of project management by experts and practitioners. The closing keynote was delivered by Jeff Dalton, author and president of Broadsword.
This event provided an outstanding opportunity for local professionals to network, expand their knowledge for career growth and earn professional development credits.
Congratulations to the many volunteers who worked tirelessly to serve the project management community and make this event successful!
We are proud to have PMI-GLC as a client of Meeting Coordinators, Inc. for the past 13 years.
Click here
for information about the Symposium and PMI-GLC.