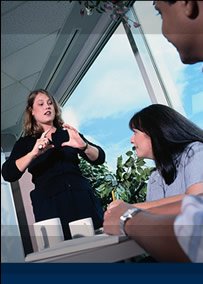 In every great association or company there comes a time when a conference, seminar, sales meeting or special event must be arranged.



Utilizing the services of Meeting Coordinators, Inc. will therefore not burden your employees with countless overwhelming logistical tasks.

Meeting Coordinators, Inc. has a staff of experts to create a professional event to meet and exceed your every expectation.
UPCOMING EVENTS

Tuesday, Feb. 4:




Marketing & Sales Executives of Detroit (MSED)

:
Breakfast Seminar:
"The Super Bowl:
Mega Opportunity or Marketing Quicksand?"
8:00am - Management Education Center, Troy

Monday, Feb. 10:
Project Managment Institute - Great Lakes Chapter (PMI-GLC):
Monthly Dinner Meeting
6:30pm - Management Education Center, Troy



Tuesday, Feb. 11




American Society for Training & Development - Greater Detroit Chapter (GDASTD):


Monthly Meeting -
"Boost Training Effectiveness: Top 10
Most Powerful Body Language Secrets"
5:30pm - Management Education Center, Troy



Tuesday, Feb. 18:




Women in Defense - Michigan (WID-MI):


Professional Development Event
5:00pm - TBA

Monday, Mar.10:
Project Managment Institute - Great Lakes Chapter (PMI-GLC):
Monthly Dinner Meeting
6:30pm - Management Education Center, Troy



Tuesday, Mar. 11




American Society of Training & Development - Greater Detroit Chapter (GDASTD):


Monthly Meeting -
5:30pm - TBA
January 2014 Newsletter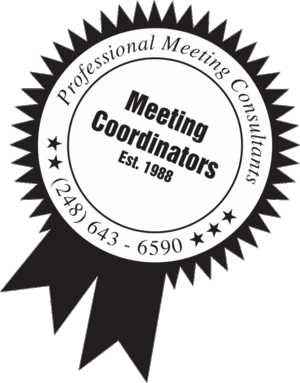 Meeting
Coordinators, Inc.
Let's Meet...Face-to-Face

I just read some interesting statistics in the recent edition of MPI (Meeting Planners International) magazine, "The Meeting Professional," that I would like to share with you.

Here is what they had to say:
55% of communication is nonverbal

38 % of communication is conveyed by tone of voice

7% relates to the words said or used



That means that if you conduct business by phone, you are missing all the body language and receiving only 45% of what is being conveyed. And that goes for both of you...they can't see your body language either! Now if you are the type of person that likes to send an email or text message, unless you are extremely expressive in your use of words, the recipient is only receiving 7% of your message! And let's not even try to imagine how these statistics relate to conference calls. I ran across this Youtube video that takes a humerous look. Enjoy!

These statistics brought up an interesting follow-up conversation. They did not touch on it in this article but what my colleague Cheryl and I discussed was the new trends to virtual meetings. Perhaps Facetime, Skype or programs like that will help all of us reconnect in a more personal manner. It certainly is wonderful the way loved ones are able to connect when miles apart. It may not be the best solution, but it is better. I do wonder when the technology will be common place in business. Can't say I would be ready for it just yet, but it will happen - and soon.

In the meantime, when it comes to meetings, the good news for our industry is that the face-to-face meetings or networking will continue to be much more impactful when conducted actually in person. However, virtual training certainly can be efficient and convenient and will be used to expand business knowledge and enhance the training experience.

Speaking of face-to-face meetings, why don't you join us at the upcoming Meet-up on February 19th?
Ann Bruttell
President, Meeting Coordinators, Inc

Meeting Coordinators, Inc. – www.meeting-coordinators.com
We are here to help you! Call us or attend our next Meeting Planner Meetup to meet with other planners like yourself who are creating dynamic events & meetings every month.
---
MEETING PLANNER MEETUP
Wednesday, February 19th

8:00 am – 9:00 am – at Panera's on Big Beaver at Rochester Rd in Troy

What events do you have coming up this year? How can we help you make the process easier? Won't you join meeting planners from the local area for a cup of coffee and to exchange ideas and give/get advice on what we all do every day? Let's consult! The ideas are FREE and you have an opportunity to meet other industry professionals.
This Meetup is FREE!
You may send us an email to let us know that you are planning to attend so that we can look out for you….or just show up. We'd love to see you!
Success Stories
Have you noticed an upswing in business? There certainly is an energy in the air. The Detroit Auto Show has created an awful lot of buzz and rightly so! Every indication is that excitement and growth for Michigan will be continuing.

Recently I was at a Troy Chamber of Commerce Hospitality Industry meeting. It was an energizing morning….8 new restaurants and 4 new hotels are in the works. Plus, a new MJR movie theatre and for all those super hero fans, the Batman/Superman movie will begin filming here in April. So, be on the lookout for Ben Affleck and Henry Cavill this Spring!

Job Opportunity……….
Speaking of good news…We at Meeting Coordinators are looking for another part-time person. So if you know anyone that enjoys meeting planning, has great attention to detail, loves computer work, is very personable and wants to work with some great people two days a week…..please let us know.