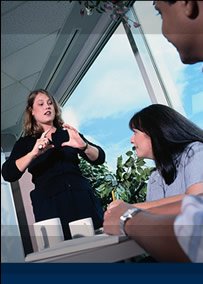 In every great association or company there comes a time when a conference, seminar, sales meeting or special event must be arranged.



Utilizing the services of Meeting Coordinators, Inc. will therefore not burden your employees with countless overwhelming logistical tasks.

Meeting Coordinators, Inc. has a staff of experts to create a professional event to meet and exceed your every expectation.
UPCOMING EVENTS

Tuesday, Sept. 16:
Women in Defense - Michigan (WID-MI):
"Leadership Speed Networking" - GRID Event
5:00pm - Velocity, Sterling Heights

Friday, Sept. 19:
Marketing & Sales Executives of Detroit (MSED):
"Building Brand Value"
5:30pm - Skidmore Studio, Madison Building, Detroit

Wednesday, Sept. 24:
Detroit Society for Human Resource Management (DSHRM):
Workshop: "Seeing the
Big Picture"
7:30 am - Management Education Center, Troy

Tuesday, Sept. 30:
Detroit Society for Human Resource Management (DSHRM):
Chapter Event: "Talent Management 2.0"
5:00pm - Management Education Center, Troy

Wednesday, Oct. 1:
Marketing & Sales Executives of Detroit (MSED):
"Shinola Detroit: An Inside Look at the Company's Story"
5:30pm - Traffic Jam & Snug, 511 W. Canfield, Detroit

Monday, Oct. 6:
Project Management Institute - Great Lakes Chapter (PMI-GLC):
October Dinner Meeting
and Forum
6:00pm - Livonia Marriott

Wednesday, Oct. 8 - Friday, Oct. 10:
Michigan Council of SHRM (MISHRM):
Annual Conference & Exposition
The Cobo Center, Detroit

Tuesday, Oct. 14:
American Society for Training & Development - Greater Detroit Chapter (GDASTD):
October Meeting - Speed Networking
5:30pm - Management Education Center, Troy



Tuesday, Oct. 14 - Thursday, Oct. 16:


SAE International (SAE):
2014 Transmission and Driveline Symposium and 2014 All-Wheel Drive Symposium
The Inn at St. John, Plymouth

September 2014 Newsletter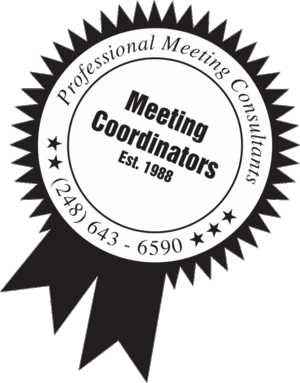 Meeting
Coordinators, Inc.

An "Ah Ha" Moment

In our last newsletter, I discussed the fact that in the summer months, meetings need to be shorter and have a level of fun interjected. Over the last month or so, this has been the subject of many discussions with my clients. There is never enough time in the day to accomplish everything we would like to see done. Furthermore, it was the consensus that anytime you can shorten a meeting and add the fun factor, it would be appreciated. In addition to that overall agreement, two interesting thoughts developed that I would like to share with you.

During a recent client meeting with senior executives, we discussed how technology via conference calls, webinars and other forms of technology has replaced many in-person meetings. However the need for face-to-face interaction is so very crucial. We need to be reminded to take a break from the internet for face-to-face interaction. Part of the pleasure in conducting business is the instant feedback you get when you are able to look someone in the eye.

The next suggestion was an "ah ha" moment for me. It was suggested that our next meeting be blocked for one hour but the agenda cut back to only 50 minutes. The genius of this idea is not the fact that we save 10 minutes, it is in what the 10 minutes will now allow. This allows time for the meeting after the meeting. It allows for the side-bar discussions. It allows the attendees time to reach over and introduce themselves to someone on the other side of the table without having to rush out. It allows the attendee to send out the text or take a call before they leave the room. By doing this you have now built in the pleasure of doing business eye-to-eye. GENIUS. (Thanks Herb Everss of Global Emergent….keep those genius ideas coming!)

"The world is run by those that show up!"

Ann Bruttell
President, Meeting Coordinators, Inc.


Meeting Coordinators, Inc.
http://www.meeting-coordinators.com/
We are here to help you! Call us or attend our next Meeting Planner Meetup to meet with other planners like yourself who are creating dynamic events & meetings every month.

---
MEETING PLANNER MEETUP
Wednesday, October 29th
8:00 am – 9:00 am – at Panera's on Big Beaver at Rochester Rd. in Troy

Won't you join meeting planners from the local area for a cup of coffee and to exchange ideas and give/get advice on what we all do every day? Let's consult! The ideas are FREE and you have an opportunity to meet other industry professionals.
This Meetup is FREE!
You may send us an email in advance to let us know that you are planning to attend so that we can look out for you… or just show up. We'd love to see you!
Success Stories......
Detroit Society for Human Resource Management (Detroit SHRM) Launches New Website
Transitioning from an old website to a new one is never an easy task. As we continue to move to a global marketplace, it is important in business to always stay ahead of the curve. With that in mind, we congratulate Detroit SHRM on the successful launch of their new website where they not only focus on local issues and events, but have also expanded their reach. Through their collaboration with the Michigan Council of SHRM and other chapters in the state, the website provides new ways for HR professionals to advance their careers. The benefits of this inclusiveness will result in greater professionalism within easy reach of your fingertips! We can no longer just operate within our own inner circle. Thank you Detroit SHRM for your leadership and forward thinking! Should you like to be a part of this dynamic organization, please check out their upcoming events.
Job Opportunity……….
Meeting Coordinators is looking for part-time office and event help. So if you know anyone that enjoys meeting planning, has great attention to detail, loves computer work, is very personable and wants to work with some great people a few days a week….please let us know.