New Year's Motto
"It's all about you"
It is ….. it REALLY is!
Do you remember the expression "If Momma ain't happy, ain't nobody happy"? Well in our case, if a client is not happy… ain't nobody at Meeting Coordinators happy!
YOU are our focus, you are the reason we come to work every day and you are the reason that we are successful. It is YOUR wants, dreams and desires that drive us. We want what you want and that's what makes our symbiotic relationship work. A funny thing happened last year with the improvement in the Michigan Economy. Once we were out of survivor mode, creativity and dreams also started to come alive. 2014 was a growth year for our associations and corporations. 2015 holds even more promise and we want to do whatever it takes to keep the momentum moving….and now with a creative flair! There is no greater success at Meeting Coordinators than to know our Clients are pleased and doing well. Thank you for allowing us to come to work every day and for the smiles we generate.
Our Newsmakers of the Year!
This time of year you hear a lot about the local and national Newsmakers of the Year. We know that greatness starts much earlier than an article or photo in the paper. One of my favorite sayings is "The World is run by those that show up." Some incredible leaders "showed up" this year. When a volunteer in a non-profit membership organization accepts the role of president, it is because of their passion for their professional craft. It is a privilege for me to list those organization presidents whose dedication contributed to the 2014 economic synergy and the wellness of their organizations:
Association for Talent Development, Detroit Chapter President: Michael Jacobson, Learning & Development Specialist - Chrysler Group
Detroit Society for Human Resource Management
President: Julia Kellogg, VP-Human Resources – North American Bancard
Marketing & Sales Executives of Detroit
President: Tom VanderLaan, VP-Business Development – Brose North America
Project Management Institute - Great Lakes Chapter
President: Surya Prakash, Senior Project Manager – Ally Financial Inc.
Women in Defense - Michigan
Presidents: Julie Wood and Patty Lopez – Rose-A-Lee Technologies
It gives us great pleasure to thank all of you for your support. You have left your mark, and we wish you continued success.
Ann Bruttell
President, Meeting Coordinators, Inc.
Meeting Coordinators, Inc. – www.meeting-coordinators.com
We are here to help you! Call us or attend our next Meeting Planner Meetup to meet with other planners like yourself who are creating dynamic events & meetings every month.
---
MEETING PLANNER MEETUP
Tuesday, February 17th
8:00am - 9:00am at Panera's on Big Beaver at Rochester Road, Troy
Won't you join meeting planners from the local area for a cup of coffee and to exchange ideas and give/get advice on what we all do every day? Let's consult! The ideas are
FREE
and you have an opportunity to meet other industry professionals.
This Meetup is FREE!
You may send us an email in advance to let us know that you are planning to attend so that we can look out for you… or just show up. We'd love to see you!
SUCCESSFUL MEETINGS
Here is a basic checklist you can use for your next meeting: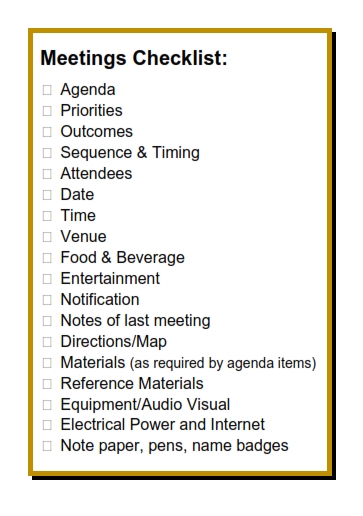 ---
---
Job Opportunity...
We are growing! At Meeting Coordinators are looking for a part-time person. If you know anyone that enjoys meeting planning, has great attention to detail, loves computer work, is very personable and wants to work with some great people two or three days a week... please call us at 248-643-6590.
In every great association or company there comes a time when a conference, seminar, sales meeting or special event must be arranged.

Utilizing the services of Meeting Coordinators, Inc. will therefore not burden your employees with countless overwhelming logistical tasks.

Meeting Coordinators, Inc. has a staff of experts to create a professional event to meet and exceed your every expectation.
---
Thursday, Feb. 5th:
Workshop: "Creating a Workforce Strategy in the New Economy"
7:30am - Michigan First Credit Union, Lathrup Village
Saturday, Feb. 7th:
Afternoon Hunt & Couples' Sweetheart Dinner
2:00pm - Hunters Creek, Metamora

Monday, Feb. 9th:
Dinner Meeting
6:00pm - Management Education Center, Troy
Monthly Meeting: "Maximizing New Talent Development Through Effective Onboarding"
5:30pm - Hilton Garden Inn, Southfield
Wednesday, Feb. 11th:
Networking Event
5:30pm - Emagine,
Royal Oak
Wednesday, Feb. 25th:
Networking Event
5:00pm - Valentine Vodka, Ferndale
Meeting Coordinators, Inc.
Telephone:
248-643-6590