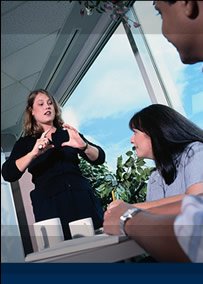 In every great association or company there comes a time when a conference, seminar, sales meeting or special event must be arranged.



Utilizing the services of Meeting Coordinators, Inc. will therefore not burden your employees with countless overwhelming logistical tasks.

Meeting Coordinators, Inc. has a staff of experts to create a professional event to meet and exceed your every expectation.
UPCOMING EVENTS

Wednesday, May 21:


Marketing & Sales Executives of Detroit (MSED):
"Motorsports Marketing and the Chevrolet Detroit
Belle Isle Grand Prix"
5:00 pm - Management Education Center, Troy

Thursday, May 22:
SAE Foundation:
2014 SAE Foundation Annual Celebration Honoring Osamu "Simon" Nagata
6:00pm - The Masonic Temple, Detroit



Monday, June 9:


Project Managment Institute - Great Lakes Chapter (PMI-GLC):
June Dinner Meeting
and Forum
6:00pm - Management Education Center, Troy

Tuesday, June 10:
American Society for Training & Development - Greater Detroit Chapter (GDASTD):
June Meeting - 2nd Annual Top Trainer Throwdown
5:30pm - AAA Headquarters, Dearborn



Wednesday, June 11:


Marketing & Sales Executives of Detroit (MSED):
Auto Roundtable
11:30am - Somerset Inn, Troy

Wednesday, June 11:
Detroit Society for Human Resource Management (DSHRM):
Networking Event
5:30pm - Bosco, Ferndale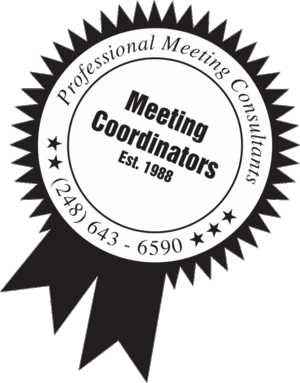 Meeting
Coordinators, Inc.
What's for Dinner?

Recently, I was asked by the International Visitors Council of Metropolitan Detroit to host a dinner party at my home for dignitaries from Eastern Europe. The group was invited to Detroit by the U.S. State Department to discuss the Trade Adjustment Exchange. The guests would include five delegates, two interpreters, and twelve to fifteen influential business leaders. Why a home hosting you may ask? The answer is two-fold. First, the atmosphere would be more relaxed, making conversation easier. Those that know English are more willing to speak up and those that need a translator also find it comfortable to engage in the conversation. Secondly, the visitors are always fascinated to see and experience American living.

So how does one host a sit-down dinner for 20 and what do you serve? No doubt that years of meeting planning helped, but it probably started years before that. When I was a child, I grew up with five brothers, one sister, parents, and a grandfather who lived with us. On any normal day, we were cooking dinner for 10.....so all I needed to do now was double the family recipes! The easiest meal to recreate is our Thanksgiving Feast. Think about it.....all dietary preferences are accommodated. There is turkey for those that don't eat red meat, salad and an assortment of vegetables for the vegetarians, and not a worry for the gluten or lactose intolerant individuals.....the perfect meal. The other benefit of this menu is the fact that it gives our guests an insight into American life and feeds (pun intended) their curiosity on what our Thanksgiving includes. A very diplomatic meal, wouldn't you say?

The next time you are in a quandry on what to serve your guests, treat them to an evening of Thanksgiving. You can be thankful for the friendships, thankful for an anniversary, or even thankful for another birthday.

It's all good when you give thanks!

Ann Bruttell
President, Meeting Coordinators, Inc.

Meeting Coordinators, Inc. – www.meeting-coordinators.com
We are here to help you! Call us or attend our next Meeting Planner Meetup to meet with other planners like yourself who are creating dynamic events & meetings every month.

---
MEETING PLANNER MEETUP
Wednesday, June 18th
8:00 am – 9:00 am – at Panera's on Big Beaver at Rochester Rd. in Troy
Won't you join meeting planners from the local area for a cup of coffee and to exchange ideas and give/get advice on what we all do every day? Let's consult! The ideas are FREE and you have an opportunity to meet other industry professionals.
This Meetup is FREE!
You may send us an email in advance to let us know that you are planning to attend so that we can look out for you… or just show up. We'd love to see you!
Please Welcome......
Kathy Wilson
We are so pleased to have Kathy join our team. She comes to Meeting Coordinators, Inc. with a wealth of business knowledge and a fierce attention to detail. Before joining Meeting Coordinators, Kathy was the Assistant to the Vice President-Sales at AT&T Advertising Solutions where she was responsible for coordinating sales meetings and events and managing sales incentive programs for the Midwest region.

I want to thank Carolyn Boccia of Krystal Marketing for introducing Kathy to us. Should any of you be in the market for promotional products, please give
Krystal Marketing the opportunity to bid on your business. Their mission is to help you create a long-lasting relationship with your clients through the power of promotional products.
Golf Anyone? Mark your calendar......
Marketing & Sales Executives of Detroit's Annual Golf Event is scheduled for August 21st at Twin Lakes Golf Club. Do you want to get to know some of the top sales and marketing executives in the Detroit area? Non-members are welcome! Please join us for a great day. For more information, their website is www.msedetroit.org.

The Women in Defense-Michigan Annual Golf Outing is scheduled for July 11th at Cherry Creek. Another wonderful event open to members and non-members. Do you or your company do business with our government defense industry or do you want to do business with them? If so this is a great opportunity to mix and mingle. And….by the way, it is open to men as well! For more information their website is www.wid-mi.org.