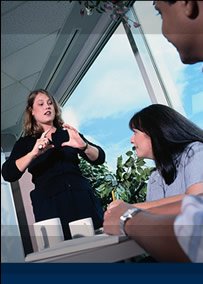 In every great association or company there comes a time when a conference, seminar, sales meeting or special event must be arranged.



Utilizing the services of Meeting Coordinators, Inc. will therefore not burden your employees with countless overwhelming logistical tasks.

Meeting Coordinators, Inc. has a staff of experts to create a professional event to meet and exceed your every expectation.
Upcoming Events
Thursday, March 21
Marketing & Sales Executives of Detroit (MSED):
Monthly Dinner Meeting
"Automotive Journalists Panel - CEO for a Day"
5pm - Management Education Center, Troy
www.msedetroit.org
Monday, April 8
Project Management Institute Great Lakes Chapter
(PMI-GLC):
Monthly Dinner Meeting & Forum
5:30pm - Management Education Center, Troy
www.pmiglc.org
Wednesday, April 10
Greater Detroit Chapter - American Society for Training & Development (GDASTD):
Monthly Dinner Meeting
"The Auto Club Group's
Best Practices"
5:30pm - AAA, Dearborn
www.detroitastd.org
Friday, April 12
Marketing & Sales Executives of Detroit (MSED):
Professional Dev. Seminar
"Social Media - The Ultimate Feedback Loop: Opportunities & Challenges"
8:00am - Management Education Center, Troy
www.msedetroit.org
Tuesday, April 16
Women in Defense - MI Chapter (WID-MI):
Dinner Meeting
"Defense Industry Update Panel Discusssion"
5pm - Sterling Inn Banq. Ctr,
Sterling Heights
www.wid-mi.org
Thursday, April 25
Marketing & Sales Executives of Detroit (MSED):
Monthly Breakfast Meeting
"Defining Moments in Leadership - A Group Discussion"
8:00am - Management Education Center, Troy
www.msedetroit.org
Friday, April 26
Project Management Institute Great Lakes Chapter
(PMI-GLC):
Annual Spring Symposium
8am - Suburban Collection Showcase, Novi
www.pmiglc.org
March 2013 Newsletter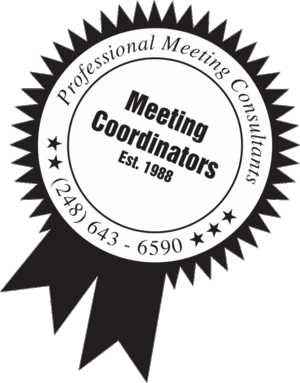 Meeting
Coordinators, Inc.
M What's in a Name...Badge?
Ann
Bruttell
Meeting Coordinators, Inc.
I am in the business of connecting people. My company, Meeting Coordinators, Inc., has had that pleasure for 25 years now. There are two main reasons why people attend conferences, meetings and seminars. The first is for knowledge and the second is to connect with others.

It is because of the second reason that I have a pet peeve about name badges. If you want to connect with people, why would you wear a name badge with print that needs a magnifying glass to read? Too many event planners print badges with a font size of only 16pt. Worse yet, some let their attendees place their business card in the badge holder, which could hardly be read unless it is 8 inches away from your nose. I just shake my head; I am really dumbfounded. The only reason I can come up with is that they are not using name badges for people to connect, they are only using them to show that the person belongs at the event – like a badge of admission. Just in case you are curious, my preferred type size is 36pt for the first name, 24pt for the last name on the 2nd line and the company name on the third line at 18pt. (See sample above.)

While on the subject of badges, did you know there is a correct side to wear your badge? The badge belongs below the right shoulder. There is science behind this. It has been proven that when a person shakes hands with you, it is more natural for their eye to go towards your right side. Having your badge on the right allows them to see your name as confirmation of the introduction. It is an opportunity to reinforce your name in their memory.

Since we are discussing placement of the badge, the only correct place to secure it is below the right shoulder. I have seen some very creative placements over the years and I really don't want my eye to be there! I think part of the problem is that people think it has to be clipped to a pocket, collar or lapel, but that is not true. Because it is a clip, it can just be pinched to the fabric on the right hand side.

I hope to see you, and your name badge, at a local event soon!

Ann Bruttell
President, Meeting Coordinators, Inc.
abruttell@meeting-coordinators.com


Meeting Coordinators, Inc. – www.meeting-coordinators.com
We are here to help you! Call us or attend our next Meeting Planner Meetup to meet with other planners like yourself who are creating dynamic events & meetings every month.
---
MEETING PLANNER MEETUP
Tuesday, April 23
8:00 am – 9:00am- Panera, on Big Beaver at Rochester Rd. in Troy
Meet Nick Forte from Forte Belanger
Join us and meeting planners from the local area for a cup of coffee on April 23rd. At this Meetup, our topic will be "Tasty Trends." What are the new and exciting hors d'oeuvres, cocktails or other menu items? Nick Forte, General Manager of Forte Belanger Catering, will join us for our discussion and share his expertise on the topic.

Thank you to all who attended the February Meetup. We had a great discussion about a new registration software product called MessageBlocks. We not only got a demonstration from founder Len Gauger, but also provided him with feedback and ideas for functionality from a meeting planner's perspective.

The Meetup is a great opportunity to exchange ideas and give/get advice on what we all do every day. Let's consult! The ideas are FREE and you have an opportunity to meet other industry professionals.

This Meetup is FREE!
You may send us an email to let us know that you are planning to attend so that we can look out for you….or just show up. We'd love to see you!
Success Stories

I hope that you were one of the over 200 that attended the Automation Alley 2013 IMPACT Conference held on February 21st. This annual IMPACT business conference explored what it means to have IMPACT in today's economic environment, how to take advantage of key resources for business growth and how to connect with clients, colleagues and customers. The exhibit hall at the Best Western Sterling Inn was all a buzz with B2B connections along with breakout sessions providing knowledge on leading-edge technology and successful business practices.

Congratulations to Automation Alley, along with their staff and volunteers, on creating such energy to jump start the New Year.
www.automationalley.com