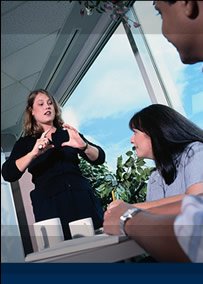 In every great association or company there comes a time when a conference, seminar, sales meeting or special event must be arranged.



Utilizing the services of Meeting Coordinators, Inc. will therefore not burden your employees with countless overwhelming logistical tasks.

Meeting Coordinators, Inc. has a staff of experts to create a professional event to meet and exceed your every expectation.
Upcoming Events
Wednesday, August 14
Project Management Institute Great Lakes Chapter
(PMI-GLC):
Open House & Networking Event
5:30pm - Management Education Center, Troy
www.pmiglc.org
Wednesday, August 14
Greater Detroit Chapter - American Society for Training & Development (GDASTD):
Monthly Dinner Meeting
"The Art of Networking"
5:30pm - DeCarlo's Banquet Center, Warren
www.detroitastd.org
Thursday, August 15
Marketing & Sales Executives of Detroit (MSED):
21st Annual Golf Outing for Scholarships
12:00pm - Twin Lakes Golf Club, Oakland Twp.
www.msedetroit.org
Monday, September 9
Project Management Institute Great Lakes Chapter
(PMI-GLC):
Monthly Meeting
5:30pm - Embassy Suites, Southfield
www.pmiglc.org
Wednesday, September 11
Greater Detroit Chapter - American Society for Training & Development (GDASTD):
Monthly Dinner Meeting
"Learning New Economy Business Models for Learning & Development"
5:30pm - Ukrainian Cultural Center, Warren
www.detroitastd.org
Friday, September 13
Automation Alley:
Annual Awards Gala
6:00pm - The Henry Hotel, Dearborn
www.
automationalley.org
Tuesday, September 17
Wednesday, September 18
SAE International ESVP/IVS Symposium
8am - Marriott, Troy
www.sae.org
July 2013 Newsletter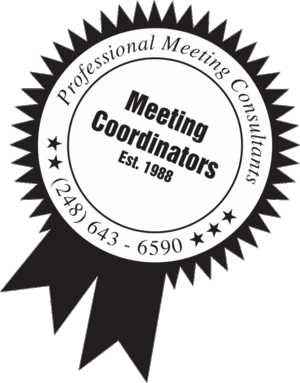 Meeting
Coordinators, Inc.
M Eliminate "Non-Productive" Meetings
Like many of you, I am connected to LinkedIn. Recently Jeff Weiner, CEO at LinkedIn, wrote an article on "A Simple Rule to Eliminate Useless Meetings." I don't believe anything in his article would come as a surprise, but it provided a nice reminder of how your meetings need to be organized. He had 6 points which I will list here, and then I have a 7th point I would add at the end.
Define the objective of the meeting.

Identify who is driving.

Take the time to define semantics (and first principles).

Assign someone to take notes.

Summarize key action items, deliverables, and points of accountability.

Ask what you can do better.
Now here is my addition:
Change meeting teaching style every 20 minutes.

People learn under different teaching methods – visual/hearing, reading/seeing, and touching/doing. During an hour meeting you need to incorporate all. I saw how well this worked for my daughter when she was a freshman at the International Academy. The school operated on a "Block Schedule," which meant fewer classes in a day but each at 90 minute intervals. To keep the intensity of the class subject moving along, the teachers had to change their format of teaching every 20 minutes. They couldn't just let them watch a video or listen to a lecture for the entire time block. They had to switch it up. They had to engage everyone.

Try this yourself at your next meeting and bring out your inner child. Remember kindergarten? We all loved story-telling, show 'n tell and coloring……bring that concept into your next meeting and see how everyone responds.

Let me know how this works for you.

Ann Bruttell
President, Meeting Coordinators, Inc.
abruttell@meeting-coordinators.com


Meeting Coordinators, Inc. – www.meeting-coordinators.com
We are here to help you! Call us or attend our next Meeting Planner Meetup to meet with other planners like yourself who are creating dynamic events & meetings every month.
---
MEETING PLANNER MEETUP
Tuesday, August 20
8:00 am – 9:00am- Panera, on Big Beaver at Rochester Rd. in Troy

Meetup Topic:
Do you have an idea for a topic you'd like to discuss? Send us your idea!
Won't you join meeting planners from the local area for a cup of coffee and to exchange ideas and give/get advice on what we all do every day? Do you know many planners in the Detroit Area? Do you need advice on purchasing event products? Do you need suggestions on where to hold your next event? How are you keeping meeting costs down? Let's consult! The ideas are FREE and you have an opportunity to meet other industry professionals.
This Meetup is FREE!
You may send us an email to let us know that you are planning to attend so that we can look out for you….or just show up. We'd love to see you!
Success Stories

How appropriate this month to tout the praises of Marketing and Sales Executives of Detroit (MSED) since I am discussing well-run meetings in my article above. In May, the MSED Board of Directors conducted their yearly brainstorming session. At this annual meeting, they completely dissect the entire organization and determine what stays, what goes and what is new for the upcoming year. There are materials distributed in advance….an agenda with timelines, presentations, writing on the white boards, breakout groups and a lot of laughter, which made the morning go by very fast but also extremely productive. The pace was fast and everyone was engaged.

Congratulations to MSED for another successful year…it's no wonder the organization has been going strong for 24 years!