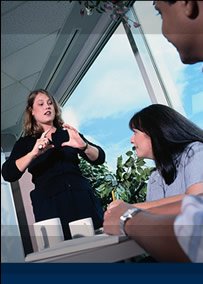 In every great association or company there comes a time when a conference, seminar, sales meeting or special event must be arranged.



Utilizing the services of Meeting Coordinators, Inc. will therefore not burden your employees with countless overwhelming logistical tasks.

Meeting Coordinators, Inc. has a staff of experts to create a professional event to meet and exceed your every expectation.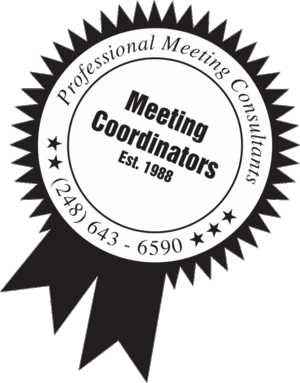 Meeting
Coordinators, Inc.
Think Spring... Cleaning?

Like you, we are all ready for Spring. We just know that any minute now the daffodils and tulips will be blooming. As we look forward to the new season, we should also keep in mind that this is a time of spring cleaning, a chance to look at your meeting planning with fresh ideas. At Meeting Coordinators, we are in a fortunate position. Every time we take on a new client, we are able to look over what has been done and analyze if it is the best way. Not only is it good for the new client, but it also affects all clients as we learn new ways.

I encourage all of you to look at your events as if you are seeing them for the first time. Walk into your next event with a fresh perspective and ask yourself…
1. Would I want to be here? Your attendees are really not different from you. For example, this morning one of our clients had a 7:30 am meeting and as they walked in, the registration table was to the right, but the coffee (and juice) station was to their immediate left. Out of 75 people in attendance I think I heard at least 60 folks say "GREAT, there is the coffee"
2. Is the meeting signage welcoming?
The sign is the first reflection of you or your organization. Does it represent you well?
3. Does your registration desk look organized and uncluttered?
Are you placing items on the registration table just because you have always had them there? Perhaps a literature table off to the side would suit you better.

4.
Are you distributing materials and do they look fresh?
How are you promoting your brand image? Does it have energy and vitality?
5. Have you included a "wow" factor for the attendees?
To cite my 7:30 meeting again… the "wow" factor was certainly the beautiful tray of sliced fresh fruit, which was not only pleasing to the eye, but delicious and healthy too!
6. Don't forget to thank people for coming. So many meetings have ambassadors to welcome people, but they should also have someone stationed at the exit to thank everyone too. This might be a great opportunity to snag some of those non-members and offer a membership brochure.

I may have said this before…..because it is one of my favorite sayings……..

The world is run by those that show up!
Ann Bruttell
President, Meeting Coordinators, Inc
Meeting Coordinators, Inc. –
www.meeting-coordinators.com
We are here to help you! Call us or attend our Meeting Planner Meetup this April 23rd to meet with other planners like yourself who are creating dynamic events & meetings every month.
---
MEETING PLANNER MEETUP
Wednesday, April 23rd
8:00 am – 9:00 am – at Panera's on Big Beaver at Rochester Rd. in Troy

Won't you join meeting planners from the local area for a cup of coffee and to exchange ideas and give/get advice on what we all do every day? Let's consult! The ideas are FREE and you have an opportunity to meet other industry professionals.

This Meetup is FREE!
You may send us an email in advance to let us know that you are planning to attend so that we can look out for you… or just show up. We'd love to see you!
Success Stories
With Spring now here we have started the planning of Golf Outings! Take this opportunity mark your calendars for the following:

Marketing & Sales Executives of Detroit's Annual Golf Event on August 21st at Twin Lakes Golf Club. Do you want to get to know some of the top sales and marketing executives in the Detroit area? Non-members are welcome! Please join us for a great day. For more information, their website is www.msedetroit.org.

The Women in Defense-Michigan Annual Golf Outing is scheduled for July 11th at Cherry Creek. Another wonderful event open to members and non-members. Do you or your company do business with our government defense industry or do you want to do business with them? If so this is a great opportunity to mix and mingle. And….by the way, it is open to men as well! For more information their website is www.wid-mi.org.

Job Opportunity……….
Speaking of good news… We at Meeting Coordinators have just hired one person and we are looking for another part-time person. So if you know anyone that enjoys meeting planning, has great attention to detail, loves computer work, is very personable and wants to work with some great people two days a week….please let us know.