Click to view this email in a browser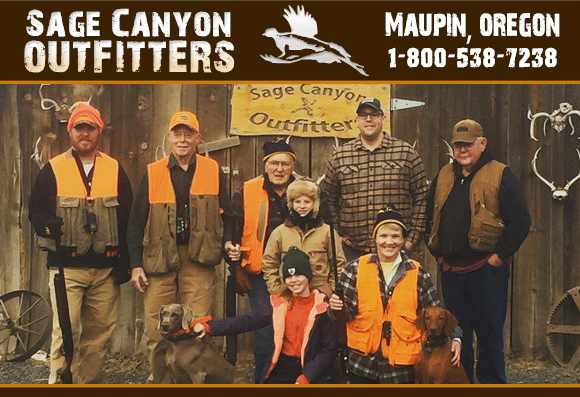 Greetings,
The 2019 Portland Sportsmen's Show is coming up, and unfortunately, we will not be able to make it this year. However, that doesn't mean that you should miss out on a great deal!
This Special is only available for purchase until Friday, February 13th! Our season is from September to March 31st, which will leave you plenty of time to buy now and book later! You won't find a great deal like this anywhere else, so don't miss out on this great opportunity to book an awesome hunting trip with your buddies, coworkers, or loved ones.
See you soon & Happy Hunting!
Bob Krein 541-815-0721
2019 Sportsmen's Show Special
20 Mixed Bird Hunt
Non-Guided. 4 Hunters
Value: $640/$90 savings ($50 in birds and $40 in Ranch Access Fees)
Special must be purchased by Friday, February 13th, 2019.
All discounts only valid during the Oregon Upland Bird Preserve Season.
All Specials must be pre-purchased upon booking.
You will receive a card in the mail after purchase with your Show Special details.
Expires 3/31/2020. No Cash Value.
Call 1-800-538-7238
to purchase your Show Special and reserve your hunt!
1-800-538-7238 | Maupin, Oregon
---
If you no longer wish to receive these emails, please reply to this message with "Unsubscribe" in the subject line or simply click on the following link: Unsubscribe
Sage Canyon Outfitters
PO Box 158
509 Deschutes Ave.
Maupin, Oregon 97037
US


Read the VerticalResponse marketing policy.