Join Us for a Celebration That Only Comes Once Every 20 Years!
Saturday, April 30, 2016
Radisson Blu Aqua, 221 N. Columbus Drive Chicago

Have Dreams celebrates its 20 Year Anniversary with the 7th Annual Night of Dreams Gala. Michelle and Robert Smigel, creators of the Night of Too Many Stars biennial benefit for autism on Comedy Central, will be honored with the 2016 Dream Maker Award for their incredible support of autism services across the nation. Chicago
Sun-Times film critic and 'Good Day Chicago' co-host Richard Roeper

will emcee the evening. Proceeds benefit Have Dreams' programs and services for children, teens and young adults with autism. Click here for sponsorship opportunities or contact Bobbi Goldman at

bgoldman@havedreams.org

or 847-685-0250, ext. 112.
---
Have Dreams Golf Classic Sponsorship Opportunities/Registration

Monday, August 8, 2016
Itasca Country Club,
400 E. Orchard St., Itasca, Illinois

Join us for a fun day on the links at the Have Dreams Golf Classic at the beautiful

Itasca Country Club

in August! Shotgun start will be at 12:00 noon with dinner at 6:00 p.m. Click here for sponsorship opportunities/registration.
---

Training for Professionals Who Work with Children with ASD:
Advanced Topics in Autism
February 23 & 24
LIMITED SPACES AVAILABLE!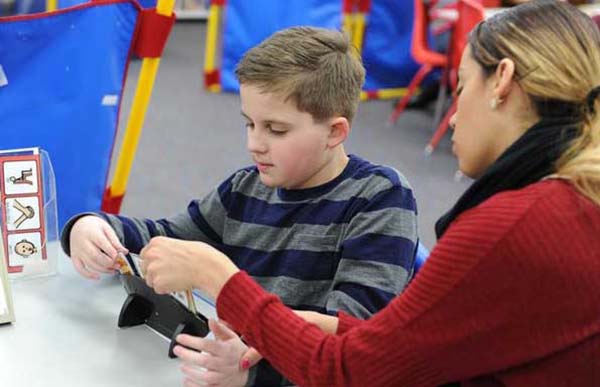 Have Dreams is offering a two-day advanced training seminar covering topics such as Diagnosis/ASOS, Medications/Psychopharmacology, The defense of the IEP, Social Thinking, Communication, Technology, and Preparing Students for Employment/Adulthood.
Tuesday, February 23 & Wednesday, February 24, 2016 from 8:30 am - 4:00 pm

Have Dreams, 2020 Dempster St., Evanston, IL

$350 per person (includes lunch each day)

12 CPDU Credits

A basic Structured Teaching training (such as Have Dreams' 2-day BEST, 5-day CSU, or Reading/Social Leisure training) is a prerequisite for this seminar.
---
Northwestern Honors Project SEARCH Collaborates for Autism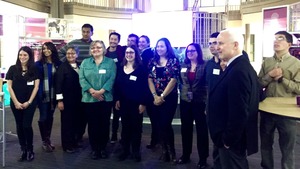 Northwestern University (NU) President Morton Schapiro (second from right) with PSCA@NU interns and NU staff.

On December 8, a reception was held at Northwestern University (NU) honoring the Project SEARCH Collaborates for Autism program at Northwestern University (PSCA@NU), a one-year transition to employment program for students with autism in their last year of high school.

"This isn't really just stepping up and doing something good for the community. This is something really, really good for Northwestern University," said NU President Morton Schapiro about PSCA@NU in his remarks at the reception. "I want to thank the interns for showing us the way, for teaching us perseverance, humility, dignity and class."

PSCA@NU began in fall 2013 when New York Collaborates for Autism (NYCA) selected Northwestern and Have Dreams as its Midwest pilot site for Project SEARCH. The program is collectively funded and operated by Have Dreams, NU, New York Collaborates for Autism/Project SEARCH, the Division of Rehabilitation Services, the Department of Commerce and Economic Opportunity and local school districts, including New Trier High School, Glenbrook High Schools and Deerfield/Highland Park High Schools.

---
Spring Job Opportunities for Young Adults with Autism:
Have Dreams Academy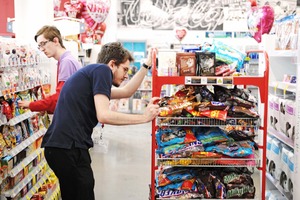 Do you know a young man or woman with autism seeking employment? Spring job opportunities are currently available for individuals with autism 18 years and older who complete an on-the-job workforce training program with the Chicago-area Have Dreams Academy. Enrolled participants will enhance their social and communication skills, gain work experience and learn transferable job skills through intensive training, job coaching and real workplace internships. Interns will:
Learn transferable job-skills and gain work experience

Improve self-management strategies

Enhance their social and communication skills

Discern and develop career interests
---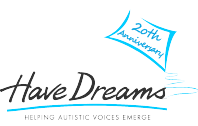 A "Dream List" and Social Buddies Needed to Build a New Program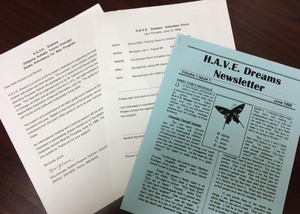 The first Have Dreams Newsletter (in blue) along with a letter and volunteer form calling for 6th and 7th graders to help with a new "Social Skills Training Class for Children with Autism."
We have been digging into our past here at Have Dreams and finding some fun photos and early materials. Recently, we found copies of Volume 1, Issue 1 of the "H.A.V.E. Dreams Newsletter." Four pages on blue paper. It has a Director's message from Kristina Johnsen, an explanation of what autism is, and a book recommendation ("Thinking in Pictures and Other Reports from My Life with Autism" by Temple Grandin).
Have Dreams' social programs were
just getting started and the newsletter also included
a "Dream List" of items to be donated, including air hockey tables, pots and pans, waffle blocks, water and sand tables, floor puzzles and a cassette player.

That's not all that was needed, though. We also found the first letter and volunteer form asking for 6th and 7th graders at Carpenter School in Park Ridge to be peer mentors for Have Dreams. The form called for "Sensational, caring 6th (soon-to-be 7th) graders from Carpenter School" who "can make a difference!!!"
Today, we call our Have Dreams peer mentors "Social Buddies." These wonderful volunteers
have been a key component of Have Dreams programs from the very beginning. Social Buddies act as positive role models, play games and activities and interact socially with Have Dreams participants.

Even after 20 years, we still need "sensational, caring" Social Buddies volunteers. If you know anyone age 12-18 who would like to volunteer as a Have Dreams Social Buddy, please contact Dana Fenceroy at dlabrose@havedreams.org. While many things have changed over the years, the Social Buddies program remains an enduring part of Have Dreams' history.
---