---

MARCH CONTEST
Our office contest was to count the
Lucky Charms in the Jar.
We had two winners!
Emma H. and Kali F. - great job!
Congratulations girls!
---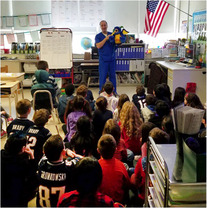 Dr. Gamm Visits Sharon Heights Elementary
Every year, Dr. Gamm visits the students at Sharon Heights Elementary School. His good friend, Donnie the Dragon, likes to show the students how important it is to brush your teeth twice a day. Dr. Gamm reviews healthy foods to eat and the sticky sugary foods to avoid.
---
Treatment Information at Your Fingertips -
Your adventure starts here!

Have you received one of these cute little
SEOrtho flash drives? It's part of our ongoing orthodontic education called "The Orthodontic Roadmap to Success." New patients to the practice receive these to jumpstart your orthodontic adventure along with a roadmap to success card.
---
Have you heard about the SEOrtho Hygiene Program?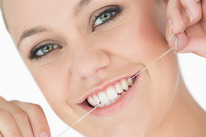 Visiting the general dentist during orthodontic treatment is necessary, encouraged, and rewarded. We recommend that you continue semi-annual check-ups and cleanings with your general dentist. Anytime a patient has a regular cleaning and exam, and brings back a dental cleaning certificate, we award extra reward points. Once the points are awarded we also enter your hygienist's name into a drawing to reward their important role in maintaining healthy, clean teeth during your treatment. Hygienists play a key role in promoting oral hygiene and we randomly choose one hygienist per quarter to reward and personally thank them for the continued support and education they provide all of our orthodontic patients.
Each time you go to the dentist for a cleaning you can ask us for a dental cleaning form to bring with you. Just have the hygienist sign the form and bring it back into our office to receive your reward points!
---
Recent Smile Transformations
Our entire team works hard everyday to help achieve perfect smiles for every patient that walks through our doors. Our advanced technology, techniques and materials ensure that our patients are getting the best orthodontic treatment possible, while we continue to educate patients on excellent oral hygiene for a clean, healthy and straight smile!
These recent smile transformations show the beautiful results of all that hard work!

---
SPEAKING OF TECHNOLOGY...
Southeast Orthodontics is now enhancing treatment with the latest technology.
We are using 3D scanners that glide over the teeth to take rapid, accurate digital impressions. The impression takes form live on the screen in 3D. The image is the exact replica of your teeth. We are pleased to provide our patients more accurate impressions, greater comfort and improved quality appliances.
Below, Toni is demonstrating the 3D scanner on a patient.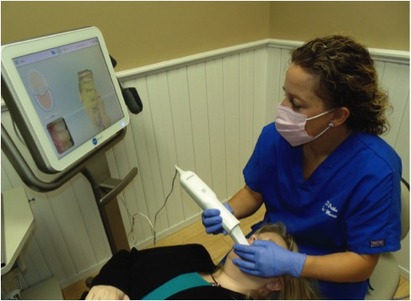 ---
iCAT Cone Beam 3D Dental Imaging
We are proud to be offering the iCAT Cone Beam 3D Dental Imaging. It allows us to provide quick, comfortable, and effective dental imaging for the most precise dental diagnosis possible. iCAT technology provides 3D data for:
Cephalometric and Panoramic radiographs
Full facial and jaw 3D images
Impactions
TMJ treatment
Airway assessments and sleep apnea
Dental implants
Wisdom teeth extractions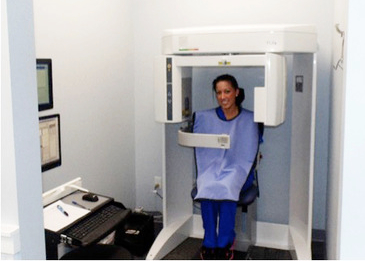 Toni is demonstrating the iCAT Cone Beam 3D Imaging system
Patients can take advantage of a more complete dental treatment with iCAT imaging. Special features for patients include:
One, 5 or 9-second scan, depending on patient size, provides enough data for a complete diagnosis
A safer diagnosis with less radiation than traditional CT scanners
Increased comfort - patients are seated in an open environment with plenty of space
Drs. can easily share the data with patients and their other health care providers.
3D radiography is an incredible new technology. The ability to see a patient's mouth in life-like three dimensions means less radiation, more accurate diagnosis, and better orthodontic treatment.
This technology can be considered a "game changer." Ask a team member during your next visit to learn more!
---
Braces-Friendly Recipe
Who doesn't love ice cream? Try our yummy take on the classic banana split with our soft baked chocolate bananas over ice cream of your choice! Yummmmm…..
Chocolate Baked Bananas Over Ice Cream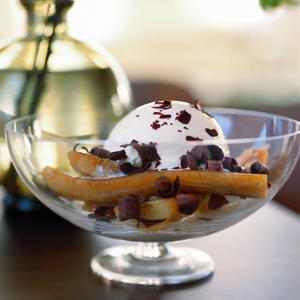 Ingredients:
4 whole bananas in the peel
4 ounces semisweet chocolate chips
4 tablespoons Nutella
1 pint ice cream, flavor of your choice
Directions: Pre-heat your oven to 450 degrees. Place the banana on a work surface with the ends pointing up. Using a small sharp knife cut a horizontal slit down the inside so you can open the peel like an envelope and stuff it. Being careful not to rip open the peel, spread 1 tablespoon of Nutella in each slit and add one ounce of chocolate chips. Close up the banana peel and wrap the banana in foil. Repeat with the remaining bananas. Place bananas on a baking sheet and bake for 10 minutes or until the inside of the bananas are soft and warm and the chocolate is melted. Before removing the bananas from the foil, remember to be careful as the banana and the melted chocolate will be hot. To serve, place 2-3 scoops of ice cream into oval dessert bowls. Carefully remove each banana from the foil and peel the baked bananas and place on top of the ice cream. Makes 4 servings. Bon Appétit!
If you have a braces-friendly recipe please share it with us and we will include it with our next newsletter!
---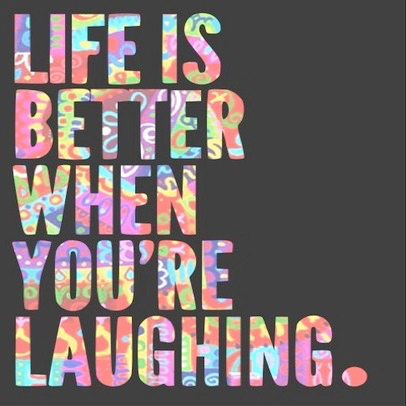 ---
Eat like a sailor...Popeye!
Although consuming cans of spinach may not make you grow muscles, it will help your teeth. Spinach is one of a few plants able to concentrate fluoride into its leaves. Consuming spinach, especially while you're young is a great way to help grow stronger teeth. A small amount of fluoride every day helps keep a low level in your saliva which can prevent tooth decay.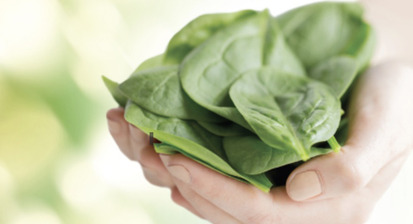 ---
Question of the Quarter
Q. Why should I take my child back to the orthodontist for observation visits? Are these visits really necessary?
A. Yes they are!
These visits allow your orthodontist to monitor changes as your child grows. The kinds of things your orthodontist will be watching include whether:
Baby teeth are being lost on schedule
Permanent teeth are coming in symmetrically, in the correct sequence at the correct time
Upper and lower jaws are developing properly
Permanent teeth have enough room to come in
If treatment is necessary to intercept a developing or existing problem, there is often an ideal time for treatment to begin. These return visits help determine the best time to in start treatment.
Treatment doesn't always mean a child gets braces. Treatment could consist of pulling a stubborn baby tooth at the right time, or intervention help to stop sucking habit. Orthodontists are experts in knowing what type of treatment is needed, and when it will be most beneficial.
Please continue to have your child seen periodically by your orthodontist if it has been recommended. You will be giving your child the opportunity to get the best results from their orthodontic treatment and the precious gift of a healthy, beautiful smile.
---
Keep Smiling!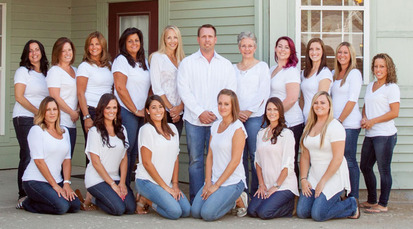 The Team at Southeast Orthodontics