Federation Logo Gets New Look,
New Ads Help Spread the Good News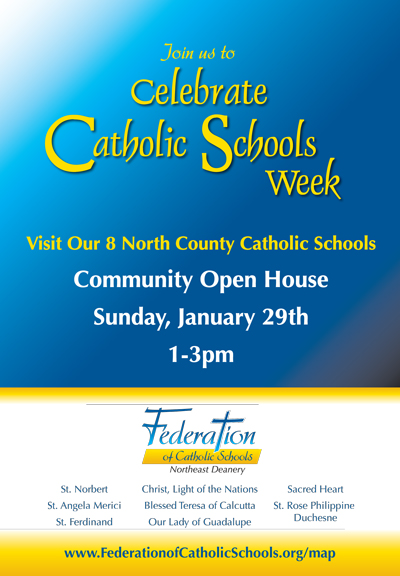 You may notice a slightly different look to the Federation of Catholic Schools logo. Thanks to graphic designer Diane Ressel, parishioner and school parent at Sacred Heart School and member of the Commission on Marketing and Advancement, we have freshened the look of the logo and applied it to some new advertising outlets.
As you drive down Lindbergh this month, you may notice some large posters located at bus stop shelters, advertising our upcoming Joint Open House on January 29th. This, along with advertising in local newspapers and online, is designed to help increase the awareness of Catholic Education, and it's availability and vitality, here in North County. A sample of the ad is shown at the right.
Smaller posters (11 by 17") are available for display throughout the community. If you or someone you know owns a business that would be willing to display a poster to help promote our schools, please e-mail advancement@FederationofCatholicSchools.org.
North County is unique and fortunate to have a full range of Catholic Education options including daycare, preschool, the eight elementary schools of the Federation, the Department of Special Education's Academy at St. Rose Philippine Duchesne, and Trinity Catholic High School, all within the boundaries of our Northeast Deanery. As always, word of mouth is the BEST way to spread the good news about our Catholic schools. Please invite your neighbors, families, friends, and everyone to visit your parish school on January 29th. Even if you do not have school aged children, you are most welcome to come and see for yourself how our schools are Alive in Christ!