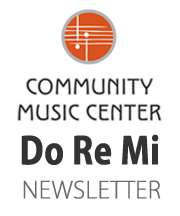 F E B R U A R Y 2 0 1 6
Monthly musical news from CMC!

"El Son de la Misi
ó

n" debuts in March!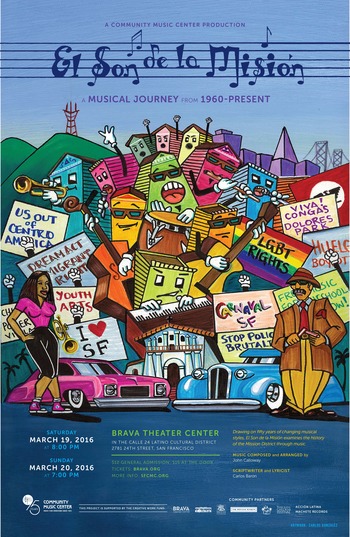 As part of our 95th anniversary season, CMC has commissioned a musical history of our Mission neighborhood. El Son de la Misión is a celebration of the arts and cultural activism in the Mission District from the 1960s to the present. Mark your calendars for its world premier at the Brava Theater on March 19 and 20!
John Calloway: Artistic Director, Lead Composer
Carlos Baron: Script-Writer, Lyricist, Actor
Araceli Leon: Actor, MDYMP Alumna
Featured artists include John Santos, Loco Bloco, the Bayonics, Soltr
ó
n, Fogo Na Roupa, La Familia Pena-Govea, students from the Mission District Young Musicians Program, and many more...
"In the process of creation, rehearsal and production,
El Son de la Misi
ó
n
gives us a way to come together – like a neighborhood party and a reunion of sorts where four musical generations of Mission district artists and organizers gather – sharing memories and creative vision as a way to both pass tradition on and create new possibilities together. It's amazing to see the brilliance of John Calloway and Carlos Baron come together for this world premiere!" - Sylvia Sherman, CMC Program Director
El Son de la Misión
Brava Theater Center
Saturday, March 19 at 8:00pm
Sunday, March 20 at 7:00pm

---
"Summit of Older Adult Choirs" uplifts a packed Herbst Theater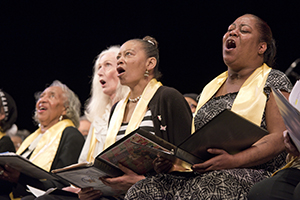 By Judy Goddess
Joyful is the simplest and most accurate way to describe the recent Community Music Center Summit of Older Adult Choirs at the Herbst Theatre on January 27. The near 200 singers, their directors, accompanists, and guest artists all beamed with happiness that day.
"I was walking on cloud nine for days after the Summit, telling everyone about it - the energy, the inspiration, the beauty of the voices and older adults gathered." – Audience member and
Community of Voices Choir Director,
Helen Dilworth
Read article
View photos
---
Emanuel Ax master class a chance of a lifetime for CMC students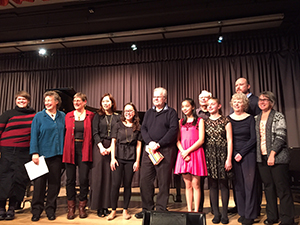 Celebrated pianist Emanuel Ax returned to Capp Street in January to offer a second master class to CMC musicians and audiences. Participating that day were
7th grader Susanna Lau, 6th grader Rebecca Portnoy, chamber music students Dov Grunschlag, Julie McDevitt and Kari Prindle, and piano duo Carrie Chan and Nayoung Kim
.


"It is not every day someone gets to meet one of the best musicians in the world, Emanuel Ax. Your comments helped me understand the piece better think beyond what is written in the music, and try out new things too. At first, I was really nervous when I came, but once I saw you personally and how nice you were, that calmed me down." Rebecca Portnoy, from a letter of appreciation to Emanuel Ax
---
Anything Goes Chorus celebrates 35 years of singing and service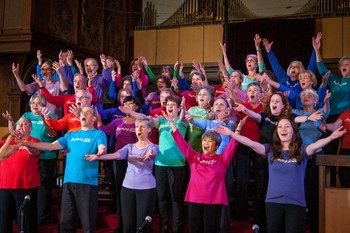 Ellen Robinson founded the Anything Goes Chorus in Oakland in 1980, then started a second group at CMC in 1985. Both choruses are singing strong and will join together to celebrate their 35 year anniversary on Saturday, March 19 at the First Congregational Church in Oakland.
---
---
---
Re-enrollment for Spring Quarter is underway!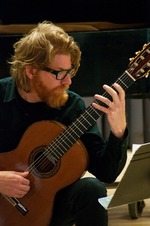 Re-enrollment in private lessons is now automatic.
Current students: Look for an email from CMC with options to change, drop or pay for your lessons. Note that re-enrollment in group classes is not automatic, so register online or speak with a registrar to enroll for Spring Quarter!
---
---
Save the Date! A Salute to the Joy of Making Music is May 13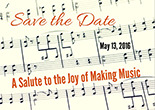 Community Music Center's Spring Gala will present the inaugural Gertrude Field Community Impact Award,
honoring the musical legacy of Robert P. Commanday.
A choral program will feature CMC faculty and students, with headliner Chanticleer.

May 13, 2016 at 6:30 PM Four Seasons Hotel,
San Francisco

Tickets go on sale soon...
---
Registration now open for Summer Camps!
---
CMC's Betty Wong celebrates the life of Harvey Robb with music at Bird and Beckett

Sunday, March 6 at 1pm
Bird and Beckett Books
Free
CMC faculty alumni Ken Rosen and Randy Craig will perform along with other guests in honor of Harvey Robb, a much-loved and longtime faculty member who passed away last September.
Harvey's family and CMC will host a tribute to Harvey at CMC on his birthday, July 23. More information to come.
---

Celebrating the people, classes, performances, and experiences that make CMC unique. What's your reason? It's doesn't just have to be one - we hope you'll share yours with us! #95reasons
---