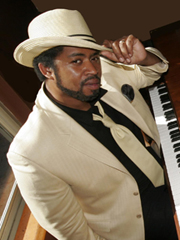 Sing blues, jazz, gospel and R&B and learn about the historical and cultural roots of Black American music.
Pianist, composer, and vocalist
Maestro Curtis
has produced or performed with artists such as Maurice White (founder of Earth, Wind, & Fire), Lenny Williams (Tower of Power), Patti Labelle, James Cleveland, Chaka Khan, Al Green, Al Jarreau, and the Yardbirds. As a pianist, he has played with The Count Basie Orchestra and Duke Ellington Orchestra, as well as jazz legends Ella Fitzgerald, Sarah Vaughan, Abbey Lincoln, and Joe Williams.
Class meets Thursdays from 6-7:30pm. Register at the Mission District Branch.
Read article courtesy of Maestro Curtis
Read class description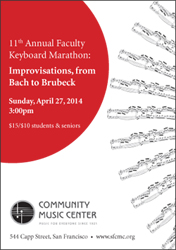 Don't miss this celebration of music and community spirit! This year's marathon will be held on Sunday, April 27 at 3:00pm. The concert will explore the many ways classical and jazz music intersect and influence each other. The wide range of repertoire will offer something inspiring to everyone who loves the piano.
Read article