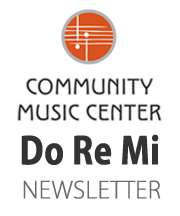 J U N E 2 0 1 6
Monthly musical news from CMC!

Congratulations 2016-2017 Merit Scholars!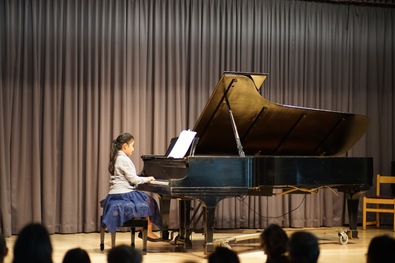 Maritza Bautista performing at CMC's All-School Recital

Each May, juries of CMC faculty and staff listen to scores of students to select full scholarship recipients for the coming year, based on need and merit.

---
Announcing the Curtis Renshaw Memorial Scholarship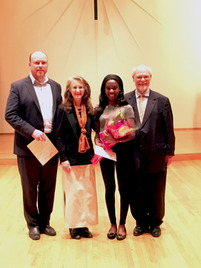 The Curtis Renshaw Memorial Scholarship honors the life of classical guitarist and Community Music Center teacher Curtis Renshaw by supporting the studies of a guitar student at CMC each year. Curtis passed away suddenly in June of 2015. He had taught at CMC since 1981, having given nearly 35 years of service to our community. [...]
Says wife Kerrilyn Renshaw, "If a student was serious, Curtis would offer his time beyond the scheduled lesson. This was especially true if they were a young person. Within a week of Curtis's passing, my son Kenneth and I talked about how best to honor Curtis's memory and decided on a guitar scholarship in his name."

Pictured above:
CMC's Executive Director Chris Borg, Kerrilyn Renshaw, and the first scholarship recipient, Tcarla Horn with her teacher at the Ruth Asawa School of the Arts, Scott Cmiel
---
Join a CMC sing-along at "Flower Piano" in the SF Botanical Garden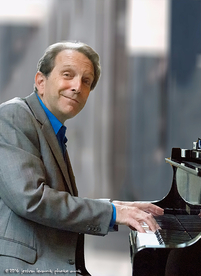 On Friday, July 15 from 5:00-7:00pm, join Community Music Center Older Adult Choir Director Billy Philadelphia at the Great Meadow of the San Francisco Botanical Garden in Golden Gate Park for a lively sing-along! This event is part of the garden's
Flower Piano
series. Expect something for everyone: standards, show tunes, folk songs, Motown, Beatles, the works!
Lyrics will be provided and the event is free.

More information
---
CMC's Spring Gala hit every high note!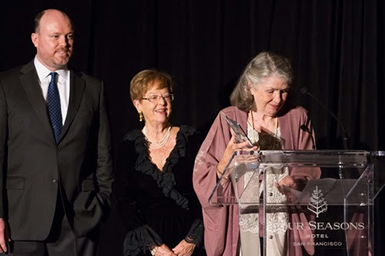 A Salute to the Joy of Making Music,
CMC's Spring Gala, was a wonderful evening of community, stellar performances, and support for continuing CMC's founder Gertrude Field's vision of a quality music education for all. One of our most successful galas to date, the event exceeded our goal by more than ten percent. One of the most exciting things we saw was a 60% increase in paddles raised during the scholarship auction. Bravo! And thank you. This school year, CMC will offer nearly $1.7M in tuition assistance to its students. We can't do this without the support of our donors.
View photo highlights on photographer Drew Altizer's site.
View CMC's full photo album for the event.
---
Sign up for summer music!
---
All-School Recital Performers wowed the crowd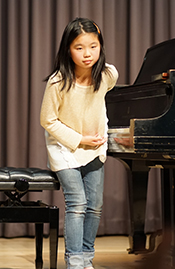 ---
---
Sin-Tung Chiu's All-Mozart Sonata Recital postponed
Originally scheduled for June 19, the concert will now be held on September 18.
Mark your calendars!
---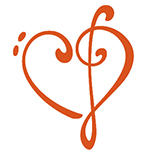 CMC's 2016-17 school year is drawing to a close, and what a year it has been! We had sell-out crowds for the Older Adult Choir Summit in January and El Son de la
Misión
in March, hosted a second Emmanuel Ax master-class in January, presented the inaugural Gertrude Field Community Impact Award in May, added seven new summer classes, and started a summer clinic series. We need your help to build on that success, ending the year on a high note.
Help us reach our fiscal year goals by making a donation today!
---

Celebrating the people, classes, performances, and experiences that make CMC unique. What's your reason? It doesn't just have to be one. We hope you'll share yours with us! #95reasons
---