Check Out Our Spring Concert Photos!
Cinco de Mayo on May 4 • A Salute to the Joy of Making Music on May 13 • Potingue on May 29 • Young Musicians Program Spring Concert on June 1 • Senior Choruses at Family MAPP on June 1• All-School Recital on June 2 • Student Performance Workshop on June 2 • Shirley Wong-Frentzel's Harpsichord Recital on June 9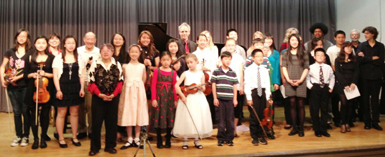 May's Pursuit of Excellence Recital Performers
You can find these on our Facebook page, too.
Join our community there for concert photos and other CMC updates!
Congratulations 2013-2014 Scholarship Winners!
Each May, juries of faculty and staff listen to scores of students to select full scholarship recipients for the coming year, based on need and merit.
View list of winners.

A Community of Voices is Born
First choir in the UCSF/CMC collaborative study is
now rehearsing at Mission Neighborhood Center
The Community of Voices senior choirs are off to an exciting start! Choir rehearsals, directed by Martha Rodriguez-Salazar and Jennifer Peringer, began in May at Mission Neighborhood Center Singers have already been recruited for the Centro Latino de San Francisco senior center choir and recruitment for choirs in the Bayview and Western Addition senior centers is underway.
Read full article.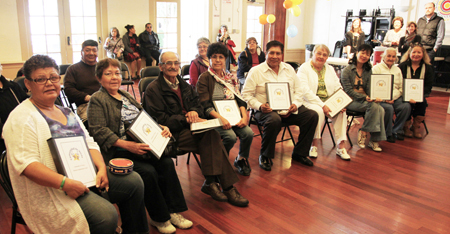 Choir members during their first rehearsal
at Mission Neighborhood Center
Executive Director, Christopher Borg, Out and About
When he's not leading our organization or giving viola lessons, Chris has been out building community and inspiring others along the way. On March 27, he participated in the
Emerging Arts Professionals
'
Arts Skyline 2015
panel, which discussed how cultural construction affects arts professionals and the sector as a whole. On May 9, Chris participated on a
Northern California Community Loan Fund
panel about physical expansion for non-profit arts organizations at their annual Spring Event,
Artifacts: What Makes a Community Healthy.
He and our Director of Development, John Robinson, hosted the May 15
Mission Merchants Association
meeting in our Concert Hall which led to CMC's membership. Chris has also joined the Board of the
Bethany Center Foundation of San Francisco
, which raises funds for programs at both Bethany Center Senior Housing and Ruth's Table, the multi-generational arts and wellness space housed there. They are wonderful neighbors and collaborators, so we are thrilled that he has become more deeply involved in their work.
Meet our Newest Board Member: Jessica Wan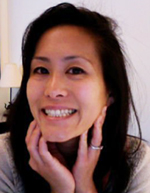 CMC is proud to announce that Jessica Wan joined our Board last April. Jessica is a lyric soprano who is also Director of Marketing at Smule, a social music app developer. She has a BA in Music and BS in Product Design from Stanford and an MBA from the Haas School of Business at UC Berkeley. Jessica has been appointed chair of the Board Marketing Committee and has already brought a bunch of fresh ideas for our communication efforts. Welcome Jessica!
Read her full bio.
Board Member Spotlight: Tim Eischens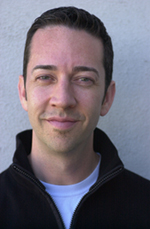 CMC is proud to introduce one of our newest Board members, Tim Eischens. As a member of the Grants Committee at Autodesk, Inc., he has been instrumental in helping build a relationship with CMC. One of the CMC programs Autodesk has supported is Solera Singers, a choral program for older and retired adults, a demographic Tim feels too often is a "forgotten population." As a member of the Board, Tim hopes to facilitate sustainable growth at CMC and to establish additional paths to revenue, in part by raising CMC's visibility as a vital non-profit organization and increasing corporate donations. "The story of CMC must be told," he says.
Read the full interview.

FACULTY NEWS
Congratulations Faculty Enrichment Grant Winners
Read about their musical plans.

Welcome New Faculty and Faculty Council Members
Kristan Cassady just joined our violin and viola faculty at the Richmond District Branch.
Read her bio and give her a warm welcome!
Jono Kornfeld, Martha Rodriguez-Salazar and Eric Ian Walker have just been voted onto CMC's Faculty Council. Our sincere thanks to Dorothy Barnhouse, Janis Mercer and Christian Bonvin who have completed their three-year terms and contributed so much to the faculty experience at CMC.
Read more news from our faculty on our blog!
STUDENT NEWS
Great news - 100% of graduating Young Musicians Program students will go on to college in the fall! They will attend universities including Dartmouth, UC San Diego, University of the Pacific and Vassar College. Congratulations graduates!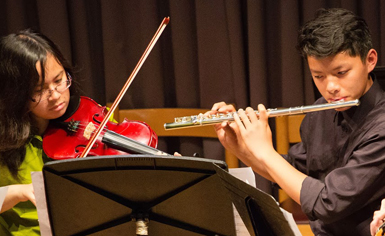 Young Musicians Program students performing on June 1 - Photo by Roger Jones
CMC Students Featured in San Francisco Classical Voice Magazine!

Scenes from a Student Recital, Go Go Gio by CMC faculty member Jono Kornfeld, features an amazing sing-along moment at a Richmond Branch recital.

The Center Will Hold, the Kids Together by Mark MacNamara gives us a window into the world of CMC's Children's Chorus. Here is an excerpt we like a lot:
Asked how she liked the music center [12-year old Margo] replied, "It takes my mind off of things, the stress of middle school, keeping up with all the home work, not being late. And when you have to learn all the time to just ignore bullies."

"Is there a lot of bullying at your school?" we asked.

She nodded. "But not here: It's a different world."

A Short Ride to a Classical Dream by Mark MacNamara, features nine-year old Winston Lee, piano student of Matylda Rotkiewicz. "If he had to pick a career right now it would be as a classical musician."

Arts Journalist Chloe Veltman Reviews
the CMC Childrens Chorus' Spring Concert
We were happy to see that Chloe Veltman was inspired to write about our Children's Chorus after attending their spring concert! Veltman's writing is
published internationally. She is also
the host and
producer of
VoiceBox
, a public radio series about the art of the human voice. Here's an excerpt from the review:
"Judging by the sweet, eclectic and tuneful lunchtime concert I attended yesterday at the Center's main auditorium, the quality of the music-making is high and the kids look like they're having fun."
Read full article here. (scroll down to #4)

Read more CMC student news on our blog!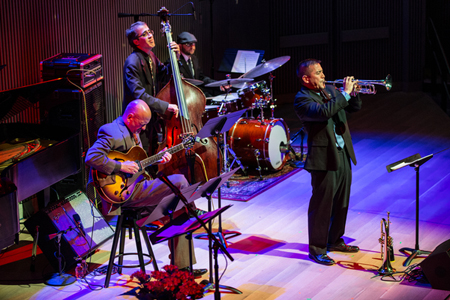 We Had a Ball and Funded Scholarships at SFJAZZ!
Thanks to the generosity of our guests, donors, sponsors, and performers, the evening was enormously successful, with over $75,000 raised for CMC's general scholarship fund.
Read more and view photos by Mieke Strand.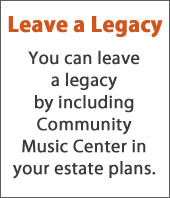 Please consider including CMC in your will or living trust – and let us know you have done so. A planned gift could include a bequest of property or cash, a trust, a life insurance policy or retirement account.
Your planning can help sustain Community Music Center – making sure that music will be accessible in the heart of our community forever.
Contact Development Director John Robinson at 415-647-6015 x. 76 or jrobinson@sfcmc.org for more information or to inform CMC of your estate plans.
Still Time to Give to this Year's Campaign
If you have not yet given to Community Music Center during this fiscal year, it is not too late. Please make your contribution before June 30, 2013 and receive wonderful donor benefits throughout the year ahead, including invitations to recitals, donor receptions and other fun activities. If you have any questions about how you can support CMC's mission of making music accessible for all, please call Development Director John Robinson at 415-647-6015 x. 76.
UPCOMING EVENTS
Come to
Camp CMC's End-of-Week Concert
this Friday, June 21 from 1:00-2:00pm. All we can say is that campers are brewing up a "Musical Storm" this week...
Check out the 12th Annual Outsound New Music Summit: July 21-27, 2013 in our Concert Hall.
P.S. CMC has a brand new
Event and Academic Calendar
- take a look around!