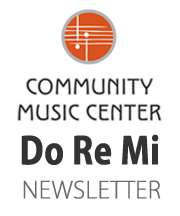 N O V E M B E R 2 0 1 6
Monthly musical news from CMC!

We are thankful for our amazing volunteers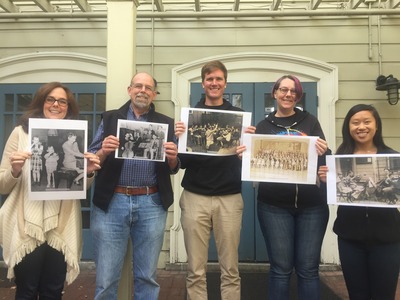 Volunteers from Dropbox posing with pieces of CMC history
This year Community Music Center has welcomed volunteer groups from Salesforce, Dropbox, Google, and Autodesk to our Mission Branch. These teams provided valuable support on a range of impactful projects including customizing our donor database (Salesforce), archiving and framing historical photos (Dropbox), and streamlining our online presence (Google). A Dropbox team also made a short
video
for CMC's young musicians about the connection between music and their careers in the tech industry.
We also want to thank our many student and parent volunteers who regularly contribute to our work.
THANK YOU!

---
This Sunday is Field Day at CMC - support a performer and come celebrate with us!
Support music for everyone:
support a Field Day performer or donate directly toward scholarships at CMC
!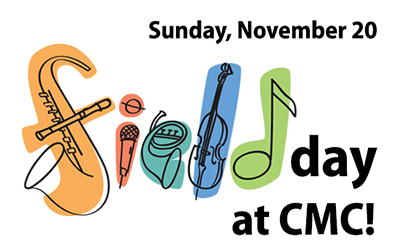 Check out the latest schedule of Field Day events
Watch CMC's happy birthday video playlist

Hear from
John Calloway
,
Regina Carter
,
David Campos
,
Chanticleer
,
The Del Sol Quartet
,
Lila Downs
,
Mark Inouye
,
The Kronos Quartet
,
Mark Leno
,
Luciana Souza and Vijay Iyer
,
Frederica "Flicka" von Stade and Jake Heggie
,
John Santos
,
Phil Ting
and many other community members.
See you this Sunday!
---
Mark your calendars for holiday concerts at CMC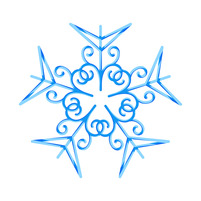 Sunday, December 4 at 11:00am

Amahl and the Night Visitors
Join the Ina Chalis Opera Ensemble for this long-standing holiday tradition at CMC.
Free admission
Friday, December 9 & Saturday, December 10
CMC's December Fiesta
Join CMC students of all ages for traditional Christmas and year-end songs from Mexico, Spain and Latin America.
$8 at the door

Sunday, December 11 at 8:00pm
TRUMPETSUPERGROUP Holiday Concert
Led by former faculty member Dave Scott. Darren Johnston will lead the CMC Teen Jazz Orchestra in the opening set.
Free admission
---
2017 Shenson Faculty Grantees Announced

Each year, The Shenson Foundation sponsors four free community concerts at CMC. The following faculty members and their ensembles were selected by a committee of musicians from CMC's Board of Directors. Stay tuned for concert announcements from these winning projects!


Zina Bozzay and Vadalma
Lauren Cony: A Trio of Trios by Women Composers
Richard Fey: A Classical Cabaret
Elyse Weakley and the Hurd Ensemble
---
Winter Quarter begins December 5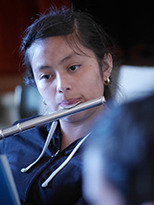 ---
---
Take a gander at Djangology 101 at CMC
---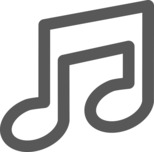 Andrew Ferren
, winds Robert Lopez, percussion
Vutu Nguyen, piano
---

Celebrating the people, classes, performances, and experiences that make CMC unique. What's your reason? It doesn't just have to be one. We hope you'll share yours with us! #95reasons
---

Community Music Center makes high quality music accessible to all people, regardless of financial means.
---
---