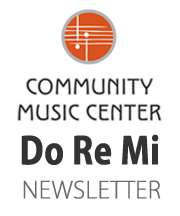 M A R C H 2 0 1 6
Monthly musical news from CMC!

Meet Araceli Leon, "El Son de la Misión" actress and MDYMP grad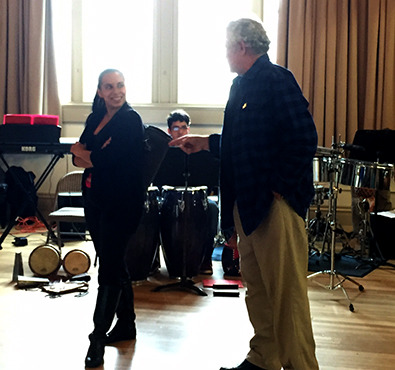 Araceli Leon and Carlos Barón rehearsing at CMC
This weekend at the Brava Theater, CMC will present
El Son de la Misión
, a night of original music, theater and images that celebrate the history of the Mission District from the 60s to today. The music is linked together by a conversation between a veteran resident Don Rafa, played by Co-Theatrical Director Carlos Barón, and a young Rosa Maria, played by actress and musician Araceli Leon. After a short interview with Araceli, it was clear that there couldn't have been a better choice for the role of Rosa.
Read article.
Listen to KQED's Cy Musiker preview "El Son de la Misión"

---
Tickets for CMC's Spring Gala are now on sale!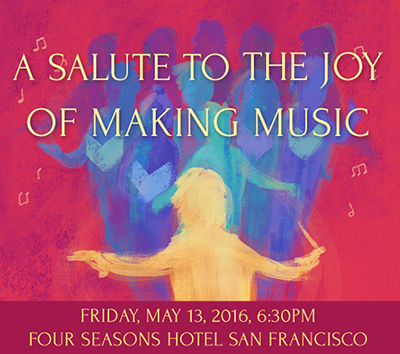 Please join Community Music Center as we celebrate 95 years of bringing quality music education to all, regardless of age or financial means. This year, CMC recognizes its founder and honors a musical legacy by presenting the inaugural
Gertrude Field Community Impact Award
, honoring the musical legacy of Robert P. Commanday, longtime music and dance critic at the
San Francisco Chronicle
and co-founder of
San Francisco Classical Voice
. The event, hosted by KDFC-FM's Dianne Nicolini, features a special headliner performance by two-time GRAMMY® award-winning ensemble
Chanticleer
, as well as Community Music Center students and faculty.
---
Water Music: CMC's Faculty Keyboard Marathon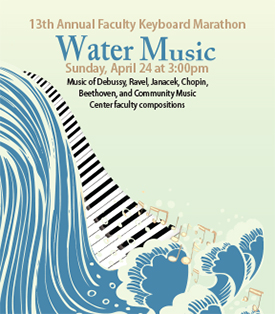 In the midst of California's drought last year, members of the Community Music Center's piano faculty met to choose a theme for this year's Keyboard Marathon. We quickly agreed on Water Music - any pieces related to rain, water, storms, high tides, fountains, mist and more. Please join us
Sunday April 24 at 3pm
to hear the piano faculty share their selections, which range from Chopin to Debussy, Beethoven to Strauss, and include contemporary music composed by CMC faculty.
Read article.
---
A quick chat with Londale Dhesi, Percussion Ensemble for Kids student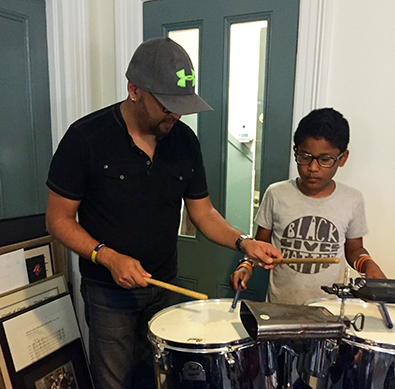 CMC's Marketing Assistant Anne Mitchell visited our new
Percussion Ensemble for Kids
class to chat with students about how it's going.
Anne:
"What is one thing you liked about the Percussion Ensemble for Kids?"
Londale:
"I like how we work together and stay in tune together. If it's just one person, then there's no one to compare it to and keep in tune."
Anne:
"Does it help you listen?"
Londale:
"Yes. And it focuses me more too!"
CMC's Percussion Ensemble for Kids is taught by Omar Ledezma Jr. and is geared for kids 8-12 years old.
Learn more and register online!
---
---
Registration for Spring Quarter is underway!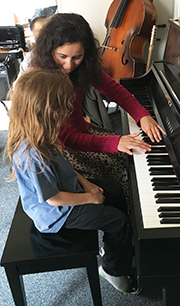 Spring Quarter begins March 21 -
enroll online
or
call a registrar
to get started!
---
---
Register for Summer Music Camps at CMC
---
Two CMC students selected for competitive Jr. Bach Festival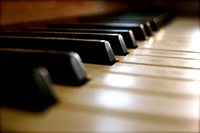 Rebecca Portnoy, 11, and Sammy McClanahan, 7, have been selected to play in the 63rd Annual Junior Bach Festival. Over 300 students audition for the opportunity to play in one of the prestigious Festival's concerts, celebrating the music of J.S. Bach. Rebecca will perform at Old First Church on Sunday, March 20 at 4:00pm. Sammy (whose father Bill is on the CMC faculty) will perform at St. Marks Cathedral on Sunday, March 27 at 4:00pm.
Both are students of
Juliet McComas.
---

Celebrating the people, classes, performances, and experiences that make CMC unique. What's your reason? It's doesn't just have to be one - we hope you'll share yours with us! #95reasons
---

The Community Music Center makes high quality music accessible to all people, regardless of financial means.
---