Now that we are into Spring and the growing season is just around the corner, we are starting to have workday's and other volunteer opportunities. Here are a few that we have planned!
May 20th – Every 3rd Saturday of the Month Kilbourn Work Days (10:00-2:00) – There will be General Work Days at Kilbourn Garden every 3rd Saturday of the Month starting in May. Some of the possible tasks could range from turning compost, wood chipping path, garden maintenance. Groundwork Milwaukee will provide tools and wheelbarrows on these days. So come on out and help the community help the garden. Other 3rd Saturdays are: May 20th, June 17th, July 15th, August 19th
June 24th
-
Annual Polish Pileup at Kochanski's Bar and M&S Auto Car Wash Opportunity
- Kochanski's Bar will be host its Annual Polish Pileup. The event has a car show, music, food, and a few vendors. M&S Auto partners with a local organization for an opportunity to host a car wash fund raiser. They will provide the space and the water. We can also set up a table and have a plant or bake sale. We also get free advertisement through their Facebook page and the event advertisement.
Turnip-Tuesday
:
Starting July 11th
, Turnip for community gathering, gardener's have a chance to share your harvest, recipes, lend a hand at your neighbor garden bed, help keep the garden clean and get a chance to groove to the tunes provided by Skyline Music Festival brought to you by COA. This will be held every Tuesday starting July 11
th
. Stay tuned for the music line-up.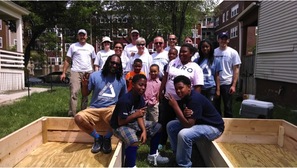 Look forward to seeing you out there!
Fill out our volunteer form found here to join the mailing list:
http://www.groundworkmke.org/volunteer/
Are you a Garden Leader looking to host a volunteer workday or neighborhood clean up?
E-mail Matt@groundworkmke.org with a brief description of the planned event, date, time and location.