Upcoming Events:


Planting Seeds:

"Planting Seeds" is a documentary short about a struggling yet hopeful inner city Milwaukee neighborhood seeking to bond the community and plant the seeds of entrepreneurism in its youth through the use of an innovative urban gardening program - Groundwork Milwaukee's Young Farmers Program

Recap of Past Screenings:

Thus far the screenings have all had a warm welcome and wondeful support. We have

hosted screenings at Urban Harvest Brewery, Tricklebee Café and The Body and Soul Healing Arts Center. "Planting Seeds" was also screened in tandem with 53206 on the campus of UW-Madison April 1

st

, as a part of the Wisconsin Film Festival. This has been our largest screening thus far, with 150 people in attendance.

More Screening of Planting Seeds - A FARMumentary

If you haven't had a chance to catch "Planting Seeds" yet check out the schedule below for April's schedule of FREE SCREENINGS. Afterwards get a chance to for a short Q&A with Young Farmers Program Manager Nick DeMarsh

Follow @

Young Farmers MKE

Tips for preparing your garden for spring:

Order bulbs and seeds: Plan and order your seeds and bulbs now in preparation for the spring. Plants like Lilies and rhubarb can be planted in early spring for a colorful summer display.

Clean up garden beds: Tidy up and remove leaves and other debris from garden bed and cut back old dead growth.

Fix fences, gates, trellis: The dry period of winter is the ideal time to fix broken wooden structures or repair any garden fixtures. This will give you extra time in the spring to focus on gardening.

Clean up composting area: Tidy up your composting area early will provide you with a space to put your garden waste to create beneficial rich compost for your garden. Turn you pile and remove any large unwanted material or debris.
Looking to grow your own groceries this summer?



Look no further than Groundwork Milwaukee's Kilbourn Community Garden. **There are still beds available reserve one before it too late**

Started in Spring 2009, the Community Garden is located in Kadish Park just south of Kilbourn Resevoir Hill Park on North Ave near Booth Street. Kilbourn garden is Groundwork MKE's flagship garden, and is looking forward towards an exciting 2017 season!

The beds are 4' x 8' and are filled with locally provided compost. Starting March 4 th we will be accepting applications online for the 2017 growing season:
Bed sizes are 4' x 8' and are $25 for the year!
http://www.kilbourngarden.org/

Follow us on Facebook for more information or email Matt@groundworkmke.org

Searching for a summer job?


Groundwork Milwaukee is seeking to hire motivated Green Team Supervisors for the summer. Supervisors are responsible for the daily management and supervision of our Green Team Summer 2017 program crews. The Green Team Summer program is a 7-week part-time job and leadership opportunity for residents in Milwaukee to be an integral part of urban agriculture, environmentalism, stewardship, and community engagement initiatives. Do you love being outdoors and have the passion to make a positive impact? If so email

matt@groundworkmke.org

for more information.

Volunteer Opportunities
Now that we are into Spring and the growing season is just around the corner, we are starting to have workday's and other volunteer opportunities. Here are a few that we have planned!

April 15th Neighborhood Clean-up: Come join us from 11:00-2:00, Saturday, April 15th for a neighborhood clean up. We will start at Scooters Garden which is located on 2462 N Buffum St. and walk down to Riverwest Garden School which is located on the corner of Bremen and Clark. You can also learn about all the exciting things to come from Riverwest Garden School.

April 29th: Kilbourn Garden Build – You are invited to join us from 9:00-4:00 out at Kilbourn Garden for a Garden Build! We will be fixing up and rebuilding damaged beds, as well as building a few new ones. (If weather does not permit May 6th is the back-up day)

3rd Saturday of the Month Kilbourn Work Days (10:00-2:00) – May 20th, June 17th, July 15th, August 19th – There will be General Work Days at Kilbourn Garden every 3rd Saturday of the Month starting in May. Some of the possible tasks could range from turning compost, woodchiping path, garden maintenance.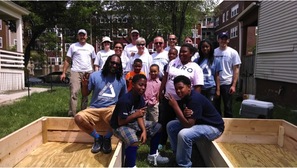 Look forward to seeing you out there!
Fill out our volunteer form found here to join the mailing list:
http://www.groundworkmke.org/volunteer/