SUNDAY SERVICES - 10:30 AM
ON

IO

NA

RI

ES H

OL

IDA

Y CO

NCE

RT S

ERVI

CE


Leigh Garner, Music Director
Liya Melikyan, Pianist
We invite you to bring your family and friends as we enjoy the marvelous sounds of this joyous season. In the warmth of our special building the Onionaires directed by Leigh Garner and accompanied by Liya Melikyan will present an array of musical pieces from Purcell and Bach to African Noels. Wear your festive dress and be ready to celebrate this wondrous time of year!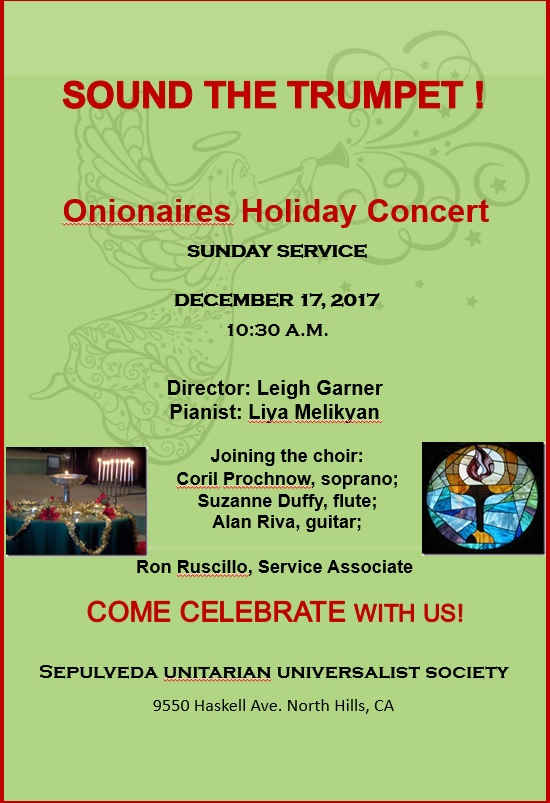 Share the Plate Sunday - This Sunday we are sharing the plate offering with the North Valley Caring Services (NVCS). We have been in partnership with NVCS as our outreach to the families in our locality that are in need of assistance. Our weekly Sunday service food collection all goes to NVCS and we'll add to that this Sunday by sharing our financial offerings as well. Please be generous and give as you are able.

---
DECEMBER 24,
CHRISTMAS EVE SERVICE
In honor of Christmas Eve we will be having a different Sunday service schedule.

We will not be having service for the morning of December 24th but the Onion sanctuary will be open from 10:30 to 11:30 AM for coffee, socializing, sharing, and possibly singing, as well as a respite from what might be very busy days.
Join us for our Christmas Eve service
Gathering and Social - 5 PM
Eve Service - 5:30 PM
Refreshments – 6:30 PM
----------------------------------------------------------------------------------------------------
CHILDCARE is always provided during services. Please inquire at the welcome desk and we will gladly direct you to the area for childcare.
A SPARKLING TABLE is a compliment to the wonderful WINTER ONIONAIRES CONCERT we will be privileged to enjoy this Sunday, December 17th. As we are expecting a larger than usual turnout of friends, family, and visitors, hospitality is requesting that this very generous congregation provide a Splendid Holiday Table. It's the Season to celebrate music, friendship and good food. Put on your baking/cooking caps — and bring something to share.

Looking forward to the delicious dishes people bring! Thank you SUUS community.
---
A CHAT WITH PASTOR AJ
How are you doing? Do you have concerns that you would like to discuss? Know that I am available for you. It is very easy to schedule an appointment with me and I will be glad to spend some time with you. You can reach me by email at ajblackwood@sepulvedauu.org or by calling me at 747-224-7887.
---
GUEST AT YOUR TABLE is the Unitarian Universalist Service Committee's (UUSC) annual intergenerational program to raise support for and awareness about UUSC's work to advance human rights around the globe. Pick a box up this Sunday if you haven't done so and place it on your kitchen table, and when you gather for dinner each day, you can fill it with spare change or bills. This year's theme is "Small Change is Big Change."

We will be collecting the boxes (or, preferably, checks in the amount you collected) in January 2018. Thank you for your support.
---
A TRADITION of GIVING to NVCS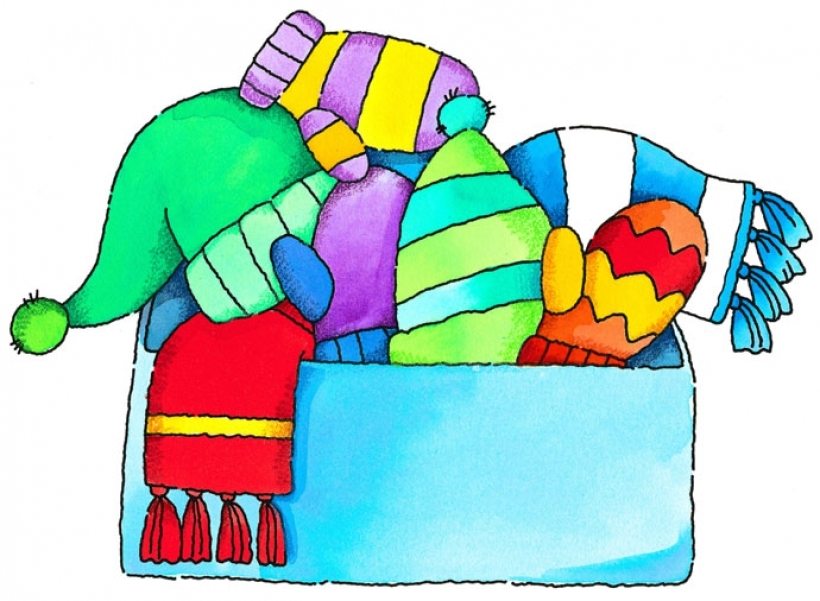 Continuing the seasonal tradition of giving to people served by North Valley Caring Services, we invite you to bring wrapped gifts to place beneath the tree in our sanctuary. While there will be no Angel Tree this year (because there is currently no pre-school at NVCS) we will collect wrapped gifts to be distributed along with food and other necessities. Articles of clothing are always needed and appreciated.

Please label your wrapped gifts with the following information; item, gender, and size. Example: T-Shirts, M, Medium. Some of those without homes are children. Clothing for children should also be labeled with name of the item, size, and gender Example: Sweatshirt, F, size 3T. Gifts can be placed beneath the tree anytime, including Christmas Eve.

Used clothing is always welcomed by NVCS, but is distributed in other ways so please bring only new items as wrapped gifts. If you have any questions, please contact Marilyn Morton storygrove@gmail.com.
---
HOLIDAY GIFT ITEM SALE

Ceramics by Claudia will be on display for purchase at SUUS in December. Look for the sale table in our gathering and hospitality area on the South side of the Sanctuary before and after Sunday Service.

Jewelry and gifts by Mary Ungaro may be viewed by appointment.

This is an opportunity to find unique gifts and support SUUS!
(10% of the sale goes to SUUS.)
Speak to a member of the finance committee if you want to have a table and show off your products to our members and visitors. Thank you.
---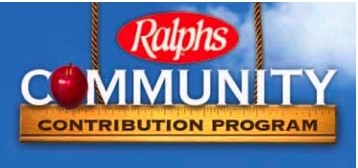 REGISTRATION FOR RALPH'S PROGRAM
Ralph's Community Contribution Program contributes to SUUS a small amount for purchases by a member who has signed up for the program. Those SUUS members who already participate need to re-enroll every year. Purchases made after August 31, 2017, will not count unless you reregister. The SUUS Finance Committee thanks those in the program and urges those who do not participate to consider joining.

It is as easy as enrolling and swiping your Ralphs card when making a purchase to help SUUS. You can click

here

for Questions and Answers and step-by-step instructions for enrolling and re-enrolling. Please designate SUUS, NPO #84464 as your organization.

If you do not want to enroll on-line, ask a manager at your local Ralph's market for assistance. By simply signing up and buying groceries at Ralphs, you contribute to SUUS's programs, without losing any saving or discount that you would otherwise receive.
---
FROM OUR WIDER UU COMMUNITY
Winter Solstice Service at the UU Church of Santa Monica
Wednesday, December 20 at 7:00 pm
Join church members and friends for a contemplative gathering to celebrate the longest night of the year. Readings, meditation, music, and candle lighting will help us honor the dark, welcome the return of light and prepare us for the year to come. More information provided by visiting the event webpage.
DECEMBER THEME:


Divine Light
---
SUNDAY SERVICE
10:30 AM
---
Thank you for your interest in receiving our weekly E-news. We hope you find the articles here informative and we hope it encourages you to participate in our activities.

Your family and friends may also be interested so feel free to forward this to them and they can

sign up here.





You can also visit our new and improved website at

www.sepulvedauu.org
We rent out our beautiful sanctuary for weddings, religious services, meetings, concerts, fundraisings, and other gatherings. Please call the SUUS office at 818-894-9251 or

email

us to inquire.
MEETINGS AND EVENTS
Fri. Dec. 15
*Adult Discussion Group – 10 AM (Conference Rm.)

Sun. Dec. 17
*Onionaires Holiday Service – 10:30 AM (Onion)
*Membership Committee Mtg. – 12:15 PM (Conference Rm.)

Mon. Dec. 18
*Rental Committee Mtg. – 10:30 AM (Conference Rm.)

Tue. Dec. 19
*Board of Trustees Mtg. – 6 PM (Conference Rm.)
*Women's AA – 6:30 PM (Ballou Rm.)

Wed. Dec. 20
*Lunch and Bike Group – 10 AM (Away)(mdickson97@aol.com)
*Ceramics (Play in the Mud) Class & Conversation – 6 PM (Art Rm.)

Thu. Dec. 21
*First Day of Winter
*Choir Rehearsal – 7:15 PM (Onion)

Fri. Dec. 22
*Adult Discussion Group – 10 AM (Conference Rm.)

Sat. Dec. 23
*Buildings and Grounds Work Party – 9 AM (Onion)
*Camera Club and Potluck – 6:30 PM (Away) (mdickson97@aol.com)

Sun. Dec. 24
*Sunday Morning Social Only – 10:30 AM (NO Morning Service)
*Christmas Eve Social and Gathering – 5 PM (Onion)
*Christmas Eve Service – 5:30 PM (Onion)
*Refreshment and Social – after the service
---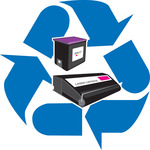 USED INK/TONER NEEDED
–
Thank you to all who donate their ink and toner cartridges here at SUUS. Your donations help a great deal in alleviating the rising cost of office supplies. Drop off your used inks and toners here at SUUS to help us and help the environment as well. – Ramon Alvarez, Office Administrator, 818-894-9251.
---