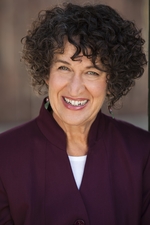 Minister's Message
Opening the gifts within our monthly theme of "Acceptance" might require a wee bit of extra inspiration in these challenging times. Looking into the topic of acceptance will not be easy when the opposing actions of resistance and protest are bursting from our lives daily in our search for justice and peace. Exploring acceptance when we are witnessing so much that is unacceptable will stretch us toward growth.
Celebrating Mother's Day in the middle of this month can provide the frame to view the many ways that our understanding of acceptance was modeled for us during our childhood. The vast manifestations of loving relationship we share with our Mothers is as wide as the stars, and there is always potential to increase the experience when we come together and share the stories of our lives. Participating in our annual Flower Communion will also enhance our appreciation for Mother Earth on Mother's Day.
Our monthly theme of 'Acceptance' is first and foremost a warm invitation to "Come As You Are" and be welcomed among our loving liberal community. Keeping each other strong and focused on being our highest selves is easier together, and we will never grow tired of hearing the message that we are loved and accepted, just as we are, no matter what!
May you stay brave, knowing you are accepted, supported, and loved.
---
SUNDAY SERVICES - 10:30 AM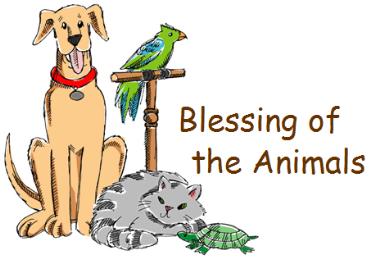 May 7
Blessing of the Animals Service
Teri Ismail, Sunday Service Associate
"If the path before you is clear,
you're probably on someone else's."
― Joseph Campbell

Come explore a new path, a new way of being. Learn to listen as animals do, to read body language and to love. It is through our animal friends that our path will become clear.

An altar will hold memories and pictures of pets with us and gone.
Please bring gift cards for Pet Co or other pet stores, or items to give to North Valley Los Angeles Animal Services like: brushes, towels, blankets, leashes, collars, balls, and toys, dog beds and cat toys.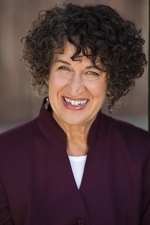 May 14
No. Matter. What.
Pastor Maggie Yenoki
The love we share with our Mothers is as wide as the stars. We idolize our Moms and we also take them for granted. We blame them and exalt them, sometimes in the same sentence. There is room for all that those relationships can hold in our hearts as we remember that it all boils down to the purest emotion: Love, No Matter What.
We will be having our

Annual Flower Communion

this day. All are asked to bring some kind of flower/s (a single stem or a bouquet are all welcome.)
--------------------------------------------------------------------------------------------------------------------
CHILDCARE is always provided during services. Please inquire at the welcome desk and we will gladly direct you to the area for childcare.
GROWING UPWARD TOGETHER!
As your Stewardship Captain during this campaign period that ended on April 30, I have heard from "us". It is a voice of vitality, community bond, and seekers in such an intriguing way.

Please join me in appreciating our beloved community, members and pledging friends, and the wrap up of our annual Stewardship Campaign. For anyone who missed out, there are pledge forms at the Sunday Greeter's table, or contact the office for an electronic version, mail, etc. Our SUUS Visiting Stewards will be contacting any members who have yet to share their intentions by completing a pledge form.
Yours in community,

Barrie Hafler, Stewardship Campaign Chairperson
---
SAVE THE DATE! Saturday, May 13, 2017 7 p.m. The SUUS choir will be presenting "Circle of Love" Spring Concert/Fundraiser. Come join us in a wonderful evening of music and fellowship with friends and family!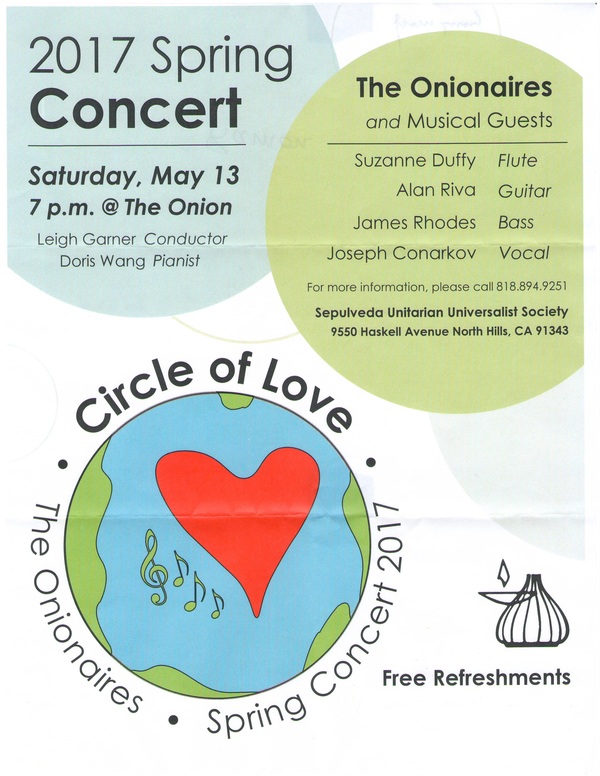 General Admission Tickets $20.00
Children under 12 yo. are FREE
---
MOVIE NIGHT

has been moved to this Saturday, May 6th at 6:30 PM. Contact Mike Dickson at mdickson97@aol.com for more information.
---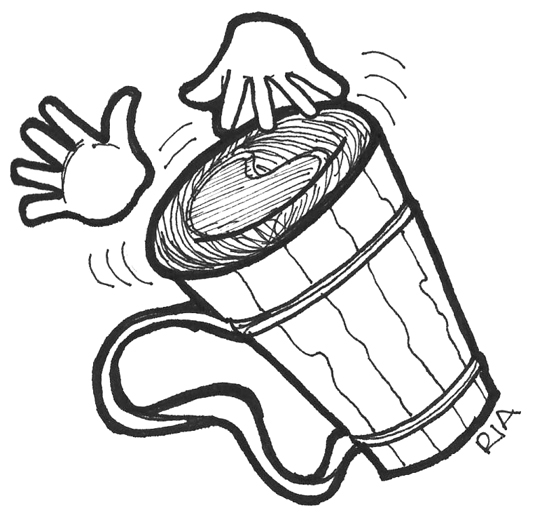 DRUMMING CIRCLE
– May 12, Friday and every 2nd Friday of the month at 7 pm here at the Onion. Creative primal instincts blossom as we discover more joy, meditation ability, exhilaration & spirituality as we drum together. Some percussion instruments provided but you can bring your own. $5 donation for adults; youth free, or free will donation.
-
Barbara Vargas –
barbaravargasm@aol.com
---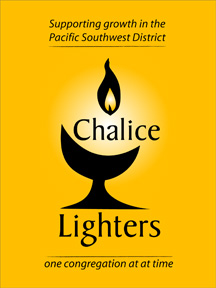 Several of us here at SUUS support the Chalice Lighters program. In the past we have been the beneficiary of a Chalice Lighters Grant which enabled us to afford a DRE . It is a worthy cause, supporting all UU Communities. If you could afford only $20 per quarter (calling) that would makes us eligible to submit an application for another grant. This could help us with our Sanctuary Roof Repairs and other costly project. Please support this Program.
The

Chalice Lighters Program

of the Pacific Southwest District exists to help fund the growth of the member congregations of this District.
The program is designed to make grants to applicant congregations for:
Facility improvements, such as buying land, building, rebuilding, furnishing or enlarging facilities

One-time professional leadership expenses, such as the costs of hiring a Minister, Religious Educator, or Music Director
These are improvements which would significantly strengthen the scope of a congregations's ministry.

Learn more

about the Chalice Lighter program and become a

PSWD Chalice Lighter

today!
---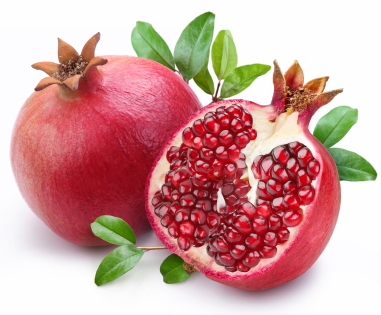 NEW ADDITION TO THE SUUS ORCHARD
At the April 23rd Sunday Service, in celebration of Earth Day the congregation blessed a new Pomegranate tree for the orchard. Prepared and planted by the Grounds Committee and Young Adult group, the tree is not only a new addition to the flora at SUUS, but also a symbol of hope and new growth within our congregation. The next time you are at SUUS, please stop by the Orchard and welcome our new addition.
- Dallas Moore
---
Sign Up Today for Free Emergency Alerts from the City of LA

NotifyLA is a free emergency alert system that enables you to receive life-saving safety information during emergencies and disasters. NotifyLA also keeps you up-to-date with relevant information about local emergencies and hazards like earthquakes, floods, fires, and evacuations. It is our best tool to send you emergency alerts and provide you with the information you need to keep yourself and your family safe.

Signing up is quick and easy! Simply text your zip code to 888-777 right now to register your cell phone. You can also visit NotifyLA.org to register your home phone, additional cell phones, and your email address.

Sign up today for these critical, life-saving emergency alerts and follow NotifyLA on Twitter: @NotifyLA.
---
REGIONAL JUSTICE TRAINING - Please join UUs from around our area on June 3rd from 9am to 3:30pm at Neighborhood UU sponsored by UU Justice Ministry of California. Special speakers include Katia Hansen of UURISE (UU Refugee and Immigrant Services and Education) and Angelica Ruiz of EJCW (Environmental Justice Coalition for Water). Join us for powerful keynotes, networking, information-packed breakout sessions and a legislative update from UUJM's Executive Director, Evan Junker. To register or for more information, visit

uujmca.org/rjt-la-sfv

.

Gratefully yours, Beverly Schmidkunz Boido
Membership, Events and Administration
UU Justice Ministry of California
beverly@uujmca.org Office: (916) 441-0018 www.uujmca.org

facebook


SUNDAY SERVICE
10:30 AM
---
Thank you for your interest in receiving our weekly E-news. We hope you find the articles here informative and we hope it encourages you to participate in our activities.

Your family and friends may also be interested so feel free to forward this to them and they can

sign up here.





You can also visit our new and improved website at

www.sepulvedauu.org
We rent out our beautiful sanctuary for weddings, religious services, meetings, concerts, fundraisings, and other gatherings. Please call the SUUS office at 818-894-9251 or

email

us to inquire.
MEETINGS AND EVENTS
Fri. May 5
*Conscious Aging Group – 10 AM (Conference Rm.)

Sat. May 6
*Finding Peace – 3 PM (Onion)

Sun. May 7
*Sunday Service – 10:30 AM (Onion)
*Men's Group Mtg – 12 PM (Ballou Rm.)

Mon. May 8
*Finance Committee Mtg. – 7 PM (Conference Rm.)
*Women's DA Group Mtg. – 7 PM (Ballou Rm.)

Tue. May 9
*Endowment Committee Mtg. – 11 AM (Conference Rm.)
*Women's AA Group Mtg. – 6:30 PM (Ballou Rm.)

Wed. May 10
*Lunch and Bike Group – 10 AM (Away)(mdickson97@aol.com)
*Ceramics (Play in the Mud) Class & Conversation – 6 PM (Art Rm.)
*Spiritual Unity Movement – 7 PM (Onion)

Thu. May 11
*Choir Rehearsal – 7:15 PM (Onion)

Fri. May 12
*Conscious Aging Group – 10 AM (Conference Rm.)
*Drumming Circle – 7 PM (Onion)

Sat. May 13
*Onionaires Spring Concert – 7 PM (Onion)

Sun. May 14
Happy Mother's Day
*Sunday Service with Flower Communion – 10:30 AM (Onion)
*Community Potluck – 12 PM (Onion)
*Program Committee Mtg. – 12:15 PM (Conference Rm.)
---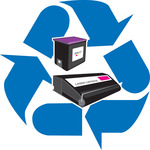 USED INK/TONER NEEDED
–
Thank you to all who donate their ink and toner cartridges here at SUUS. Your donations help a great deal in alleviating the rising cost of office supplies. Drop off your used inks and toners here at SUUS to help us and help the environment as well. – Ramon Alvarez, Office Administrator, 818-894-9251.
---
OUR UU COMMUNITY