Dear David,

Thank you for showing up and supporting RLPiM this Spring. We heard such wonderful feedback from our audiences--particularly from those who had the opportunity to see our work for the first time. If you weren't able to make it out to see our Spring performances we have video footage, photos and reviews below. For more content you can always check out our revamped
website
!
Due to the response from 'The Jobs Project' we are now actively looking to present the piece, or sections from it, at other venues and we would love your help. The dance can easily be modified for alternative spaces: offices, entry-halls, warehouses, etc. If you know a venue or community who would be interested in showing the piece please let us know.
Warmly,
Gina Hoch-Stall

Company Director/Choreographer

www.rlpim.org
---
JOBS PROJECT Video Preview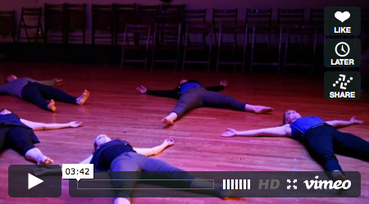 We were thrilled to work with videographer Stephen Dotson to capture 'The Jobs Project.' While this short video highlights the diverse physicality of the piece, we are also working on another that will focus more on the interviews.
---
Photos and Reviews

As exciting as it is talking to audience members after the show, it is sometimes even better to read what they write after. Here are some excerpts (click link to read the full review):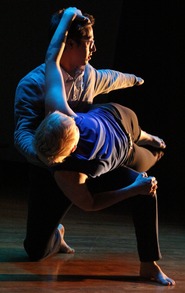 "The Jobs Project was crisp and precise, but improvised and spontaneous too, like the best work. It is one of the dancers, Mason Rosenthal, who interviews the other dancers as they crisscross the space. The fun he had throughout, and how his seemingly off-the-cuff comments both relieve and accentuate the rigor of the forms around him, said something essential about the work we all do
.
"

"Equally at home upside down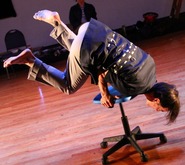 and right side up–headspins, handstands, and inversions abound–[RLPiM] are seamless improvisers, skilled in partnering. Particularly fulfilling are repetitive gestural phrases that evoke recognizable tasks–mouse-clicking, counting, cranking, pouring, filing–only to evolve and transcend the literal, and physical manipulations that make bodies object and concept..."
-Carolyn Merritt,
ThinkingDance.net
---
Who we are: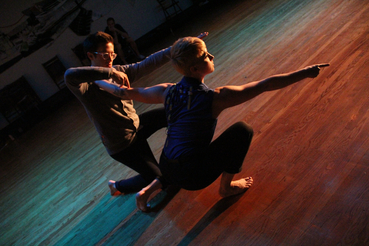 Photo Credit Lindsay Browning
RealLivePeople(in)Motion explores human experiences through firsthand stories and unspoken gestures; we focus on the spaces between, the quick look away and the light tap on the shoulder. Our work strives to balance inventive, athletic movement with poignant and provocative interactions that resonate with an audience. We tackle our subject matter from multiple perspectives, bringing in composers, artists and filmmakers to collaborate and even incorporating our audience's opinions and stories into the work in real time. For us the work is about being human onstage—part performance, part real-life.



RealLivePeople(in)Motion is fiscally sponsored by Fractured Atlas. To see our profile and make a donation to the company please click
here
.
---