Landscape Structures YouTube Channel

Curious to see how kids enjoy the fun playground components that we offer? Visit the Landscape Structures YouTube Channel, which hosts hundreds of fun product and project spotlight videos. See new products in action and hear the stories behind some of the most unique playground projects from across the globe! Here are a few of our favorite product videos!


Venti

Global Motion

FitCore Extreme

Product Spotlight: GaGa Ball Pits
GaGa Ball is the hottest new game on the playground! Similar to dodgeball, it's a fast-paced game where players try to avoid being hit by the ball. It is played in an octagonal "pit" and is easy to learn and fun for all ages and abilities. We offer modular GaGa Pit "kits" in three standard sizes of 15', 20', or 26' diameter for indoor or outdoor use. Contact Us for more information and pricing.
.


Playground of the Month
Plunkett Park - Elmhurst, IL
Kids can come climb a tree trunk, ride a raccoon seesaw, or balance on a log at the new nature-inspired playground at Plunkett Park in Elmhurst! The park features many kid-favorites like a Tire Swing, Boogie Board, and Global Motion. DuMor tables and benches with cedar recycled plastic slats provide visitor seating and complement the natural look of the play space.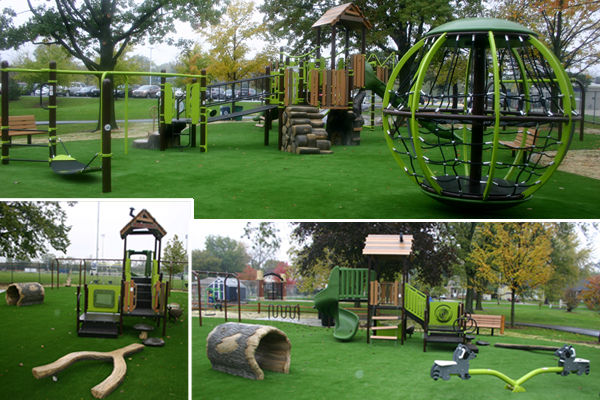 Observations Of Play
Stimulate the Senses
L

ooking for playground design inspiration? Watch children play.
This section of our newsletter will highlight some common play activities that we have observed and how they can be used to inspire unique playground designs.
While playgrounds are great for fitness and exercise, they can also provide opportunities for sensory development. Children are naturally curious and love to explore new things by sight, sound, and touch. Incorporating sensory elements into a playground design promotes discovery and creativity, while also building fun! Sensory equipment is especially beneficial to those children on the autism spectrum or with sensory integration disorders, as it provides a soothing activity on a busy playground.


Get social
with us!


Contact us for more information or to request a catalog:

Tel: (708) 579-9055 Email: play@nutoys4fun.com

Playground Equipment • Play Surfacing • Water Play
Site Furniture • Shade Structures • Athletic Equipment