SketchUp Files

Calling all Landscape Architects! Starting a new playground planning project and looking for some quick ideas? Landscape Structures has assembled over 50 SketchUp design files that can be downloaded and used as placeholders in your initial designs. DuMor also has several site furniture SketchUp files available so you can complete your space with benches, picnic tables, and receptacles.


Product Spotlight: Skyways Shade
Beat the heat this summer with SkyWays shade products from Landscape Structures! Skyways fabric sails are a versatile shade solution for any playground, seating, or gathering area.
Hip, hexagon, cantilever, triangle - you name it!
Available as stand-alone structures or integrated into a play structure in both standard and custom configurations. Explore the Skyways virtual catalog for example installations and additional information.


.


Playground of the Month
Rest Up Camping & RV Corral - Grayville, IL
Rest Up Camping & RV Corral is a brand new campground in southern Illinois with a western-themed playground complete with a stagecoach, teepees, and an Old West town facade. Installed by Green-Up, the playground offers a unique play environment where children can pretend they are cowboys and cowgirls in the old wild west!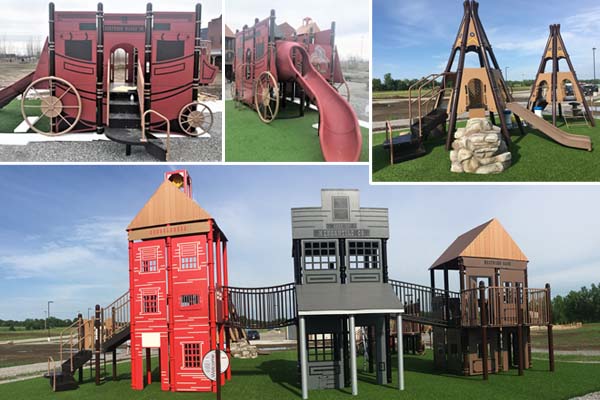 Observations Of Play
Let's Pretend!
L

ooking for playground design inspiration? Watch children play.
This section of our newsletter will highlight some common play activities that we have observed and how they can be used to inspire unique playground designs.
Pretend play is an important part of child development as it allows for children to exercise their imaginations and think creatively. Kids love to imagine they are firefighters, train engineers, or pirates defending their ship on the open sea. Creative, pretend play promotes language development, social skills, and problem solving, while also being fun! Themed elements and structures are a great way to encourage pretend play on the playground.


Get social
with us!


Contact us for more information or to request a catalog:

Tel: (708) 579-9055 Email: play@nutoys4fun.com

Playground Equipment • Play Surfacing • Water Play
Site Furniture • Shade Structures • Athletic Equipment