Together We Play Blog

Psst! Have you subscribed yet? Join 68,000+ followers and follow along on Landscape Structures' Together We Play blog. Learn about hot new products, industry trends and research, recently completed projects, and more! Subscribe today to never miss another post.


Product Spotlight: Hillscape Climbers
Hillscape Climbers are unique, artful climbing components that have become increasingly popular, especially in nature playground designs. The climbers' recycled plastic slats are arranged to
simulate rolling hills that children can explore by climbing up, down, across, and under.
Hillscapes are available as a component attached to a modular play structure, or can serve as a completely freestanding climber. View additional photos from a recent project to get a closer look!

.


Playground of the Month
Linear Park - East Chicago, IN
The new Linear Park in East Chicago, IN features a beach-themed playground complete with a lifeguard tower, surf board climber, and life ring panel. Blue Hillscape Climbers mimic rolling waves at the beach, while colorful Cornstalk Climbers resemble seagrasses that might be found underwater. Children will love exploring this park, with endless opportunities for imaginative play!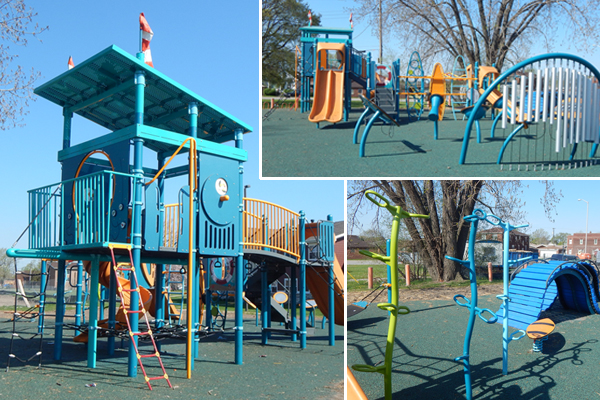 Observations Of Play
Multigenerational Play
L

ooking for playground design inspiration? Watch children play.
This section of our newsletter will highlight some common play activities that we have observed and how they can be used to inspire unique playground designs.
"Mom, come play with me!" "Dad, watch this!" It's no surprise that children love to involve their caregivers and older siblings in their play and now more than ever, playgrounds are being designed to accommodate this effort. Multigenerational playgrounds offer activities that people of all ages and abilities can enjoy together. Shown below are three of our most popular components that will appeal to your whole community. (1) The Friendship Swing allows for multiple users to swing together; (2) Four comfortable seats and gentle rocking makes the We-Saw a hit for all ages; (3) Rhapsody musical instruments produce beautiful sounds that unite visitors in music.


Get social
with us!


Contact us for more information or to request a catalog:

Tel: (708) 579-9055 Email: play@nutoys4fun.com

Playground Equipment • Play Surfacing • Water Play
Site Furniture • Shade Structures • Athletic Equipment