New DuMor Products

Check out these 6 new tables from DuMor Site Furnishings! Each of these tables is available with your choice of Ipe or Steel Seats; models #298 and #299 also have the option of Recycled Plastic Seats. In addition to the material options, each table also has a version that meets ADA accessibility standards.


Product Spotlight: Fire Station
The new SmartPlay®: Fire Station for 2-5 Year Olds features 12 interactive activities that will

*spark*

kids' imaginations! Children can take control at the wheel, ring the front bell, play a find-it game, pet Sparky the fire dog or slide down to their next adventure. Install it alone or connect it to the Market Cafe and Loft structures to create the full SmartPlay: Centre!


.


Playground of the Month
Willow Pond Park - Willowbrook, IL
The Village of Willowbrook recently worked with Design Perspectives, Inc. to renovate Willow Pond Park. The main playground area is just north of the pond and features a ramped play structure, an OmniSpin, swings, and a picnic shelter. Kids can explore additional play elements along the pond path, including the nautical Star Seeker climber. Wabash Valley benches and picnic tables complete the park.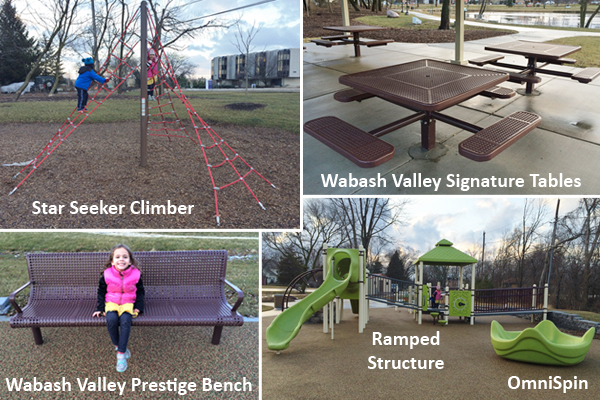 Observations Of Play
Partner Play
L

ooking for playground design inspiration? Watch children play.
This section of our newsletter will highlight some common play activities that we have observed and how they can be used to inspire unique playground designs.
Everything's better with a friend! On the playground children often like to play together with a buddy. Partner play can help children develop teamwork, communication, and social skills. Seesaws have long been the traditional partner activity on the playground, but the photos below show many more components that will entertain your playground duos!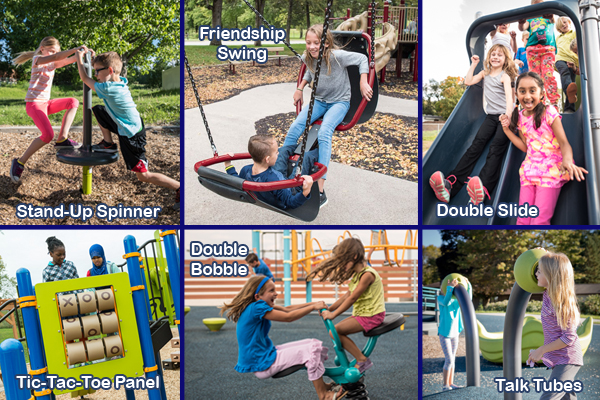 Get social
with us!


Contact us for more information or to request a catalog:

Tel: (708) 579-9055 Email: play@nutoys4fun.com

Playground Equipment • Play Surfacing • Water Play
Site Furniture • Shade Structures • Athletic Equipment