New Website

We are excited to announce the launch of our brand new website nutoys4fun.com! We invite you to explore the site and hope you enjoy the fresh new look, user-friendly navigation, and all the latest information about our products. If you have any questions, comments or suggestions please send them our way.

Spotlight Product: Outdoor Musical Instruments
Promote creativity and liven up your community space with outdoor musical instruments! They can be a great addition to parks, schools, community projects, nature trails, and museums and provide children and adults an opportunity to collaborate together. NuToys proudly offers outdoor instruments from Landscape Structures and Freenotes Harmony Park.

Rhapsody™ from Landscape Structures
The Rhapsody™ collection includes chimes, three drums, and two metallophones. Choose from the 6 fully accessible instruments, or combine them all to create a beautiful sounding ensemble.


Freenotes Harmony Park offers ten full-sized instruments including bells, chimes, drums, and metallophones. Their Weenotes line offers six similar instruments, but on a smaller scale. Pick and choose your instruments or select one of their recommended ensembles.


Playground of the Month
East Dundee, IL - Lions Park

This playground has a little something for everyone! Older children will love the two giant slides off the 12' PlayOdyssey® Tower, while younger children can explore the 16 play activities of the Smart Play®: Motion structure.

Adding to the fun is a variety of independent equipment including the Oodle® Swing, TopsyTurny® Spinner, Mobius® Climber, and ZipKrooz™!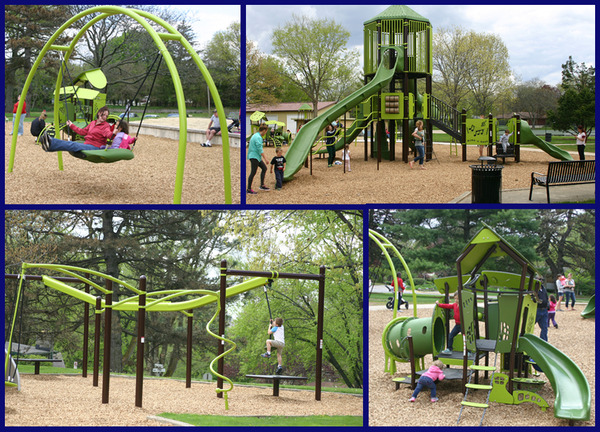 Get to Know NuToys
Tire Toys - Our First Product!
As noted in the May newsletter, NuToys' first play equipment business was TIRETOYS, playground equipment made from junk tires. Tiretoys had a special secret goop on them to stop the carbon black dust in tires from getting on the kids. A few of the original tiretoys from the 1970's can still be seen today on playgrounds. Did you ever try to break a tire?
| | | |
| --- | --- | --- |
| The Tire Cube shown above offers endless possibilites for fun! Climb on top, play "house" inside, roll it around, and enjoy! | | Our best seller was the Tire House with Attic (shown above), a huge 9' high structure made from 31 truck tires. Fun, safe & bouncy! |

Get social
with us!


Contact us for more information or to request a catalog:

Tel: (708) 579-9055 Email: play@nutoys4fun.com

Playground Equipment • Play Surfacing • Water Play
Site Furniture • Shade Structures • Athletic Equipment