It's Just More Fun!

Splash Pad Systems:
Drain Away vs. Recirculating

....

A splash pad can be a great addition to any community as it provides a fun, alternative way for residents to cool off during the hot summer months. One of the most important things to consider when developing a splash pad plan is what type of operating system will be used: drain-away or a recirculating system. There are several factors that weigh into this decision including the up-front installation costs, water usage, flow rates, and ongoing maintenance costs.


The chart below was developed by Aquatic Recreation Company (ARC), and analyzes some key statistics for each type of operating system. Want to learn more? View the detailed mechanical system design and individual components needed for a domestic drain-away system or recirculating system.

Spotlight Product: Wear Mats

Are you tired of having to constantly rake your woodchips back into place under swingsets and at slide exits? Minimize displacement of loose-fill playground surfacing from under swings or other high wear spots with DynaCushion Wear Mats. Easy to install, these mats offer stability, longevity, durability, and resistance to wear.
Made of 100% recycled tire rubber


Playground of the Month
Winnetka, IL - Hubbard Woods Park
The playground for 5-12 year olds features the large Lunar Burst net climber connected to the main play structure via the SpaceLink Climber.
The 2-5 year old playground includes a cozy spot with a table and two benches beneath the tallest deck for the little ones to sit.



Poured-in-place surfacing by Surface America.

Designed by The Lakota Group.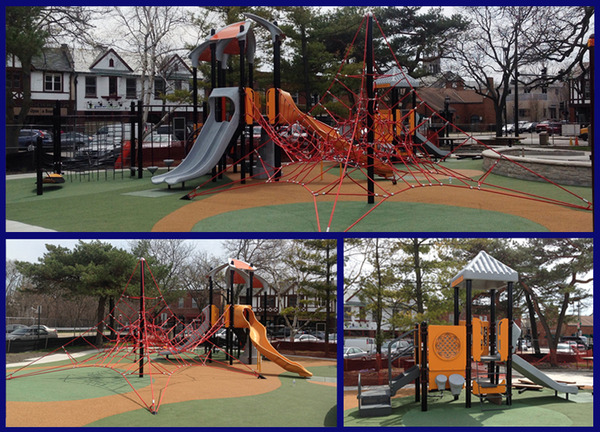 Get to Know NuToys
Jack Gleason
Position: NuToys Founder (Currently Retired)
Years at NuToys: 40+ Years
Playground Fun:

I started NuToys from nothing in 1974. Play equipment was a second career for me after 8 years of serving and organizing poor people on Milwaukee's south side. NuToys' first play equipment business was TIRETOYS, new playground equipment made from junk tires.

Watch for our next monthly newsletter that will feature a history of TIRETOYS!

Random Fun Facts: (1) I am an avid fan of the Green Bay Packers and the Chicago White Sox. (2) I have 3 older sisters and 4 daughters. No boys allowed! (3) I have never tried to spin tops at our annual top spinning party. (4) In retirement I manage a small resort in Northern Wisconsin - Red Feather Lodge. Have a look. (5) I have a roller slide (always my favorite toy!) and play steps off my back porch instead of normal stairs. (6) I keep a herd of frogs and alligators on my dashboard to keep me company as I drive around.

Get social
with us!


Contact us for more information or to request a catalog:

Tel: (708) 579-9055 Email: play@nutoys4fun.com

Playground Equipment • Play Surfacing • Water Play
Site Furniture • Shade Structures • Athletic Equipment