New 8' PlayBooster Climbers
Take your playground to new heights with 5 NEW PlayBooster climbers that connect to a 96" deck. Challenge children with a whole new climbing adventure by adding these multi-kid climbers to your next playground design. And don't forget to pair them with an 8' WhooshWinder, 8' Double Swoosh, or 8' SlideWinder slide for an exhilarating ride down!


Dot-to-Dot

Shockwave

Chimney Climb Across

Chimney

Arcade

Product Spotlight: Log Bench
The Log Bench from Landscape Structures is made out of durable, pre-cast concrete that is textured and painted to resemble real tree bark. Log benches are perfect for creating an outdoor classroom as shown below, or for adding seating to nature-inspired playgrounds, forest preserves, nature trails, and more.



Playground of the Month
Laidlaw Park - Western Springs, IL
There's a little something for everyone at the new Laidlaw Park playground in Western Springs! Younger kids can explore the custom train, while older kids can navigate the giant circuit structure that features a
Traveler
bridge and
new GeoPlex climbing panels. A Global Motion, Oodle Swing, and 50' ZipKrooz provide bonus fun and complete the space.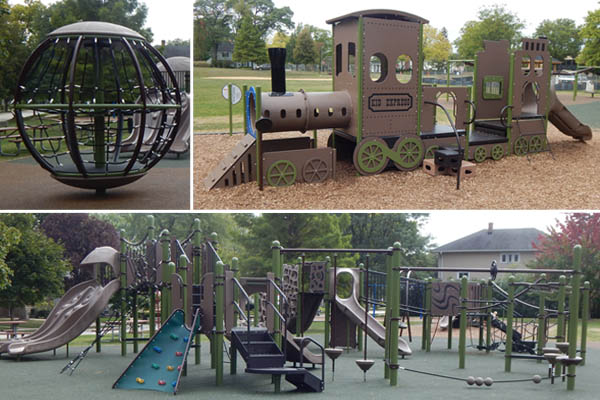 Observations Of Play
Perch Place
L

ooking for playground design inspiration? Watch children play.
This new section of our newsletter will highlight some common play activities that we have observed and how they can be used to inspire unique playground designs.
It's true. Kids have a hard time sitting still. Let them loose on the playground and they are like little energizer bunnies as they climb, slide, crawl, and monkey around. It's GO-GO-GO until...they need a break. They need a spot to stop and take a rest and chill alone or just hang with friends. We like to call it a "perch place" and it's important to incorporate these spots into your playground design. Below are a few examples of great components that promote perching.

Get social
with us!


Contact us for more information or to request a catalog:

Tel: (708) 579-9055 Email: play@nutoys4fun.com

Playground Equipment • Play Surfacing • Water Play
Site Furniture • Shade Structures • Athletic Equipment