Playground of the Month
Dwyer Park - Winnetka, IL
When the Winnetka Park District recently planned to update the 20-year old playground at Dwyer Park, they decided to do a renovation instead of a whole new structure. Several of the old components were still in good shape and were incorporated into the new design. Both the older and younger kids' structures were updated and expanded with fresh, new components and fabric shade. Old posts were repainted on-site to match the new posts. Combination poured-in-place surfacing by Surface America and Engineered Wood Fiber completes the play space.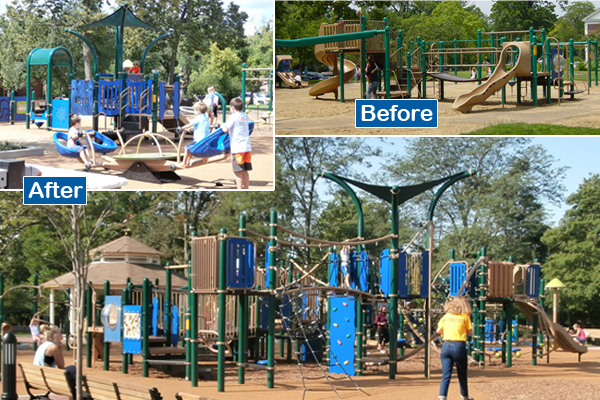 Observations Of Play
Group Play
L

ooking for playground design inspiration? Watch children play.
This section of our newsletter will highlight some common play activities that we have observed and how they can be used to inspire unique playground designs.
Group play on the playground is where children can build relationships and learn valuable life lessons. Group play is not always about "winning", but instead fosters cooperation and teamwork. Playing in a large group allows kids to sharpen their communication skills, exercise self-control, learn verbal and body language and most of all-have fun! The components shown below allow for multiple children to all play together.