Aquatix™ by Landscape Structures

..

Looking for some fresh new ideas for your splash pad project? Look no further than Aquatix™ by Landscape Structures (formerly Aquatic Recreation Company)!


The VersoSplash™ and WaterLimbo™ shown below are the first two in a series of innovative new water play products by Aquatix™. Both of these elements allow for interactive, sensory-rich water play in a sleek new design aesthetic.

Explore the brand new Aquatix™ website and check back often for additional new product launches in the upcoming months!
Spotlight Product: Parkaire Activity Centers

Parkaire Activity Centers by Cedar Forest Products are versatile recreation buildings that can provide shelter, storage, concessions, and/or restroom facilities for your park. Choose from one of 10 standard floor plans, or we can completely customize one to meet your needs. Installation is easy with our pre-cut and coded cedar timbers, and we offer full plumbing and electrical packages to complete the job. Contact Us for additional information.


Playgrounds of the Month
Chicago Plays! Sites

In 2013 Mayor Rahm Emanuel and the Friends of the Parks launched the Chicago Plays! program to renovate 300 neighborhood parks across the city of Chicago over a five year period. They are on track to complete this initiative one year early and will have completed 327 playground renovations by the end of this year. To celebrate, the Chicago Park District will host Chicago Plays! Day this Saturday, October 15th and parks across the city will have celebratory events. All are encouraged to get out and enjoy your local playground! NuToys is proud to have worked with the Chicago Park District to supply the playground equipment for several of these parks, a sampling of which is shown below and on our Facebook Page.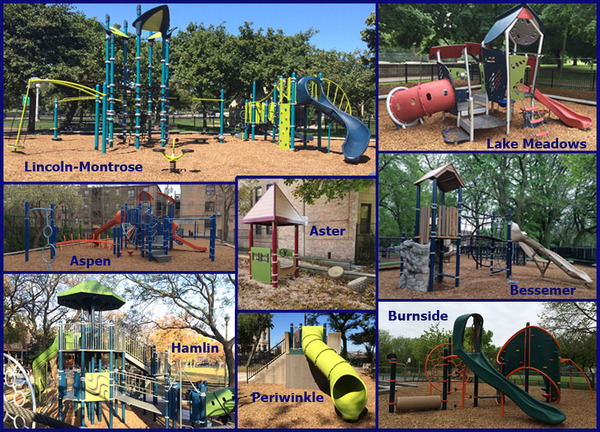 What's Trending Now?
Deckless Playgrounds!
Deckless Playgrounds have become a hot new trend in playground design. No longer limited to just independent items, we now offer many components that can be linked together at ground level to create modern, versatile designs. Some advantages of deckless play structures:
Save money on decks and posts

Offer superior wheelchair accessibility with 100% ground level components

Allow for continuous play with no predetermined path

Promote fitness through unique climbing and circuit play

Get social
with us!


Contact us for more information or to request a catalog:

Tel: (708) 579-9055 Email: play@nutoys4fun.com

Playground Equipment • Play Surfacing • Water Play
Site Furniture • Shade Structures • Athletic Equipment