Playground of the Month
Van Laten Park - Lansing, IL
We love the fun, colorful details at the new Van Laten Park playground in Lansing, IL. Designed by Planning Resources, Inc. and the Lan-Oak Park District, the storybook-themed playground features a Talking is Teaching book panel and a custom bookshelf climber that promote language-rich interactions between visitors. The
flower corner
and
butterfly climber complete the space and add a touch of whimsy to the park.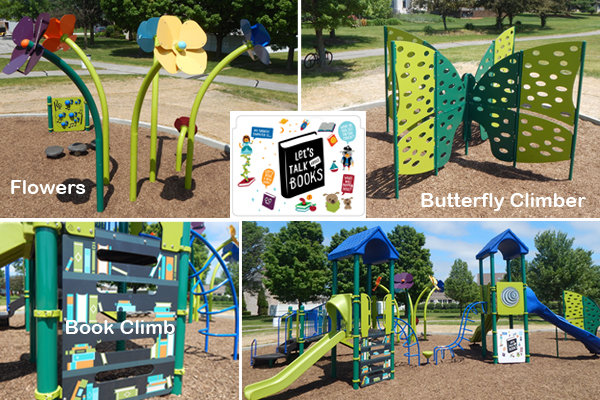 Observations Of Play
Follow the Leader!
L

ooking for playground design inspiration? Watch children play. Tune in to how they interact with each other.
Notice their creativity, their energy, their movements.
Pay attention to how they explore a playground -
the games they play, their activity patterns, and how they use their imagination. This new section of our newsletter will highlight some common play activities that we have observed and how they can be used to inspire unique playground designs.
Kids love to play Follow the Leader! This simple playground game fosters leadership, cooperation, creativity, and fitness. The path can be as simple as a circle of pods as shown below or a complicated circuit of climbing, swinging, and traversing obstacles. Work with one of our designers to create an age-appropriate design that will take the kids on a journey of fun!