Trail Amenities
The Illinois Department of Transportation (IDOT) is now accepting applications for the 2018 Illinois Transportation Enhancement Program (ITEP). The ITEP is a competitive grant program that awards federal funds for the development of alternative transportation routes such as bike trails and streetscapes. Applications are now being accepted through December 1st.

NuToys can be your one-stop shop for trail amenities and streetscape furniture! We offer everything from

benches and litter receptacles to

trail kiosks, bridges, and bike racks. Contact us for more info!


Product Spotlight: Boogie Board
Landscape Structures introduced the Boogie Board a few years ago and it has quickly become one of our most popular play components. Used alone or with friends, kids develop core strength, balance, and coordination skills as the surf the flexible board. Kids also love to use it as a hammock to take a break, lounge, and enjoy the sunshine. The Boogie Board can be installed as a freestanding piece or attached to a PlayBooster or NetPlex structure.



Playground of the Month
Brentwood Park - Lombard, IL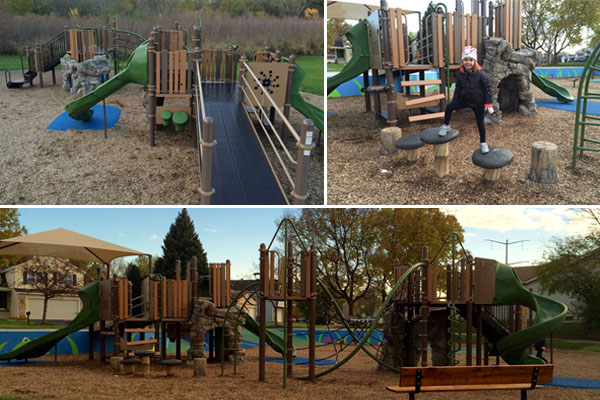 Observations Of Play
Monkey Around
L

ooking for playground design inspiration? Watch children play.
This new section of our newsletter will highlight some common play activities that we have observed and how they can be used to inspire unique playground designs.
Children love to monkey around the playground, hanging and climbing with their arms and flipping upside down. Components like those shown below provide kids with an opportunity to develop their upper body, core, and hand strength and improve their hand-eye coordination. Hanging upside down also stimulates the vestibular system, providing much-needed sensory input for children.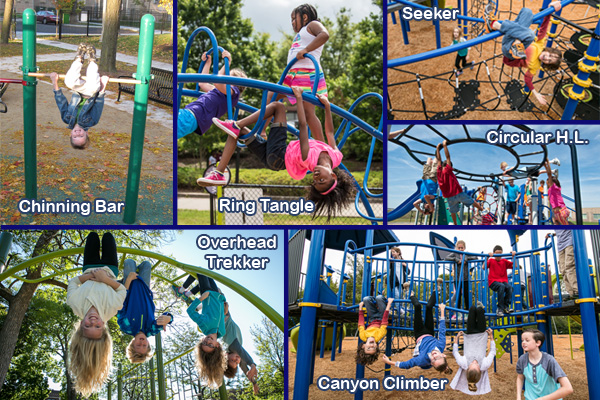 Get social
with us!


Contact us for more information or to request a catalog:

Tel: (708) 579-9055 Email: play@nutoys4fun.com

Playground Equipment • Play Surfacing • Water Play
Site Furniture • Shade Structures • Athletic Equipment