It's Just More Fun!

** Enter the Kiwanis Legacy of Play Contest or the Kaboom Let's Play Video Contest to win money toward your playground project! **

Purchasing Contracts


....

Landscape Structures, Inc. park and playground products are available via a number of national purchasing contracts. Purchasing contracts such as HGACBuy, TCPN, and NCPA allow agencies to procure goods and services at a discounted rate. These contracts offer simple registration and are available to governmental agencies, schools, and non-profit organizations. Bypass the traditional bid process and save valuable time and money by purchasing your playground through a contract today. Contact us for more information.

Spotlight Product: Dedication Plaques

Dedication plaques are a great way to remember a loved one or honor people or organizations who have made a difference in your community. "Sponsor a Bench" programs allow donors to make a meaningful and enduring contribution to a local streetscape or gathering place. DuMor offers customizable plaques in a variety of shapes and sizes, all made of durable etched zinc with a bronze style finish. Durable and versatile, the plaques can be added to most DuMor products including benches, planters, bike racks, or receptacles.


Playground of the Month
Chicago, IL - Horizon Science Academy, Southwest Chicago
The playground's bright and cheery color scheme mirrors the school's colorful interior decor.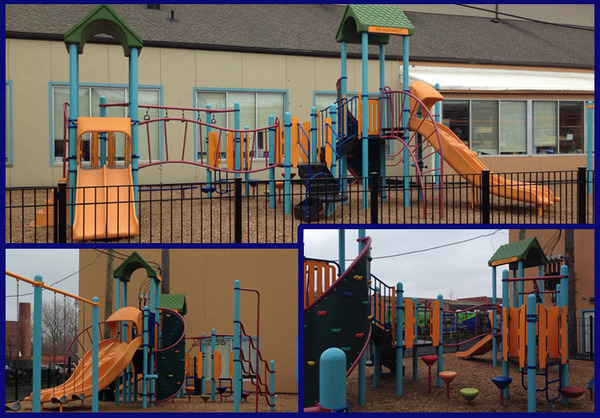 Get to Know NuToys
Sheilah Wasielewski
Position: Operations Manager
Years at NuToys: 5 Years
Contact: sheilahw@nutoys4fun.com
Playground Fun:

In my house growing up the only way to get down from our back deck was to go down a Firepole and the only way up was to climb a Chain Ladder. It has since been upgraded to a Rollerslide down and a Step Ladder up, but still no traditional stairs to be seen!

Random Fun Fact: I love to be active but am prone to sports-related injuries. I have a wonky finger from a volleyball break, and a 1/2 fake tooth from when I whacked myself with a tennis racquet in high school.

Get social
with us!


Contact us for more information or to request a catalog:

Tel: (708) 579-9055 Email: play@nutoys4fun.com

Playground Equipment • Play Surfacing • Water Play
Site Furniture • Shade Structures • Athletic Equipment