Aquatix: 50+ New Products!
After recently joining forces with Landscape Structures, Aquatix has completely redesigned their product line with a whole new look and feel. The new products have a sleek, modern vibe while maintaining the same quality and durability that Aquatix has been know for throughout their 25 years of water experience. Explore all of the new products on their refreshed website or in their brand new catalog.

Product Spotlight: DigiFuse

®

Panels


Add some personality to your playground with DigiFuse®! DigiFuse® is a proprietary process in which a photograph or graphic is fused onto a metal panel, creating a vivid, photo-realistic image. This a great option for adding personalization or theming to a play area at an affordable price. Choose from our library of available designs, provide an image of your own, or tell us your vision and we can design a graphic for you! Contact Us to request our DigiFuse Inspiration Brochure.







Playground of the Month
Phil Thomas Memorial PG at Shelton Park - Glencoe, IL


What's Trending Now?
Playing with Topography
Incorporating mounds or interesting topography into a play area instantly adds interest and challenge. Whether you work with the natural contours of the site or create man-made elevation changes, you can introduce a whole new dimension of play. The examples below show a variety of ways to play with topography - add climbers up a hillside, mound up to a bridge, build hills and valleys, create an embankment slide. The opportunities are endless; explore more on Pinterest.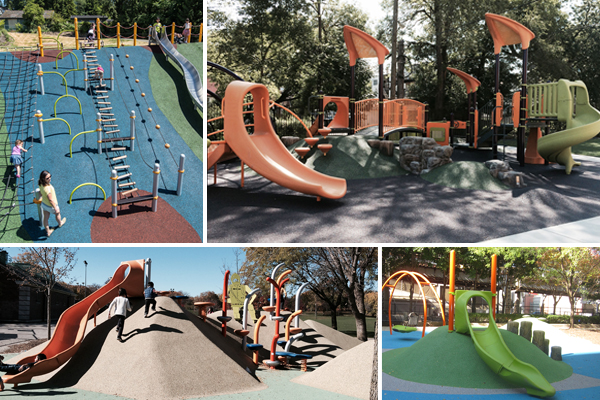 Get social
with us!


Contact us for more information or to request a catalog:

Tel: (708) 579-9055 Email: play@nutoys4fun.com

Playground Equipment • Play Surfacing • Water Play
Site Furniture • Shade Structures • Athletic Equipment