Visit Us in Booth #403 in Salon A at the IAPD/IPRA Soaring to New Heights Conference this Thursday (1/19) and Friday (1/20)!

For a Better Tomorrow, We Play Today
Many of our most important life lessons and skills were learned on the playground when we were kids. That's why we work so hard to bring play to all children—to make sure our children grow up happy, healthy and engaged in their community. Have you seen Landscape Structures' latest video? Our playgrounds are shaping little leaders, one child at a time.

New Product Spotlights for 2017

Add some unique climbing to your playground with GeoPlex™ panels for 5-12 year olds. These abstract, versatile panels can be connected to a deck, used on a tower with or without cables, or stand alone as an independent climber. Whatever configuration you choose, kids will never tire of discovering all the ways to explore them!

---

Take your playground to new heights with one of our new 8', 10', or 12' slides! The 8' Double Swoosh® slide provides the steepest slide allowable and the new WhooshWinder™ slides offer twists & turns galore!


---

The Smart Play® Nook is designed for children ages 6 to 23 months and features 20 developmentally appropriate activities in a whimsical play house.

---

The Smart Play® Loft offers 20 interactive learning activities for 2-5 year olds. Children have opportunities to climb, crawl, slide, and learn as they explore this compact structure.



Playgrounds of the Month
Tri-Creek School Corporation - Lowell, IN

Recess just got a whole lot more fun for elementary school children in Lowell, IN! The three elementary schools in the Tri-Creek School Corporation each received new playground equipment in 2016.
Lake Prairie School - Farm-themed play & the Canyon Collection
Oak Hill School - Sensory Wall & Ramped Inclusive Play

Three Creeks School - Three play areas that use some existing play pieces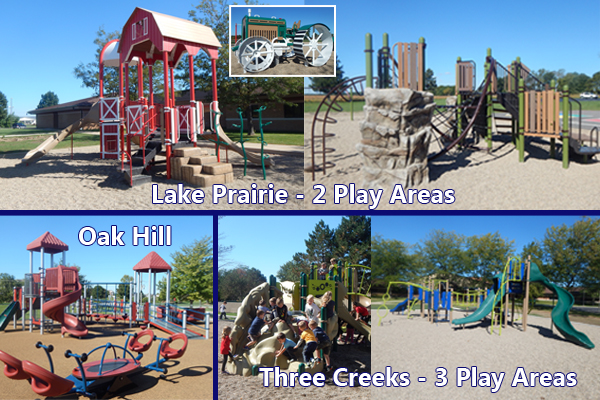 What's Trending Now?
Fitness Focused Playgrounds!

With childhood obesity rates on the rise, playgrounds are the perfect place for kids to get some exercise while having fun outside. Playgrounds can be specifically designed with a layout and play components to maximize physical fitness benefits. Circuit play, overhead events, and challenging climbers are a few of the key elements to include in a fitness focused playground.

Want to learn more? John McConkey and Bryan Sykora from Landscape Structures will be presenting a session at the IAPD/IPRA conference entitled "Designing Fitness Focused Playgrounds". The session is offered from 3:30-4:45pm on Saturday, January 21st in Boulevard B, Second Floor at the Hilton Chicago. All are welcome to attend!

Get social
with us!


Contact us for more information or to request a catalog:

Tel: (708) 579-9055 Email: play@nutoys4fun.com

Playground Equipment • Play Surfacing • Water Play
Site Furniture • Shade Structures • Athletic Equipment