Community Builds

...

Planning a new playground? Promote community involvement and pride in ownership by installing it via a community build event. Community Builds are a great way to foster community spirit and save money on installation costs. Detailed installation instructions are provided with every order and we can provided technical advice for your building event.

If you are considering a community build, please contact your sales representative and he or she can provide guidance and helpful planning information.
Prophetstown Elementary School recently installed the above playground via a community build and made this awesome video that documents the process.

Spotlight Product: Combination Football/Soccer Goals

Crossbar truss provides 10' football goalpost height and 8' soccer goal height

Choose galvanized or powder-coated

Install either in concrete footings or in optional ground sleeves

Soccer nets and ties sold separately





Playground of the Month
Cicero, IL - Laramie Park

The Town of Cicero, IL recently teamed up with Planning Resources Inc to design new recreational spaces for the Laramie Park Extension project. The new modern playground features a 7-Post NetPlex climbing structure and an expansive PlayBooster structure built into interesting topography. In addition to the playground, the park also features HealthBeat fitness stations, new sand volleyball courts, and new bleachers for baseball spectators.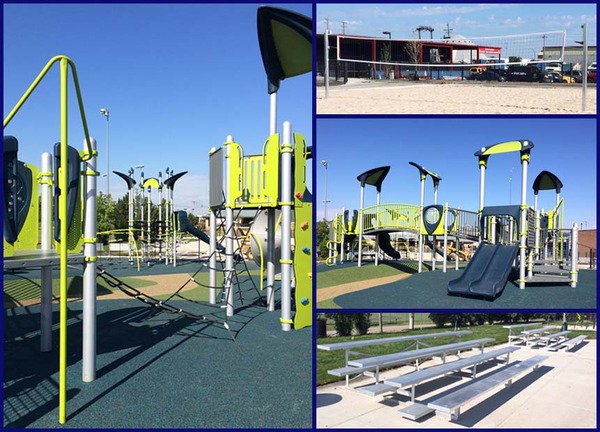 What's Trending Now?
One-of-a-Kind Custom Playgrounds
As counterintuitive as it may sound, a current trend in playground design is to not follow any trend and to create a completely unique, one-of-a-kind destination playground. Landscape Structures has the ability to create custom play spaces, bound only by one's imagination. LSI just released its 2017 PlayBook that features amazing custom playgrounds from around the world. Check it out and be inspired!

Get social
with us!


Contact us for more information or to request a catalog:

Tel: (708) 579-9055 Email: play@nutoys4fun.com

Playground Equipment • Play Surfacing • Water Play
Site Furniture • Shade Structures • Athletic Equipment