Welcome to the latest update from Your Life Counts – life affirming news, views and involvements across the country and around the world. In this issue:
• Rebuilding Christmas
• Jim Thomson's Dreams
• Cycle of Pain

Peggy Guiler-Delahunt has been a strong supporter and advocate for YLC for over 6 years. As we approach the holidays Peggy shares her story openly in this edition of the YLC enewsletter. Peggy lost her son Bryan to suicide in 2000 and has chosen to work with YLC to reach out and support youth who are not coping with life and to also help support families and friends who are left in the aftermath of suicide.
Rebuilding Christmas
By Peggy Guiler-Delahunt

Bry, as I call him, was born on December 12, 1983. He was a special child from the beginning because he was not planned. While I was pregnant I developed toxaemia and both our lives were in the balance for a while. When he finally arrived 2 weeks before Christmas the world and all of heaven rejoiced.

When Bryan was two years old the much disturbed and older child of a neighbor and friend began to abuse Bry sexually. This horror for Bry continued until we moved from the neighbourhood when he was seven. I had no idea what was taking place. Through it all Bry was the same sweet kid. He hid his secret well.



Bryan's dad left when Bry was seven. At the age of 15 Bryan began to display more disturbing behavior. An artistic child, Bry loved to draw and his high school art teacher noticed his art was becoming "very dark". The teacher notified the health nurse, who after interviewing Bryan and getting his permission, called me and told me about his suicidal thoughts.
Continue reading online>>>
YLC T-Shirts
YLC T-shirts make great holiday gifts – Two great designs currently available: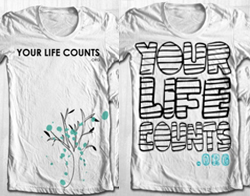 Buy online and support our cause.


YLC Works
We're proud of the life saving work we do, with over 360 lives saved since 2000.
YLC is saving lives.
YLC WORKS!


Follow us on...

Former NHL star Jim Thomson's message
As an NHL enforcer survivor it is incredibly important that we understand the pressures of our national game and its impact on our lives.

This past year, three National Hockey League enforcers have died tragically. In May, Derek Boogaard died from a combination of painkillers and alcohol. Rick Rypien, was found dead in his home in Alberta on Aug.15 and Wade Belak was found dead in a Toronto hotel on Aug. 31. Three too many.

I am greatly honored and delighted to team up with "Your Life Counts" as a newly appointed Ambassador and Speaker. Your Life Counts compliments the vision of my organization "Jim Thomson's Dreams" and my desire to help affirm and shape the lives of youth and others across North America and around the world. Education and awareness is critical!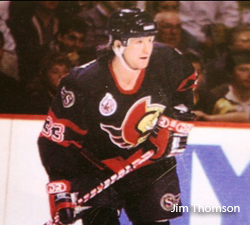 The existence and work of the "Your Life Counts" organization, is one which is greatly needed for people of every age whether they are having difficulty coping with depression or overwhelming sadness or other problems.

People need not suffer in silence. Please show your support for this organization and become a "YLC Champion of Hope" with a year end gift and/ or join the team and get involved. Please read this important letter from Dr Adrian Hill and families who have lost a loved one to suicide inviting you to be a Champion of Hope with YLC.

You'll be glad you did – Jim T.

Cycle of pain
By Lynn Keane

The heartbreaking reality regarding the recent off-season suicides by former hockey players is that the role of an NHL enforcer is to inflict pain on their opponents. The tough guys function as the gatekeepers and thus are there to protect the best players on their teams. In this role the enforcer accepts that he is in constant danger and is also subject to serious bodily harm.

Thomas Joiner, author of Why People Die by Suicide, and a suicide survivor states "various kinds of recklessness may predispose people to suicide precisely because it leaves them open to injury and danger". Repeated injurious experiences, he suggests, "in turn, makes people fearless about a lot of things, including self-injury".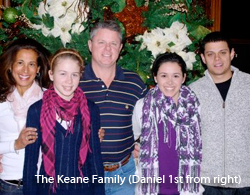 We know that the roots of suicidal behavior and suicidal ideation emerge as a result of a many factors. Including psychiatric symptoms (mental illness), changes in the physiology of the brain and body, enviromental factors and impaired social functioning symptoms (personal or societal). We are living at a time where a percentage of the population in our communities are highly traumatized as a result of addictions, emotional and physical abuse, divorce, loss and isolation to name only a few of the factors.
Continue reading online>>>