September News from KPB
Annual Report, Ready to View!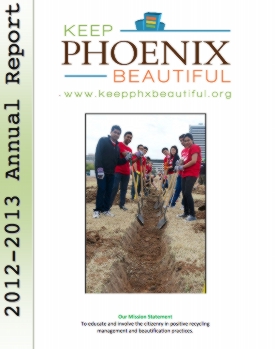 I am pleased to present the 2012-2013 Keep Phoenix Beautiful Annual Report, compiled by the staff of KPB and edited by our former Board Chair Will Flower. Being busy is part of our daily lives at KPB, but when you put all we do in a single document for review, it is daunting what we accomplished.

One of our projects for this year is to update our web presence and make it easier to navigate all our sites. We currently have www.keepphxbeautiful.org, www.earthdayphoenix.org, www.phoenixrecycles.org, www.recyclecleanphoenix.org, and www.phxrenews.org. Add our social media presence and managing the process is a huge undertaking. In our planning discussions with our web developer Rocket Media, they were so impressed with our PHX Renews project that they offered to donate an entire new PHX Renews site, with all the bells and whistles and latest technology so we can highlight the great work happening at Central & Indian School Roads. Rocket Media developed our first web site over five years ago and has been a valued partner of our ever since. Thanks Rocket Media for your generosity!

Our busy season is right around the corner, starting September 21st with Activation Day at PHX Renews. I look forward to seeing you at one of our many events!

Tom Waldeck
Executive Director
---
PHX Renews Update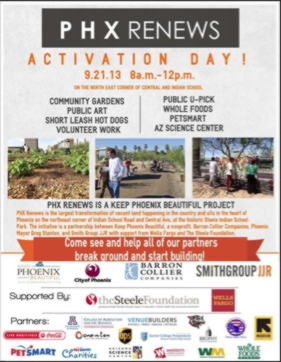 The month of August has been one of the busiest of the year as Keep Phoenix Beautiful has been working diligently to get everything ready for the September 21st PHX Renews Activation Day at Central Avenue and Indian School Road. We've been preparing the ground, installing infrastructure, designing signs and community garden planters, filing our use permit, designing our website, and becoming a finalist for an Arizona Forward Award!

And, our partners have been just as busy. Our landscape architect, Valley Crest, finalized their scope of work and will begin construction soon. The nonprofit One n Ten finalized their plans and officially became a PHX Renews partner! School is back in session, and this means our partners at the High School Consortium (Brophy College Preparatory, Xavier College Preparatory, and Central High School) have been raring to go. They have begun and scheduled a variety of educational science, sustainability and art projects. Our veteran's group, the Madison Street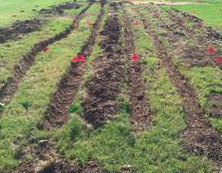 Veteran's Association (MSVA) came out in the blistering heat on August 24th to dig irrigation ditches and sunken planter beds.

Finally, this was an exciting month as we gained a new partner, the Girl Scouts Arizona Cactus-Pine! This month they worked on a community service project showcasing their recycling efforts and eco-consciousness in the form of 2-liter sub-irrigated planters and reused tire planters.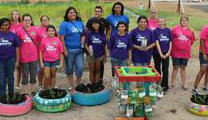 This event was followed by a ribbon cutting ceremony for Team ASUNM and their SHADE Solar Home competing in the U.S. Department of Energy's Solar Decathlon and soon to appear at PHX Renews. We wish them the best of luck as they head off to compete in Irvine, California this October. And as always, be sure to stop by September 21st for Activation Day. There will be work to do, people to meet, food to eat and crops to pick. Just look at this organic cantaloupe. See you there!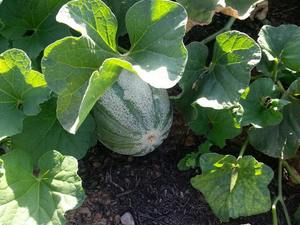 ---
Coming Soon!

WHAT: I Recycle Phoenix Event
WHEN: October 19th,
8am-2pm
WHERE: Desert Ridge Marketplace

WHAT CAN I BRING?
Electronics* • Cell Phones • Document Shredding (up to 5 boxes) • Hard Drive Shredding • Phone Books • Writing Utensils • Plastic Bags
Ink Jet Cartridges • Rechargeable Batteries • Clothing and Household Donations • Just about anything! (Here's a list!)

*Due to the amount of lead in CRT monitors and TV's - Westech Recyclers will charge a small fee for recycling.
---
---
Forward this message
to a friend
---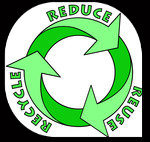 Back to school? Back to recycling!
Is your school recycling? Want to see where all those bottles and cans go after they leave the curb? Would you like to learn how to be green, for free? Check out the KPB Education Program.
We will come and visit your classroom, club, church group, even your HOA and help
you learn about composting, recycling, landfills, you name it! Contact Evelyn to get started!
---