CONTACT CES
Dave Martin,
Consultant

---
School Bus Safety Video Resources


Thank you to all those who attended this year's Safe Schools and Colleges Conference! You can provide your
feedback about the conference here.
Thank you to the sponsors of the conference:

Elliott Data Systems, Inc.
MSBA's Center for Education Safety
MOREnet
Federal Protection, Inc.

---
Missouri School Safety Association is launched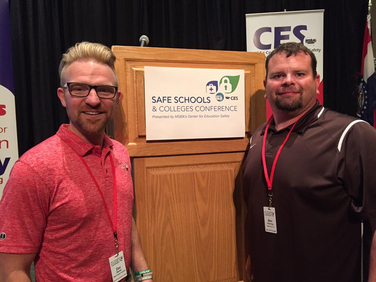 Missouri School Safety Association is launched On Wednesday, October 4, education and safety officials from across the state met to officially form the Missouri School Safety Association. The purposes of the MOSSA include improving the existing programs and promoting new programs of safety education in cooperation with public and private agencies, & acquiring and disseminating accurate information concerning school safety, security, and health. The association, under the umbrella of the Missouri School Boards' Association, hopes to bring members from all areas of safety and security together to provide a united voice on safety matters for public schools, private schools, and higher education. Membership in MOSSA is open to current or former school personnel responsible for school safety and other persons interested in school safety and safety education. There is also a membership category for students and for individuals who have a product or service that would be used in the field of school safety. At the organizational meeting, the founding members elected Zac Rantz, chief communication officer & safety coordinator from Nixa Public Schools, as president, and Ben Buening, assistant principal/athletic director & safety coordinator of Lewis County C-1 Schools, as vice president.
Board members elections will take place in December from each of the 11 member regions in the state and those who have joined will be eligible to run and/or vote. For more information, contact Zac Rantz at
zacrantz@nixaschools.net
.
Enroll in MOSSA Membership here.
---
Governor Declares October 15 - 21 Safe Schools Week in Missouri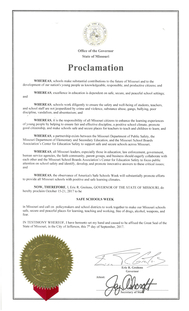 Governor Eric Greitens has issued a proclamation declaring October 15-21 as Safe Schools Week in Missouri. The proclamation reads in part, "Whereas, all Missouri leaders, especially those in education, law enforcement, government, human service agencies, the faith community, parent groups, and business should eagerly collaborate with each other and the Missouri School Boards' Association's Center for Education Safety to focus public attention on school safety and identify, develop, and promote innovative answers to these critical issues." #MOSafeSchoolsWeek.
---
Policing America's Schools
---
Shawnee Mission School District Policy Requires Warrant for Officers to Question Student Without Parent Permission
---
Do Schools' Active Shooter Drills Prepare or Frighten?
5 Tips to Help Security Directors Get Administrative Buy In
Study Uncovers Realities of Student-on-Student Sexual Assault at U.S. Schools