---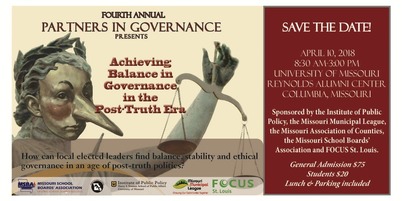 Partners in Governance 2018: Achieving Balance in Governance in the Post-Truth Era, April 10
MSBA is co-sponsoring this event along with Missouri Municipal League, the Institute of Public Policy at the University of Missouri, the Missouri Association of Counties and FOCUS-St. Louis.
This year's event will examine issues facing locally elected leaders and public employees in the modern political climate some are referring to as the "Post-Truth Era." How do government employees and elected officials best navigate and implement their duties in a political culture in which debate is increasingly framed around appeals to emotion rather than connections to detailed policy? When talking points garner more support than factual rebuttals, how do we have honest debate on the issues?
Tuesday, April 10, 2018 8:30 AM – 3:00 PM
Reynolds Alumni Center Ballroom

University of Missouri-Columbia
107 Reynolds Alumni Center University of Missouri Columbia, Missouri 65211 | $75
Registration and more information
---
Mark Your Calendar for Statewide Tornado Drill March 6The 2018 statewide tornado drill will be held on a Tuesday, March 6, 2018 at 10 a.m.
In case of severe weather on the day of the drill, it will be moved to Thursday, March 8 at 10 a.m.
Each year, the National Weather Service chooses the date of Missouri's statewide tornado drill. The drill is generally held during the first two weeks of March. If there is the possibility of severe weather in part of the state on the day of the drill, it will be moved two days to Thursday. The National Weather Service usually sets the date for the drill by January.
Read More
---
Who Represents Your School District?
MSBA has complete lists of elected officials of each school district, organized by MSBA's 17 regions in the Action Center here.

Reach out and invite your elected officials during the Legislative Spring Break (March 19 - 23) to see the extraordinary things that happen in your public schools! MSBA will be hosting a FREE webinar to
provide an update on bills that are moving so you can discuss them
with legislators.
FREE Legislative Update Webinar: Thursday, March 15, Noon Register Here

---

Each spring, Regional Meetings are held in each of the seventeen regions to provide MSBA members with an opportunity to network, share ideas, and learn about current issues. Encourage your new board members to attend! MSBA regions are organized by county. To find out what region you belong to, visit
MSBA Regions Page
.
Region 1 Tuesday, April 24 Sharing District Practices
Region 2 Wednesday, April 25 Sharing District Practices
Region 3 Monday, April 23 Future of School Choice
Region 4 Monday, May 2 Future of School Choice
Region 5 Tuesday, May 1 Board Ethics – Just Do It!
Region 6 Tuesday, April 17 Sharing District Practices
Region 7 Wednesday, May 2 Sharing District Practices
Region 8 Monday, May 7 Tweets, Texts and Trouble
Region 9 Monday, April 30 Board Ethics – Just Do It!
Region 10 Tuesday, April 24 Sharing District Practices
Region 11 Tuesday, April 17 Future of School Choice
Region 12 Tuesday, April 10 Tweets, Texts and Trouble
Region 13 Monday, May 7 Board Ethics – Just Do It!
Region 14 Monday, April 16 Tweets, Texts and Trouble
Region 15 Thursday, April 26 Future of School Choice
Region 16 Tuesday, May 1 Tweets, Texts and Trouble
Region 17 Wednesday, April 25 Future of School Choice
Registration is OPEN: $45 per person and includes dinner
---