"I praise you for your amazing solidarity work"
Jean Paul Weaver, founder of Selke-Dimanche, an international network led by Haitian diaspora, utilizing community model micro-investments to increase opportunities in Haiti through cultural exchange and artistic expression.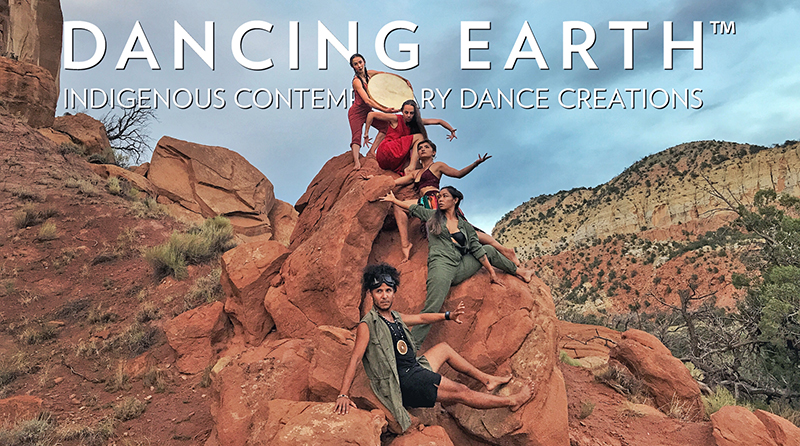 2017 summer cultural artist alumnae bottom to top Kenneth Ramos, Anne Pesata, Ciera Budget, Carly Sheppard, Esme Olivia.
© photo by Anne Pesata in Abaachi lands now known as Ghost Ranch

Dancing Earth in Summer …
The Movement of Movement building…
Flying in - birds and butterflies, swirling and pollinating ...
Many colored seeds in a rattle, shaking things up together …

August 2018 HIGLIGHTS
August 1-20

th
Dancing Earth Summer Institute
August 9

th
workshop for Northern Youth Project
August 16

th
SOL FOR ALL, 5:30-7:30pm, Santa Fe Farmers Market Pavillion
August 19

th
Dancing Earth and Friends: A RAP free Performance Event
August 22

nd
Dancing Histories / Dancing Futures
August 26

th
Rulan joins fellow 2018 Kennedy Center Citizen Artists
"I deeply appreciate Dancing Earth and the values and creative expression that their work brings to New Mexico, the States, and the world at large."
-

Stephen Picha, Ghost Ranch Education Center
---
August 1-20, 2018
Dancing Earth Summer Institute
Our annual Summer Institute of intensive culture creative incubation

, exchange and relationship building convenes local, national, and global indigenous artists in the homelands of Abaachi, Dine, Tewa, Towa and Keres - an unforgettably beautiful high desert landscape that has been danced and sung into renewal by these original peoples since the beginning of time.



Locales include Ghost Ranch whose mission is

"to embrace one another, peace and social justice, careful stewardship of the Earth and the resources entrusted to us, respectful of people on various quests and of different beliefs and perspectives," tipis on the Jicarilla Apache Reservation, a rancho in Canones, Santa Clara Feast Day, and Academy for the Love of Learning whose mission is "is to awaken, enliven, nurture and sustain the natural love of learning in people of all ages. We seek to encourage and cultivate the powers of critical thought, imagination, curiosity, innate sense of purpose, wonder and inspiration, and an ongoing awakening of the heart."



During their stay,

artists will have the opportunity to explore their artistic practice in relationship to the host First Nations peoples and practices. Special thanks to the incredibly generous and knowledgeable hosts, the Pesata family of Jicarilla Abaachi, Salazar family in Canones, and Santa Clara Pueblo. With a collective consideration of renewable energy from practical, spiritual, and cultural perspectives, we renew Dancing Earth's long relations with our local Native communities every summer in humble respect for their resilience through 500 years of colonial oppression. This region is unforgettably vibrant and powerful with language and distinctive cultural cosmologies. Since 2012, a constellation of diverse artists gather together to embody this respectful relationship with original peoples of this high desert, while exploring relationship and relevance to their own cultural identities, to the earth , and to each other. Together we grow lifelong relationships and ongoing opportunities for cultural exchange. In this current political moment, it is vital that we nurture practices of solidarity, love and understanding of our personal and collective cultural histories and connect across colonial borders of land and waters.



"the day did blossom beautifully and it was wonderful to witness the attentiveness of our guests as you and your dancers were connecting to one another, us and the land. Gratitude for you and your dancers"

- Marissa Roybal, Academy for the Love of Learning
We welcome this summer's incoming artists who will become
2018 Cultural Artist Ambassadors, including
(partial list)
Tisina Parker, a California Native Community Arts Activist and Designer from the Central Sierra Miwok and Mono Lake Paiute tribes from her Grandfather's side and Kashia Pomo from her Grandmother's tribal lineage

Ursula Carrascal Vizarreta, of Peru the Director of Minaq Ecodanza, which creates environmental awareness through movement therapy and visual arts

Maria Montejo, Deer clan,is a member of the Jakaltec/Popti (Mayan) community of Indigenous people who reside in the Xajla territory of Guatemala

Maya David, Hopi multi disciplinary artist

Raven Bright, a Dine BBoy recruited from Four Corners area

Heryka Miranda, Mestiza (Guatemala-USA, residing in Ontario, Canada) is an alumna who was our first international Cultural Artist Ambassador in 2013 subsequently bringing our Dancing Earth land dance practices to Niagara Region migrant farm workers of Southern Ontario, Canada

Julia Miller-Vasquez is of mixed blood, with background is in musical theater, sports movement, meditation, and medical anthropology. She is a singer, dancer, director, model, poet, medical and religious anthropologist, sound healer, curandera, experience designer, mindfulness program developer and environmental activist.

Tenihkie Brant (thank you ToasterLab for partnership support with Teni!) is our media Research Assistant, who belongs to the Mohawks of the Bay of Quinte of the Tyendinaga Mohawk Territory, Bear clan. He was trained in Sound/Set/Costume design at York University in Toronto, Canada and is a digital illustrator, video editor, amateur animator and voice actor.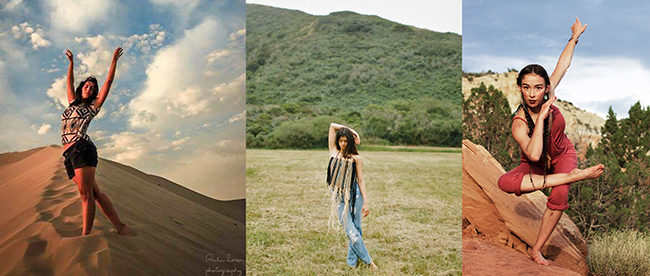 ---
August 9, 2018
workshop for Northern Youth Project
We Express GRATITUDE to:
Northern Youth Project for participating in a skill sharing workshop co taught by summer artists

Our summer guest teachers including:
- Apache traditional knowledge with Melanie Pesata and family
- F
iremaking and archery with Ibrahim Loeks
- T
racking with Randle Charles
- H
uarache making and farming knowledge with Lupita Salazar
- P
lant medicine expert Camilla Trujillo
-
MODAS Artistic Director Layla Amis
-
Feldenkrais practitioner Ekalos
-
Our Artistic Director Rulan
---
August 16, 2018
SOL FOR ALL, 5:30-7:30pm, Santa Fe Farmers Market Pavillion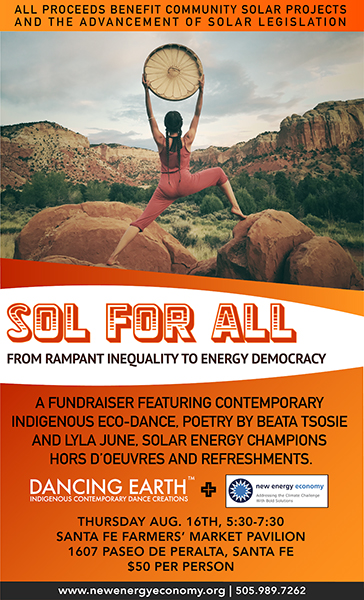 DANCING TOWARDS A VISION!
We are so excited to support the important work of New Energy Economy as they work towards clean energy in the Southwest including a recent addition of solar power at Cochiti Pueblo! We animate the spirit of their collective vision for change through action by embodying themes of renewability as shared by artists and cultural advisors, interpreting through movement, song, poetry, and visual art!
SOL FOR ALL: From Rampant Inequality to Energy Democracy
Thurs, Aug. 16 : 5:30-7:30pm
Admission: $50 per person. All proceeds benefit community solar project and the advancement of solar legislation.
© photo of Esme Olivia at Ghost Ranch by Anne Presata
Please join Dancing Earth Indigenous Contemporary Dance Creations for a rare local performance of a new work in progress about renewable energy featuring our Summer Institute cultural artist ambassadors, and special guests DJ Beeso and musician Ehren Kee Natay both of of Dine Nation. Experience the power and beauty of Indigenous dance at SOL FOR ALL.

This fantastic fundraiser will feature Dancing Earth as well as poetry by the local, brilliantly articulate Native women Beata Tsosie and Lyla June. Refreshments available at the beautiful Farmers Market Pavilion which will be transformed by mobile activations throughout the space!

Join us in supporting renewable energy and Indigenous dance!
August 19, 2018
Dancing Earth & Friends: A RAP free Performance Event 5:30-7pm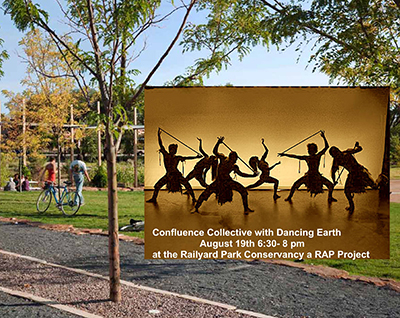 Dancing Earth's summer artists and alumnae bring performative action in protest to fracking on sacred lands and in protection of sacred waters. This dance specifically references the Greater Chaco Region
Other local artists will participate with art, music, poetry, and voice inspired by the land and water.

This event is a RAP (Railyard Art Project) is free and for all of us. Other collaborators include Water is Life Community New Mexico and Confluence Collective

Bring your friends and family, elders and young ones. Picnicking encouraged!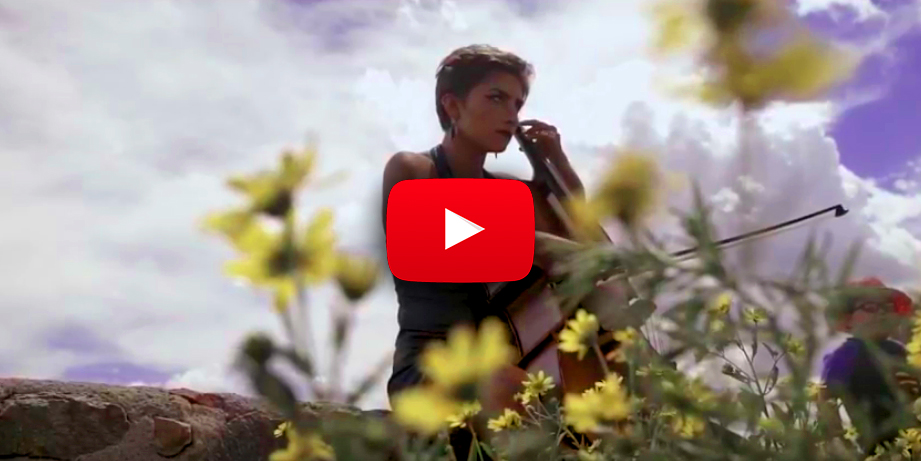 Here is a glimpse from last year's
Summer Institute's culminating presentation
(filmed and edited by Michael Lorenzo courtesy of Academy for Love of Learning).
---
August 22, 2018
Rulan returns to Nacotchtanke, now known as Washington DC, for:

How can dance translate and heal histories of the body -
and how does it empower our future?

Join Artistic Director and Choreographer of Dancing Earth and Kennedy Center Citizen Artist Fellow Rulan Tangen, and International Association of Blacks in Dance President and CEO, Denise Saunders Thompson, as they explore deeper meanings of movement arts as a means of protest, survival, resilience, social change, and the embodiment of futurities. Unpacking similarities, differences, and philanthropic paradigms within the dance field, Rulan and Denise discuss the parity between them as dance-makers, practitioners, and presenters in collaboration with global indigenous practices, intertribal and African diasporan artists.

ArtChangeUS@Kennedy Center National Conversations is a series of dialogues between prominent artists and pivotal change-makers who are advancing a pluralistic vision of America.
---
August 26, 2018
Rulan joins fellow 2018 Kennedy Center Citizen Artists
Jutus Harris, Omar Offendum, Donney Rose, and Shaw Pong Liu for cohort meeting and presentation at Kennedy Center's Millennium stage,
FREE to public at 6pm Aug. 26th.
Rulan has invited the drummers of Uptown Boyz and the host First Nation of Piscataway and intertribal collaborators.
---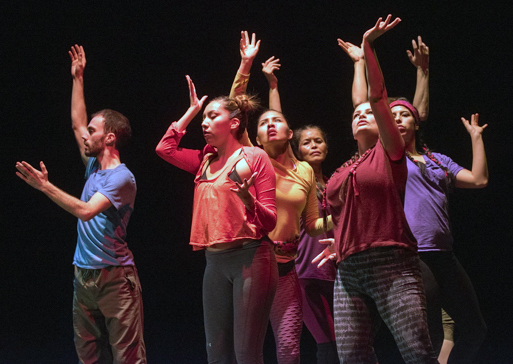 Dancing Earth returns to Canada

in early September! Delving into a second phase of collaboration with Compaigni V'ni Dansi for "Michif Medicines" project. This time onland in Saskatchewan. Global Indigenous artists Esme Olivia, Lupita Salazar and Ria Thundercloud along with Rulan join Vni Dansi's founder, Yvonne Chartrand, and select dancers from her company. Meeting with Metis culture knowledge carriers to learn about plant medicines, which will be translated into dance form.
© photo by Chris Randle of Michif Medicines at Talking Stick with V'ni Dansi Dancers: Yvonne Chartrand, Artistic Director, Eloi Homier, Madelaine McCallum and Dancing Earth Dancers: Rulan Tangen, Artistic Director, Eva Lopez, Lupita Salazar, Ria Thundercloud.
---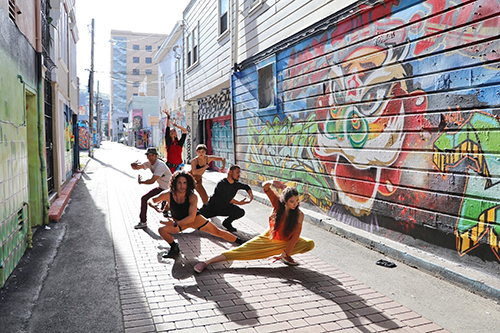 Summer Continues in
San Francisco Bay Area

The summer months in San Francisco are September and October. So Dancing Earth will extend it's summer with these events in the Bay Area.

CLICK HERE for link to events
around the corner!
© photo by David K. for Dancing Earth
---
WITH GRATITUDE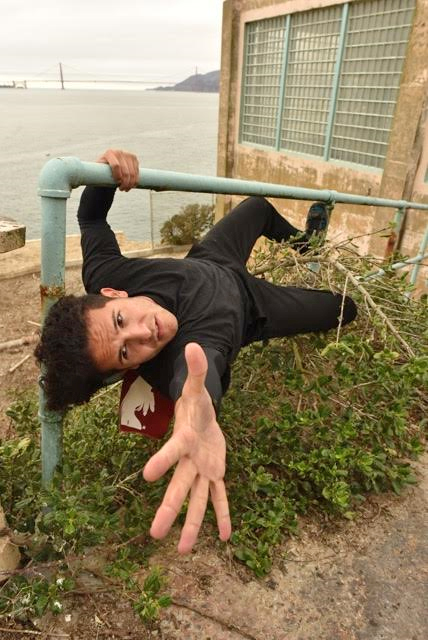 Thank you to Invoking the Pause and the Santa Fe Community Foundation for their support of our 2018 Summer Institute!

Thank you N7 Fund for support of Summer Institute workshops for Northern New Mexico youth!
For June's Native Contemporary Arts Festival in San Francisco, thank you to Janeen Antoine of American Indian Contemporary Arts and the staff of Yerba Buena Gardens. Dancing Earth's performance was generously support by the INTERSECT and SF Stock funds of INTERSECTION FOR THE ARTS. We also thank FrogSong, Sonoma State University Dance Department's Kristen Daley, Leny Strobel for June in-kind support! Ongoing 'Yakwi' to the many culture carriers that have shaped GROUNDWORKS during our Northern California residencies:Gregg Castro, Lauren Smith, Clarence Carillo, Bernadette Smith, Shirley Carillo, Tek Tek, L. Frank, David Smith, Natalie Smith, Natalie Ghezzi-Aceves, Kalani, Aries, and Delphine, and to CAC Local Impact, N7, MAP Fund, and Kenneth Rainin Foundation for support as project moves forward.
Image of Kenneth Ramos at Alcatraz, by brilliant photographer © Elizabeth Opalenik
---
THANK YOU SUPPORTERS



Thank you to support from the Kenneth Rainin Foundation whose mission is to enhance quality of life by championing the arts, promoting early childhood literacy, and supporting research to cure chronic disease.
Hundreds of individuals have participated in Invoking The Pause. They come from a broad range of fields with expertise in arts, science, communication, media, education, energy, agriculture, theatre, permaculture, impacts, resilience, social justice, policy, systems thinking, conservation, social enterprise, technology, water and more. As a result of their involvement, networks have expanded, partnerships formed, and new climate challenge strategies have been put in place.



Thank you to the California Arts Council whose mission is to advance California through the arts and creativity.The Local Impact program fosters equity, access, and opportunity by providing project and partnership support for small arts organizations reaching underserved communities.



Thank you to the San Francisco Arts Commission, the City agency that champions the arts as essential to daily life by investing in a vibrant arts community, enlivening the urban environment and shaping innovative cultural policy.
The N7 Fund is committed to inspiring and enabling participation in sport for Native American and Aboriginal populations in North America. N7 is inspired by Native American wisdom of the Seven Generations: In every deliberation we must consider the impact of our decisions on the seventh generation.

The MAP Fund is founded on the principle that exploration drives human progress, no less in art than in science or medicine. MAP supports original live performance projects that embody a spirit of deep inquiry.