MORE MEDIA TO ENJOY!

In February Dancing Earth received an honorable mention in the Clyde Fitch report, "20 CHANGE MAKING ARTISTS YOU SHOULD TRACK." Thank you to writer Shawn Lent for inclusion with such amazing artists as Rosy Simas, who we worked with on Oyate Okadakiciyapi in Minnesota, and Marc Bamuthi Joseph, who led our artists cohort with Liz Lerman at APAP in NYC!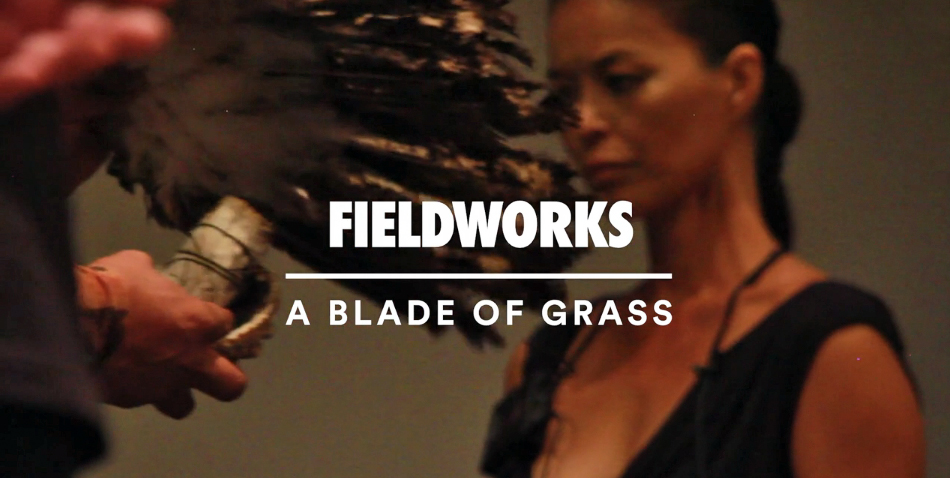 Here is a short film by A BLADE OF GRASS and Rava Films, including footage by our awesome collaborator Larry Blackhorse Lowe, that gives a sense of art-making for social change.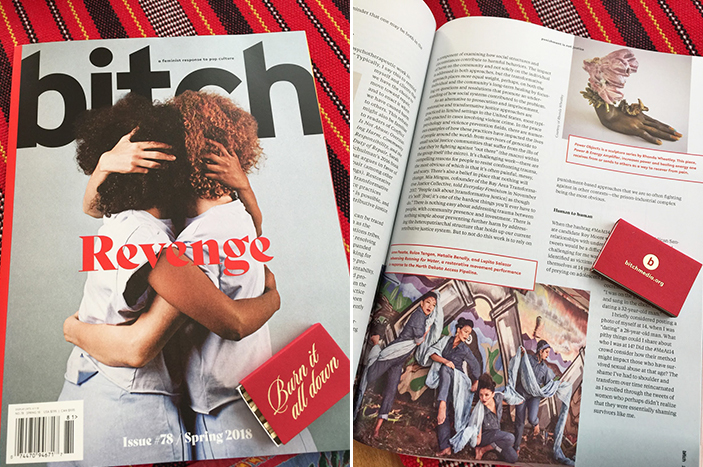 A mention in the amazing
BITCH magazine - a feminist response to pop culture.

An article in Greenpeace magazine, Germany version, Thanks to Armin! Gassim!
---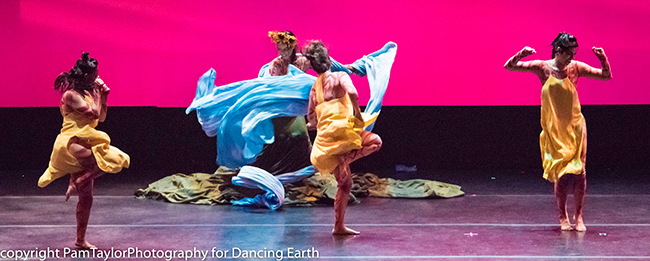 SPRING BRINGS
BLOSSOMING!
photo © Pam Taylor
... COMING UP in
MARCH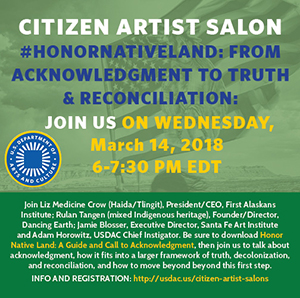 S

unday, March 18th

, Dancing Earth's Spring Equinox dance workshop 3:15 - 5:15pm at Pomegranate Dance Studios in Santa Fe.

Spring Guest classes at Institute of American Indian Arts Performing Arts department and new theater in New Mexico, March 19th & 20th evenings.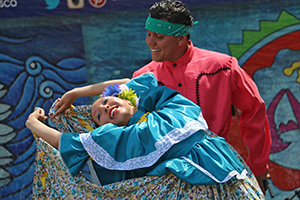 This March, we are so proud to welcome our associate training program

Cuicacalli Escuela De Danza

on their very first student tour all the way from the heart of the Mission in Yelamu (San Francisco) to perform at Moving Arts Espanola, in Okay Owingeh, New Mexico.
More info HERE!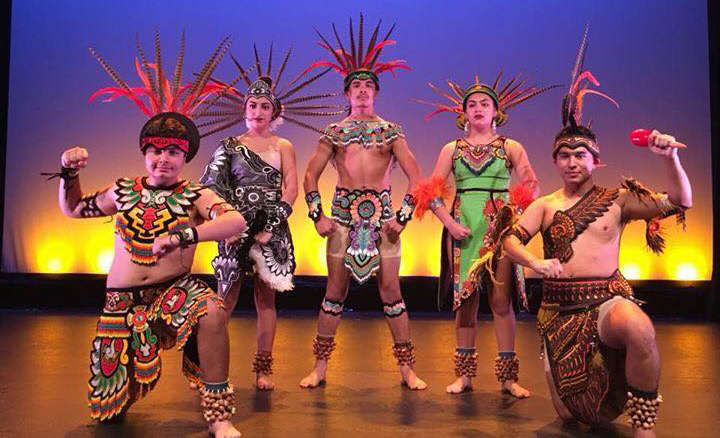 For anyone who can't attend, we welcome donations to assist these hardworking students in their first tour - to Donate CLICK HERE!
Your donation goes directly towards costs for accommodations
and food for 29 youth who have been dancing in downtown San Francisco & selling tamales to cover their airfare!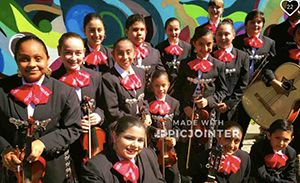 "We warmly invite Dancing Earth's extended familia to join us on March 28th at the Northern New Mexico Community College Theater, for a Cuicacalli performance which will also feature Anne Pesata's Basket Weavers solo, and Andrea Bear King and Talavai Denipah-Cook in Hoops of Earth and Sky - a prayer for water."
"Groundworks: the Re-Storying"

In April, community engagement arts sessions are being held in traditional territories of Pomo, Costonoan Ohlone, and Wappo with California Native youth, mentors, and community cultural artists Ras K Dee, Kanyon Sayers Roods, Desirae Harp, Tisina Parker, Kenneth Ramos, and Bernadette Smith. A new acorn dance will be created!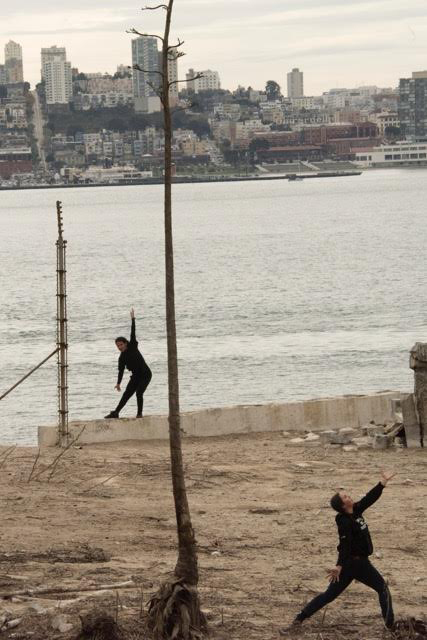 Thanks to

California Arts Council Local Impact grant

for supporting this work which will serve as living cultural research for our forthcoming production about renewable energy with MAP Fund support.
left photo by the wonderful © Elizabeth Opalenik!
April 24-29th
reunion of Michael Mao Dance in New York City!
photo below from the 1990s, Rulan fourth from left,
in Michael Mao's Still Night, music by Arvo Part

... WRAPPED UP
WINTER PROJECTS
In gratitude to

the Abenaki people and ancestors, Chief Don Stevens, to Christal and the dance department especially Kadima and Lida, Michaela super staffwoman, tech director Jenn Ponder, composer Matthew Taylor, costume designer Annie Ulrich, yarn spinner Olivia Loeffler, Charlotte, Miguel, the Middlebury Alternative Break group in prep for cultural exchange trip to Quiliute Nation in Washington, president Laurie Patton, hosts Eliza and Thorsten, and the awesomely diverse dancers Annie, Marquise, Nadani, Morgan, Caleb, Lucy, Sam, Anya, Deb, Matea, Eliza, Tess, and Mayu for an amazing experience!
Participation in APAP Artist Institute led by
Marc Bamuthi Joseph and Liz Lerman, in Leahopeking (New York City)
Thank you Krista Bradley for inclusion at IPAM Indigenous
gathering (thank you Emily Johnson for letting me know!), and another impactful panel about Indigenous performing arts. Thanks Andre Bouchard for organizing the panel with the amazing Quita Sullivan, Ty Dafoe, and Joan Henry!
NATIVE + STRANGER project
collaboration with Christal Brown, Dance Department Chair, and Dance Company of Middlebury, at Middlebury College in Vermont.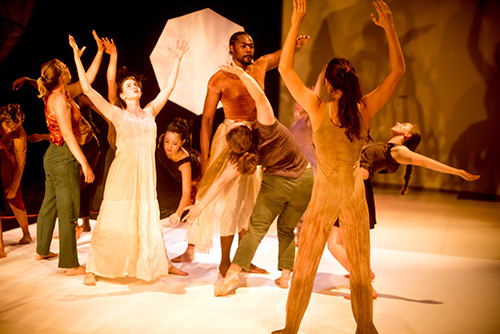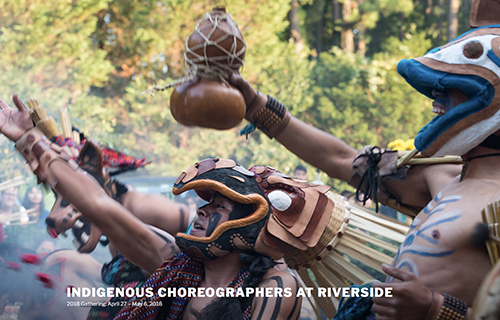 We were so happy that Vermont community showed up for two sold out
performances and standing ovations.



Words from the audience:
"I was blown away!"
- guest theater professor, Middlebury College
"You really did something here - making peace with the ancestors"

"I was blown away - such subtle beautiful storytelling, so magical.
I have seen a lot of shows here, but this one ... "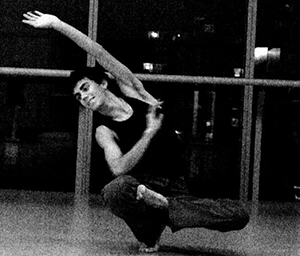 Collaboration with Yvonne M. Chartrand's

company of

V'ni Dansi

in first phase of cultural research and development of MICHIF MEDICINES with open showing at the Roundhouse for Talking Stick Festival in Vancouver, BC, Canada.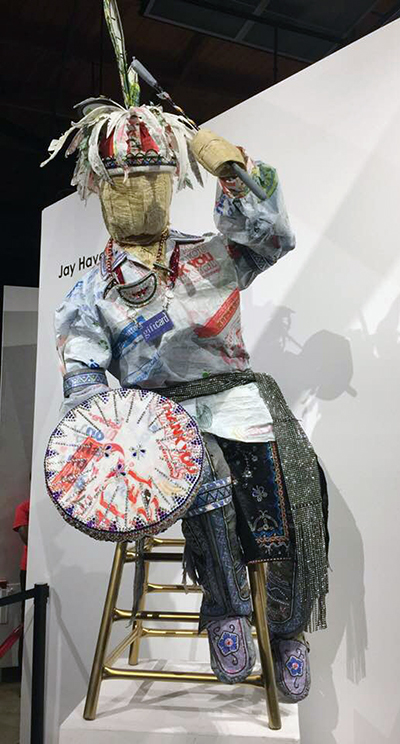 Image of artwork from
Talking Stick at the RoundHouse
Jay Havens, "the bargain hunter" 2016
68" x 40" x 29"
Repurposed shopping bags, plastics, petroleum jewels, sinew,
repurposed textbooks and newsprint, wood, wire, adhesive, stool
Feb 13th Rulan participated in a dance panel about
cultural collaborations at SFU Woodward

Feb 14th Evening at RoundHouse: opening night gala for Talking Stick Festival

Feb 23rd At RoundHouse: informal performance
sharing of our work in progress

Feb 24th Master dance class/workshop with Rulan Tangen at SFU Woodward
Attendees of our showing said:

"

mesmerizing"
"breathtaking"
"
every movement had meaning"
"
hope this can be shared again, and even be shared around the world!"
"you gave us medicine for our souls" "you took us on an incredible journey"
" it was like traveling through the land" "it kept unfolding - so many layers …"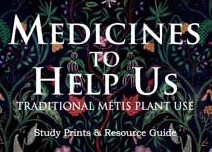 This historic collaboration between two female led companies of
D
ancing Earth and
V'ni Dansi is the first stage of a dance work about Metis plant medicines with lived cultural research by director Yvon
ne M
Chartrand and her Metis cultural and herbalist mentors, including the brilliant Christi Belcourt.
Dream plan: wouldn't it be awesome if the next creation phase featured garments created by Valentino in collaboration with Christi Belcourt?!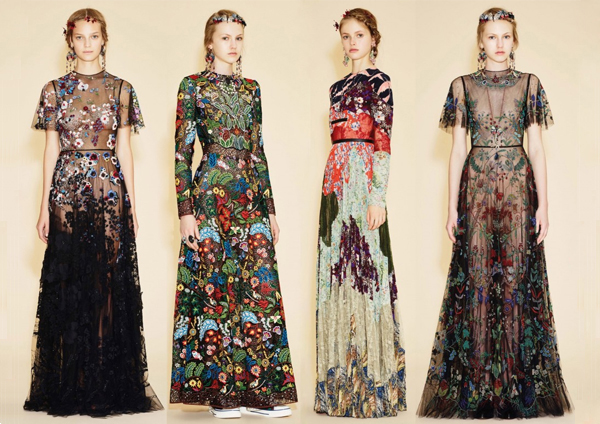 Thank you to

Margo Kane

for welcoming this vision, all the incredible staff and crew of Talking Stick Festival, and the brilliant Zogma: Sokalo and amazing spoken word artist Taran J.
Kootenhayoo featured on the same program. And to the inspiring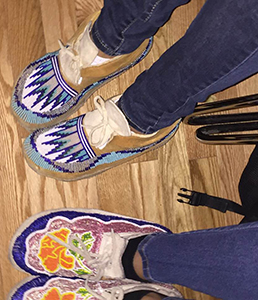 artwork and plant knowledge of Christi Belcourt's book 'MEDICINES THAT HELP US' which were animated and embodied onstage, and of course thanks to the composer Wayne Lavallee, who created sheer magic with his onstage multi-faceted accompaniment;. And above all, thanks to our cultural advisors, including Aline La Flamme, Cease Wyss, collaborator Director of Vni Dansi, Yvonne M Chartrand, and our brilliant dance artists Eloi and Madelaine McCallum who represented their Metis culture, and Lupita Salazar, Eva Lopez and Ria Thundercloud who shared their artistic and interpretive talents in solidarity with the Metis cultural themes, plants, and people!!
(here, the dancing feet of Eva and Ria!)
After six hours of rehearsal,

Yvonne M. Chartrand, director of V'ni Dansi, speaks on Metis radio and then dashes out the door to the Friendship Centre where she volunteers to teach Metis jigging to community members! This is a woman whose work is deeply rooted in culture, tirelessly inspiring and
revitalizing the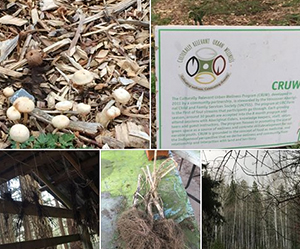 dances of her beloved Metis people across Canada - you have never seen such lightness and speed as her
amazing jigging! Many years ago she made it her purpose to drive out and interview elders about jigging steps, songs and stories - expanding the usual vocabulary of six steps to over 100! What a renaissance in her feet! Yes, she is a Metis world champion jigger! Classic Metis culture of Canada describes communities who blended heritage of European settlers with Native people through marriage and relationship ties - usually in the prairies - with a hybrid language and culture that is distinctly its own.
Proud to collaborate with this amazing woman with a dance about Michif (Metis) plant medicine.
Here are the words of our wonderful collaborator Yvonne M. Chartrand; "From picking medicines in the meadows in Saskatchewan and Manitoba, to visits with Elders and knowledge keepers, to in studio rehearsals with the brilliance of Dancing Earth, V'ni Dansi artists and Wayne Lavallee, to sharing with our Vancouver community at Talking Stick Festival, this has been an incredible journey with Michif Medicines! I thank the plants, the animals, the kinship and interrelationship of all beings that connect us all together and gift us the medicines to heal ourselves and our communities. Marsi, hiy hiy, meegwetch to all who supported this amazing journey we will continue to travel!"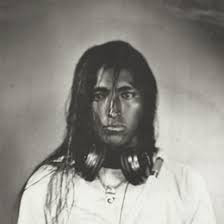 Kudos to Nakotah LaRance, who performed with us for the 2012 premiere of WALKING AT THE EDGE OF WATER at the Lensic Theater (supported by the Lensic, IAIA, and SFAI!), for his ninth world hoop championship! Keep dancing Nakotah, for all those who can dance no longer. HERE's the LINK!

photo by © Will Wilson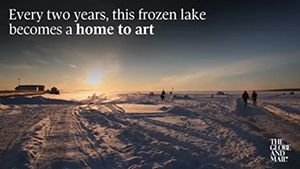 Congratulations on this article in GLOBE AND MAIL about friends and artistic comrades at Aanmitaagzi
- I am so proud to have been a part of recreating a winter creation and resilience story out on the frozen lake several years ago! lulululululu to Penny Couchie and Sid Bobb for their caring leadership of Aanmitaagzi!
..............
Correction from our January newsletter, which misspelled the name of our honorable friend, the correct spelling should be noted as Chief Don Stevens of Abenaki First Nation!
..............
THANK YOU DONORS
Lynne Normandia, Emily Johnson, Glenn Fonates, Marion Wasserman, and Anonymous!

And to Daniel Quat Photography, Audrey Derrell, Site Santa Fe Anne Wrinkle and team, and Santa Fe Community College 's Deborah Boldt and Ed, Almah Lavon Rice, Liz Cameron, Paulo Tavares, Marion Wasserman, Fanny Steikl, Teri Storrs, Tanya Ortega, Magali, Maggie Kaplan, Alicia Da Silva Rencountre, Stephen Picha, Randle Charles, and Leland Chapin for their tireless support of Dancing Earth
THANK YOU SUPPORTERS

Production residency funded by the New England Foundation for the Arts' National Dance Project, with funding from The Andrew W. Mellon Foundation.








This engagement is supported by Mid Atlantic Arts Foundation through USArtists International in partnership with the National Endowment for the Arts and the Andrew W. Mellon Foundation.




Hundreds of individuals have participated in Invoking The Pause. They come from a broad range of fields with expertise in arts, science, communication, media, education, energy, agriculture, theatre, permaculture, impacts, resilience, social justice, policy, systems thinking, conservation, social enterprise, technology, water and more. As a result of their involvement, networks have expanded, partnerships formed, and new climate challenge strategies have been put in place.



Thank you to the California Arts Council whose mission is to advance California through the arts and creativity.The Local Impact program fosters equity, access, and opportunity by providing project and partnership support for small arts organizations reaching underserved communities.




Thank you to the San Francisco Arts Commission, the City agency that champions the arts as essential to daily life by investing in a vibrant arts community, enlivening the urban environment and shaping innovative cultural policy.








The N7 Fund is committed to inspiring and enabling participation in sport for Native American and Aboriginal populations in North America. N7 is inspired by Native American wisdom of the Seven Generations: In every deliberation we must consider the impact of our decisions on the seventh generation.

The MAP Fund is founded on the principle that exploration drives human progress, no less in art than in science or medicine. MAP supports original live performance projects that embody a spirit of deep inquiry.