---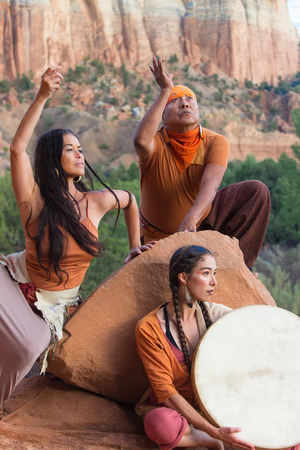 The lunar and solar eclipses have brought
NEW BEGINNINGS
We powerfully embodied the undoing, remaking, and reconnecting with land, spirit, sky, lightning, and rain at our 2017 Summer Institute with Cultural Artist Ambassadors of Indigenous communities or heritages of Australia, Samoa, California, Oklahoma, Southwest, Mexico, Colombia, and Nicaragua: Carly Sheppard, Elijah Kennar, Zoe Klein, Karla Flores, Ciera Budge, Olivia Camfield, Uqualla, Kenneth Ramos with alumna Talavai Denipah Cook, Natalie Benally, Deollo Johnson, Sandra Lamouche, Chrustina Leyva, Ras K'Dee.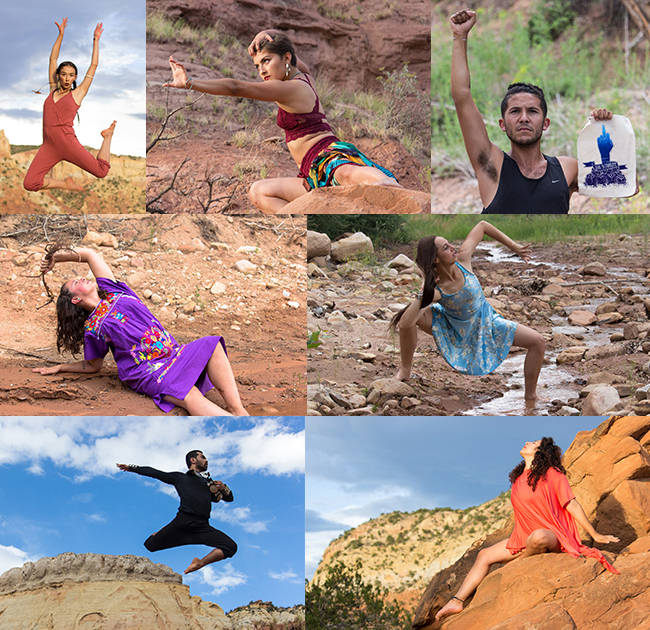 We began w/

cultural protocols and welcomes by
Apache and Pueblo host First Nation representatives
including the Pesata family, Roxanne Swentzel, George and Felicia Rivera and the Salazar family ranch of Canones.

We delved into 12-14 hr. days, smudging at sunrise, and experiencing cultural exchange, sharing of language and songs, prepa
ring willow for basketweaving, tracking, firemaking, archery and skill sharing of our own dance forms, dancing through thunderstorms and into starry nights - all in the exploration of the th
eme of ReNewAble Energy - from spiritual, cultural and practical perspectives.
photos from Ghost Ranch by © Karla Flore
photos montage of Esme, Ciera, Kenny, Olivia, Carly, Karla
& Eli by © Karla Flores for Dancing Earth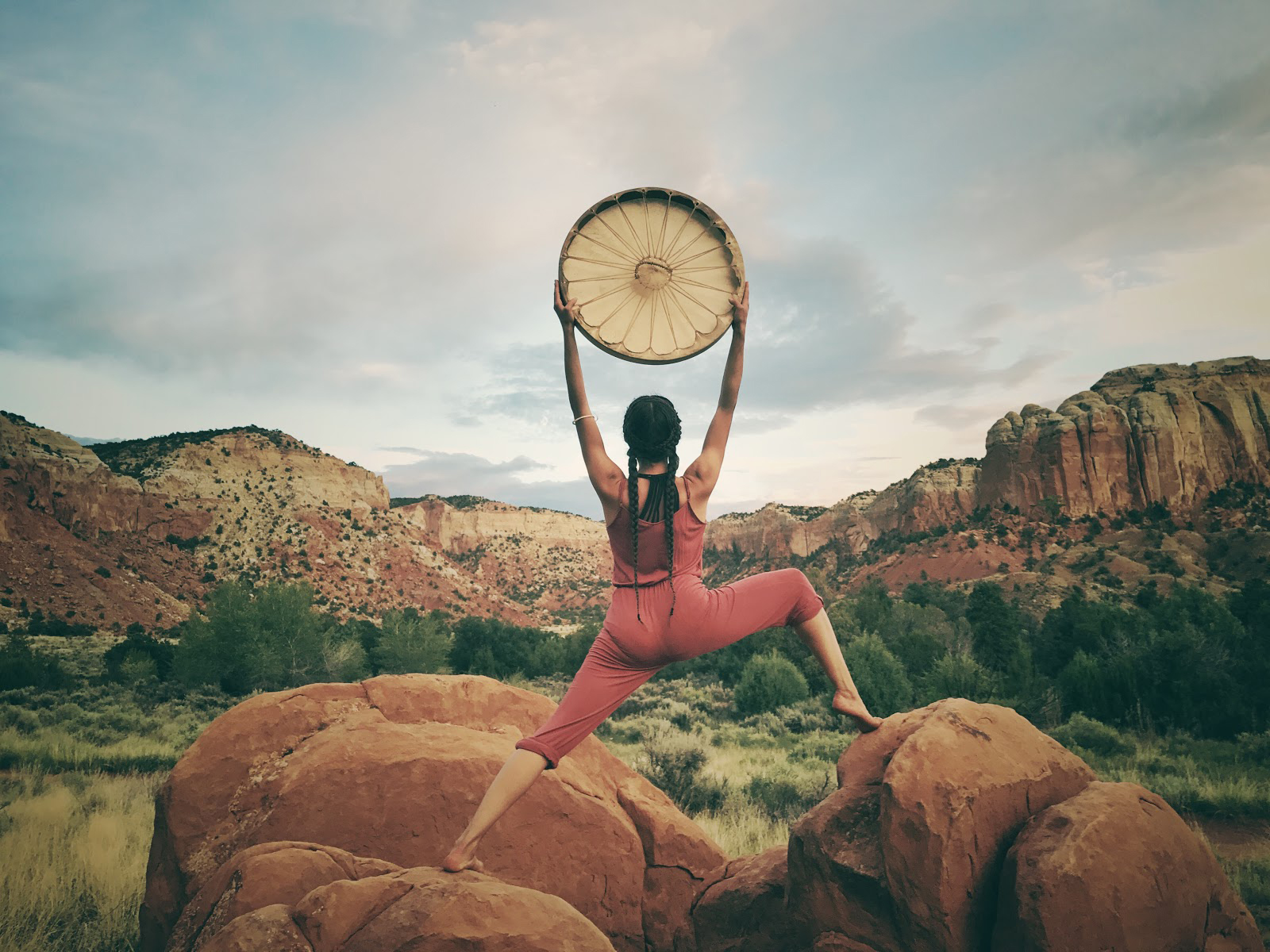 "Just returning from Dancing Earth's Summer Institute. I'm in awe of all the gifts, the teachings, the land, the new connections and lasting friendships. Many thanks to the water, the rock people, the bird people, the wind people, the drums, the music, the dance. Here are memories of Dancing Earth forever imprinted on my body, mind and spirit."
Zoe Klein

photo © Karla Flores for Dancing Earth at Ghost Ranch
WOW, Ras managed to compose several soundtracks

during his week with us! Hear our Dancing Earth Summer Soundtrack 2017. Most of these songs were created just a few weeks ago during the summer dance intensive. Please Enjoy & Share!
He also managed to film his music video too!
Stay tuned for the Premiere!


COMING UP
Dancing Earth is back on the road with our much anticipated
AUTUMN TOUR!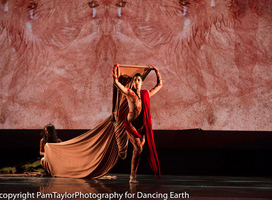 As Fall approaches, we dynamically activate our mission to promote biocultural diversity through Indigenous dance and related arts for the education and wellness of all peoples with a series of community engagement projects in AZ and at schools throughout the Southwest.

Representing the future, our next seven generations, Native youth will work with Dancing Earth artists to seed positive change through dance and art (thanks to Nike N7 Fund for support of our Native youth workshops!)

This culminates in a AZ residency with community engaged artmaking, food sharing and relationship building with local peoples.
ARIZONA FRIENDS & RELATIVES
Please join us on Sat, Sept. 30th at Mesa Art Center's Piper Repertory Theater for


" . . . SEEDS: RE GENERATION . . . "


with special introduction of traditional O'odham songs by the Collins family!
7:30pm showtime, Tickets $20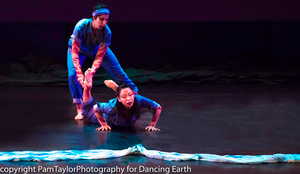 LETS SHOW THE THEATER WORLD THAT A NATIVE ECO-PRODUCTION CAN FILL A HOUSE IN ARIZONA AT THIS TIME OF POLITICAL CHANGE - AS WE HAVE DONE WITH SOLD OUT SHOWS ACROSS THE COUNTRY AND GLOBE! IT IS VITAL TO SHOW THE STRENGTH OF OUR CULTURE AND ALLIES AS WE PAVE THE WAY FOR OUR DANCERS TO EARN A LIVING WITH MORE CONSISTENT BOOKINGS IN US THEATERS! PLEASE COME AND EXPERIENCE THE TRANSFORMATION, THE INTEGRITY, THE BEAUTY.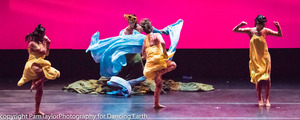 After replenishing ourselves in the Southwest canyons, we head to

OUR FIRST TOUR TO THE WESTERN PACIFIC INDIGENOUS TERRITORY OF GU

Å

HAN

, thanks to our friends at

Humanities Guåhan

.

W

e stand in solidarity with our Indigenous communities, who are now in the eye and heart of the world, in their vulnerability and strength.
This tour has been made possible thanks to support from the National Dance Project Production Development Residency and Touring award. photos © Pam Taylor Photography
Lupita Salazar & Esme Olivia will present solos

at the Regeneration
Festival on Sept 3rd in Taos, NM! What will you do today for the NEXT Seven Generations to come? Regeneration Festival is an inter-generational movement of c
hange to uplift future community leaders.
DUWAMISH TERRITORY OF SI'AHL (aka SEATTLE)

Sept 5-6 Western Arts Alliance conference - Rulan meets theater presenters from across the country. Igniting interest in work of intertribal peoples as leaders of the environmental movement, she will be featured on an Indigenous arts panel on the morning of the 6th. Thank you Walrus Arts Mgmt for the invite!



T'KARONTO (aka Toronto)

Sept 10 Rulan heads to Toronto International Film Festival for premiere of WOMAN WALKS AHEAD. Starring Jessica Chastain and Michael Greyeyes, Rulan is featured in the bilingual translator role of Mrs.McLaughlin, a real life historical figure who published a book of Lakota legends and stood strong for Lakota people who called her "Ina"!



OGAA PO-OGE (aka SANTA FE)

Sept 23 Our Santa Fe circle of in-kind supporters (who have provided food, housing, rides, sewing and more!) volunteers, and donors will be invited to a special showing and dance party before we get on the road to tour! Stay tuned, you know who you are!



ABENAKI TERRITORY

At Middlebury College, VT in Sept, Nov. & Jan. Rulan is guest artist-mentor along with Christal Brown for a project with students to explore identity, roots, sense of place.



MIWOK TERRITORY (aka San Rafael, CA)

Oct 21 Mobile site immersive performance at Bioneers Conference! Please contact DancingEarthBay@gmail.com for update on Bay Area workshops, cultural meetings and community potluck the following week!
YOUTH PROGRAMS
Fall also welcomes a new semester of classes at our
year-round training programs:

- Keres Cultural Learning Center's lil movers lovingly mentored by Dancing Earth's Deollo Johnson, at Cochiti Pueblo NM.

- Cuicacalli Celebrating 10th Year Anniversary of our associate training program in San Francisco's Mission District, led by our former lead dancer Jacoh Cortes, which expands and celebrates the rich and vibrant cultural traditions of the Americas through the art of dance, working extensively w/ bilingual and immigrant youth.
SAVE THE DATE!

Dec. 1-2 at Brava Theater, Mission District, San Francisco for performance of "500 YEARS OF RESISTANCE" - celebrating Cuicacalli Escuela's 10th Anniversary and featuring DE's new Bay Area works in progress! (Thank you Dance MIssion for rehearsal space and SF Arts Commission for their support!)
---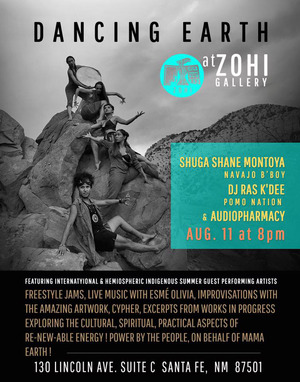 After two weeks of journeying in the desert at our annual Summer Institute

, we brought the vitality of the canyons and constellations to the community of Santa Fe, taking over the new ZOHI Gallery in Santa Fe on Aug 11th (graciously welcomed by Lehi and Sierra!)

On Aug 19th, we brought the Sacred Cypher/Future Generations jam to life along with acclaimed local Bboys Ricky Rodriguez (winner of the battle and original artwork by Randy B) and Colin White with DJ Randy B. Lighting up the night, our International and Hemispheric Indigenous summer guest performing artists jammed with Navajo B'Boy Shuga Shane Montoya and DJ Ras K'Dee of Pomo Nation and international touring band, AudioPharmacy of the Bay Area.

Freestyle jams, live music w/ Esmé Olivia, improvisations with the amazing artwork, cypher, as well as excerpts from works in progress were enjoyed by all! Power by the people, on behalf of Mama Earth!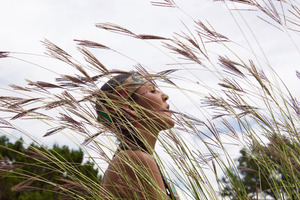 A few days later,

we animated the land and architecture around the Academy for the Love of Learning

, inspired by fragments of Native paintings of dancers on crumbling adobe walls hidden out on the land. Like reviving, reimagining the rest of the painting, this was our experience of renewing and regenerating culture together!
photo of Sandra Lamouche by
© Ahjo Sipowicz at Academy for Love of Learning
On Aug 17th, Jock Soto presented original contemporary ballet choreography in Santa Fe, performed by himself and Rulan Tangen w/ musical score written and performed by the amazing Laura Ortman. This performance was intended to put forth his dream of mentoring aspiring Native ballet dancers with a Native ballet company. As mature artists, they shared their nuanced lifelong dedication for the dancing the next seven generations ahead!

photos © Daniel Quat Photography
Award-winning Diné Filmmaker Blackhorse Lowe is creating a full-length documentary about DANCING EARTH! Focusing on the artistic process of Dancing Earth, Blackhorse will show the Beauty of CREATION, our movements of MOVEMENT BUILDING, as we collaborate, articulate and create the change we wish to see in this world.

"In my Dine language, " Hózhó" encompasses all these ideals. Beauty is our virtue." Blackhorse Lowe. Check out Dancing Earth's very first film by Blackhorse, "La Renaissance Indigene"




Your Support Makes ALL the Difference!



$30 Donation covers the costs of one hour of editing, sound design or the creation of original music for this ground-breaking documentary!

$250 Donation covers costs for one day of editing.

$1000 Donation to create an original musical score for this film.

$5000

Donation

covers all costs for sound design.

Every supporter receives a sneak peek at never-before seen footage.
DONATE TODAY to receive your exclusive clip!
Support Indigenous Artists. Hózhó. Beauty is Our Virtue.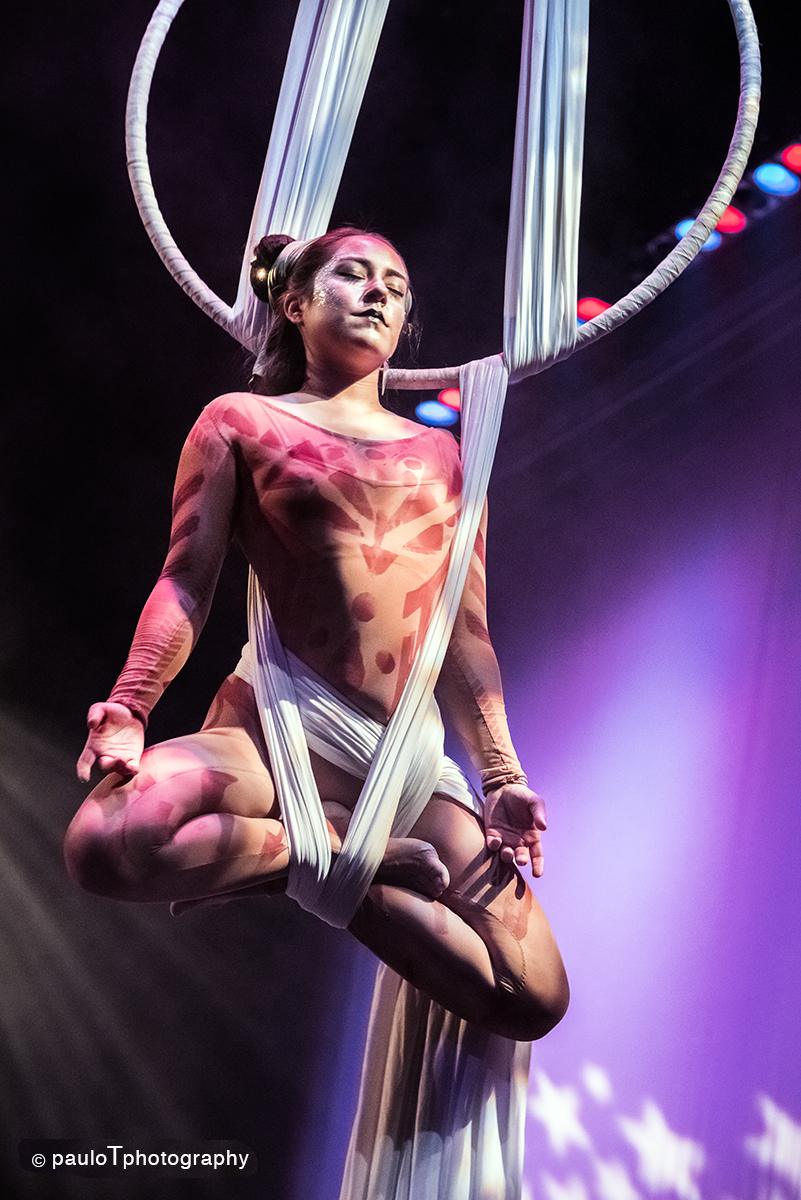 IN GRATITUDE for all those who supported our Summer Institute: Our cultural hosts the Pesata Family of Jicarilla Apache, Tower
Gallery and Poeh Cultural Center's Karl Duncan, Roxanne Swentzel, Jake Viarreal, George and Felicia Rivera and our community circle who helped with food, housing, cash, airport rides, including Teahonna James, Alicia Da Silva Rencountre, Lupita Salazar and family, Natalie Benally, Guthrie Miller, Carolyn Parr, Kina Murphy, Jambo Cafe, Derek Rugsaken of Southeast by Southwest, Marissa Roybal, Cheryl Odom, Karin and Jaime Thron-Smith, Norma Diala, Barbara Z, Mitra Lujan, Magita Storey, Kathleen Kingsley, Kina Murphy, Harmon Houghton, Iku Fujimatsu, Diane Castiglioni, Elizabeth Maclaren, Veena Vasista, Hadeel Alessa and Philomena Salem!
We Honor our Guest Teachers

Randle Charles, Ibrahim Loeks, Ekalos Reed and Layla Amis.



Heartfelt Thanks to our Special Friends

Bryce Turner, Alex Piechowski-Begay and Stephen Picha at Ghost Ranch; Marissa, Jessica, Michael, Randle, Aaron, Chrissie at Academy for the Love of Learning; Lehi and Siera for welcoming our Aug. 11 dances to Zohi Gallery; Carole Cressman, Thomas Keppel and Juliana Werner from the Santa Fe Waldorf School.
For our Fall Tour, Special Thanks to

our advocate Andre Bouchard; Liz Lerman; Thosh, Amson and Tony Collins; Janet Johnson our liaison with Akimel O'odham community; Randle, Cindy, the amazing staff at Mesa Arts and all our friends in
Guåhan
&
Humanities Guåhan
!
Some more Love for

our web designer for new updates John Paul Rangel, at Asphalt Apache; Randolph Duke for kind donation of an archival gown for film premiere; Daniel Quat, Leland Chapin, Michael Lorenzo Lopez, Don, Karla, Harmon Houghton for photo & video documentation; Anangookwe Wolf for starting to create eco-sustainable costume templates from the organic scrap fabrics kindly donated by Nancy Traugott at Homefrocks; Our amazing grant consultants Liz Cameron & Almah Lavon Rice for helping us grow our most bountiful garden of support yet!
---
THANK YOU SUPPORTERS

Meow Wolf is an arts collective based out of Santa Fe, New Mexico established in 2008. The group is composed of more than 100 artists across several disciplines including: painting, architecture, sculpture, video production, audio engineering, writing and many more.





Thank you to the Zellerbach Family Foundation for their support of "We Stand Together." The Mission of the Zellerbach Family Foundation is to be a catalyst for constructive social change by initiating and investing in efforts that strengthen families & communities.





Thank you to Honor the Earth for their support of "The Re-Story-Ing" ongoing project. The mission of Honor the Earth is to create awareness and support for Native environmental issues & to develop needed financial & political resources for the survival of sustainable Native communities. Honor the Earth develops these resources by using music, the arts, the media and Indigenous wisdom to ask people to recognize our joint dependency on the Earth and be a voice for those not heard.

Thank you to the New England Foundation For The Arts, & their support of Dancing Earth through the National Dance Project award. NEFA's mission is to build connections among artists, arts organizations, & funders, powering the arts to energize communities in New England, the nation, & the world. The National Dance Project supports the creation & touring of new dance works & connects artists, cultural organizations & audiences across the nation.
Rulan Tangen is honored to be a recipient of A Blade Of Grass 2016 Socially Engaged Art Fellowship. ABOG provides resources to artists who demonstrate artistic excellence & serve as innovative conduits for social change. They evaluate the quality of work in this evolving field by fostering an inclusive, practical discourse about the aesthetics, function, ethics and meaning of socially engaged art that resonates within outside the contemporary art dialogue. The Fellowship supports individual artists and collectives who are working in leadership roles and in partnership with communities, in ways that are relevant in everyday life, at ambitious scale, to enact social change. Rulan & Dancing Earth sincerely thank A Blade Of Grass for this support!

Thank you to the The Marshall L. & Perrine D. McCune Charitable Foundation for their support! The McCune Foundation is dedicated to enriching the health, education, environment, cultural, & spiritual life of New Mexicans. The Foundation memorializes its benefactors through proactive grantmaking that seeks to foster positive social change.
Hundreds of individuals have participated in Invoking The Pause. They come from a broad range of fields with expertise in arts, science, communication, media, education, energy, agriculture, theatre, permaculture, impacts, resilience, social justice, policy, systems thinking, conservation, social enterprise, technology, water and more. As a result of their involvement, networks have expanded, partnerships formed and new climate challenge strategies have been put in place.
Thank you to the California Arts Council whose mission is to advance California through the arts and creativity.The Local Impact program fosters equity, access, and opportunity by providing project and partnership support for small arts organizations reaching underserved communities.
Thank you to the San Francisco Arts Commission, the City agency that champions the arts as essential to daily life by investing in a vibrant arts community, enlivening the urban environment and shaping innovative cultural policy.
The N7 Fund is committed to inspiring and enabling participation in sport for Native American and Aboriginal populations in North America. N7 is inspired by Native American wisdom of the Seven Generations: In every deliberation we must consider the impact of our decisions on the seventh generation.
The MAP Fund is founded on the principle that exploration drives human progress, no less in art than in science or medicine. MAP supports original live performance projects that embody a spirit of deep inquiry.